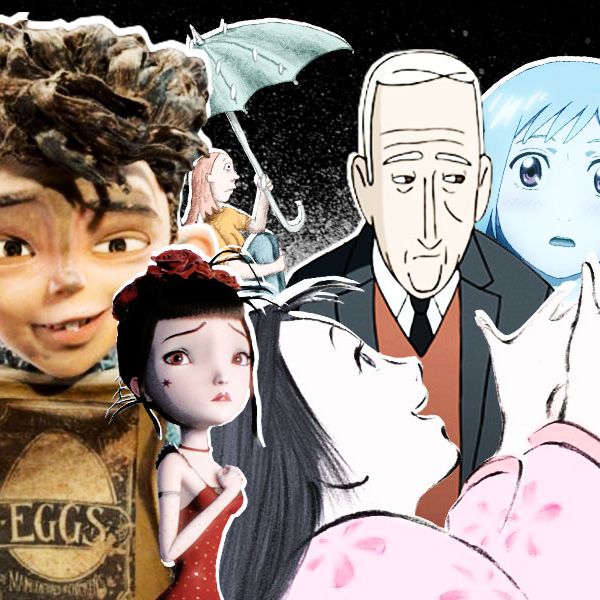 Feburary's The Lego Movie aside, you'd be forgiven for thinking it has been a weak year for great animated films. Look closer, however, and you'll see something else: While wide releases (How to Train Your Dragon 2, perhaps, or Mr. Peabody and Sherman) have been a mixed bag, indie screens have seen a steady stream of excellent and diverse animated films. In fact, this year has been an incredible one for animated films, one of the best in my lifetime. It's just that many of these excellent movies have gone woefully underseen.
Rocks in My Pockets. Wrinkles. Jack and the Cuckoo Clock Heart. Patema Inverted. It's understandable if you haven't heard of many of these titles. Their modest releases speak to the difficulty of marketing animated films that aren't exactly kiddie fare. True, outfits like Pixar have proven that animation can appeal to both adults and kids without speaking down to either. But several indie animated films — especially those released this summer — have been of a different order entirely when it comes to tackling adult themes.
Consider animator Signe Baumane's absurdist Rocks in My Pockets, an intensely beautiful and upsetting film about suicide. The central image is that of the director's grandmother at the age of 40, standing in the middle of a river in Latvia, failing to kill herself for lack of rocks to weigh her body down. Baumane uses that as a springboard to mull her own struggles with depression, tracing how the illness has made its way through her family. It's exceedingly unpleasant stuff, but Baumane's whimsical animations not only make it bearable, they give it a macabre charm. What emerges is an animated essay that conveys the unconveyable, and at times, even manages to make you laugh as it does so.
Almost as dark — and certainly as "adult" — is Ignacio Ferreras's Wrinkles, a gently sad film about the friendship between two elderly men in a rest home. One, suffering from Alzheimer's, has just been deposited there by his only son; the other, having nobody in life, has been at the home for years and has seen a lot of folks come and go. This is the kind of film that, were it live-action, would either be too depressing to get through, or star Alan Arkin and be overloaded with cloying, profane grandpa jokes. The form saves it from that fate, lending it a certain poetry. Images of clouds and fog become a visual motif, representing both the insecurity of dementia and the distant, pleasant haze of memory. (The film was originally in Spanish, but it has been released in the U.S. in English, with voice work by the likes of Martin Sheen and George Coe.)
Films like Wrinkles and Rocks in My Pockets are decidedly not for kids. But even some of this year's animated films aimed at younger viewers have been surprisingly dark. Patema Inverted is a sci-fi anime about the friendship between two kids from opposing worlds: one is a boy who lives in a highly regimented dystopia on the Earth's surface, the other a girl who lives in an upside-down world deep underground. When the latter makes her way to the surface, the boy has to hang onto her like a kite in order for them to get around.
A similar kind of wonderful weirdness is at play in Jack and the Cuckoo Clock Heart, which opened this weekend in New York and Los Angeles (and which will premiere on home video next week), in which a boy is born with a frozen heart and has it replaced with a cuckoo clock. Abandoned by his mother, he is told by the kindly inventor who adopts him that he must never, ever fall in love. Whereupon he promptly falls for a levitating flamenco virtuoso and then crosses half of Europe trying to find her. The film has all the trappings of a kids' flick — even some pretty catchy mock-rock songs — but it's also profoundly melancholy, with an ending so poignant, I can't bear to think about it. (Jack and the Cuckoo Clock Heart is in French, but like Wrinkles, it too has been dubbed into English for its U.S. release.)
The folks at Laika Studios have made such grim whimsy their trademark, with films like Coraline and ParaNorman. Their latest, The Boxtrolls, based on Alan Snow's illustrated novel Here Be Monsters!, about an underground society of creatures who wear discarded boxes, is inventive and intricate — and also impossibly creepy. Reviews in Europe have been wildly divisive, with some deeming it disgusting and inappropriate, and others finding it delightful. Despite the fact that it's a wide release, it's clearly kin to the edgier, more independent fare that's been hitting our screens over the past few months. And good news: With a $17 million opening, it's doing well at the box office this weekend, which suggests that American viewers are embracing its playfully gruesome vision.
Later this year, we'll see the latest from Studio Ghibli: The Tale of Princess Kaguya was directed by Isao Takahata, one of the studio's co-founders, who was also responsible for one of the most legendarily disturbing anime films ever made, Grave of the Fireflies. In December, there's The Song of the Sea from Irish animator Tomm Moore, whose enchantingly strange The Secret of Kells was one of the surprise Oscar nominees of 2009.  And we can probably also expect to see veteran animator Bill Plympton's latest, Cheatin', sometime this year or early next year.
I could go on. (Have I gotten to Letter to Momo yet? Or Kahlil Gibran's The Prophet, which premiered at the Toronto Film Festival? Or Foosball, a.k.a. The Underdogs, the Argentine soccer film that the Weinstein Company has picked up for U.S. distribution?) Admittedly, a number of the films I've mentioned have been doing the festival circuit for a couple of years and are only now seeing U.S. release. But that, unfortunately, is also one of the realities of international animation — it sometimes takes a while to redub the films into English. And while dubbing may seem an odd choice with a film like Wrinkles, which is clearly not for kids, it's also probably a necessity of the marketplace. The marketplace is slowly changing, however, albeit slowly. As more and more people are exposed to these films — in festivals, in theaters, on home video and VOD — they will realize that the world of animation today is more diverse and expansive than ever before. 2014 is a watershed year.