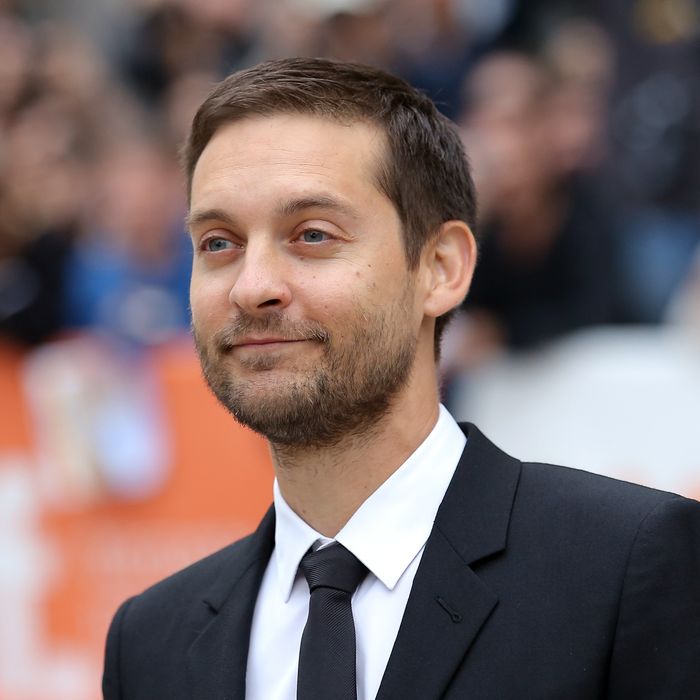 Tobey Maguire.
Photo: Jemal Countess/Getty Images
In a 2011 Vulture article, we sized up the sparse field of young leading men in the movies and plaintively asked, "Where Are the New Leos, Tobeys, and Jakes?" Three years later, that drought has only gotten worse. While the movies can boast a plentiful array of bankable female superstars under 25, including Jennifer Lawrence, Shailene Woodley, and Kristen Stewart, their male counterparts are meager, and there's still no young man with an under-25 career comparable to the one had by Leonardo DiCaprio (who'd been Oscar-nominated for What's Eating Gilbert Grape and toplined the then-biggest movie ever, Titanic, before turning 25), Tobey Maguire (who'd by that age starred in classics like The Ice Storm and The Cider House Rules), or Jake Gyllenhaal (who made Brokeback Mountain, Donnie Darko, and Jarhead before his 25th birthday).
What gives? Vulture put the question to Tobey Maguire himself at the Toronto Film Festival, where the 39-year-old actor was promoting Pawn Sacrifice, his new film about chess legend Bobby Fischer. Maguire had intended to make the movie years ago at Sony, but the superhero-saturated studio wouldn't green-light the talky character drama, and Maguire had to make Pawn Sacrifice independently. It's proof, Maguire posited, that we're now in the sort of climate where studios no longer want to finance the medium-budgeted movies that used to give young men their star-making roles.
"Movies now have more to do with an aesthetic," Maguire said, "than they do with a performance. Growing up, it was always my ambition to work with great actors and great directors, and it was Leo's ambition, too, so that's what we were focused on and aiming for. Parts like those start to shape you as an actor, and they shape people's perception of you, too. Leo going into This Boy's Life at 15 years old and working with Robert De Niro, that shapes the rest of his career — and the studios aren't [making] many movies like that anymore." Indeed, that DiCaprio/De Niro period drama (in which Maguire also had a small role) was financed by Warner Bros. and released in April of 1993; nowadays, WB is more likely to stock its spring season with a megabudget project like Batman v Superman: Dawn of Justice, currently scheduled for March 2016.
Maguire's Pawn Sacrifice director Ed Zwick, who himself cast Claire Danes in My So-Called Life and Evan Rachel Wood on Once and Again before either actress had turned 15, said some of our would-be leading men are languishing on subpar TV shows. "There's a poaching of young people where they're put into CW television shows, and they learn bad habits," said Zwick. "They're given too much responsibility too quickly, and without the opportunity to work with these great directors that Tobey and Leo had. Young actors used to be cast as the third lead opposite stars like Spencer Tracy or Henry Fonda, and they had apprenticeships of a kind, learning their craft. That doesn't happen now."
"You don't have the opportunity these days to develop good habits, or maybe even the desire to," added Maguire. "If Leo and I were young now, I'd still aspire to work with great people, but those jobs don't exist anymore. I would feel like my only opportunities were in YA franchises and superhero movies. You can hold out for something better only for so long until you're like, Okay, I need a job!"
"I also think that mainstream American movies have shifted so much that the focus is on the superhero, rather than on the actor," said Zwick, prompting a knowing nod from Maguire, who signed on to Spider-Man back when a comic-book franchise was novel instead of the norm. "I mean, Chris Evans is playing Captain America, but I don't think there are a lot of dramatic opportunities intrinsic to that part," continued Zwick. "I think talented young actors still exist and you can see them in the proliferation of independent movies, but because those films don't get seen as much now, the people who do that great work aren't as quickly elevated into the public eye as people like Tobey were when the studios were making meatier roles for young men."
And that, said Maguire, is why the newest crop of male movie stars like Tom Hardy ("a brilliant actor"), Bradley Cooper, and Chris Pratt now tend to be minted in their 30s rather than their 20s. "People will kind of creep up on you now, and maybe they're older than I was when you start to become aware of them," said Maguire, "but I also just saw this kid in Starred Up, I think his name is Jack O'Connell, and I was like, Wow, this kid's legit!" The 24-year-old O'Connell, a Brit, also stars this December in Angelina Jolie's highly anticipated film Unbroken, and if the up-and-comer nabs an Oscar nomination for his work as war hero Louis Zamperini in that movie, he'll be the first actor in the 25-and-under bracket to score an Oscar nod since … well, since Jake Gyllenhaal in Brokeback Mountain, nearly ten years ago.