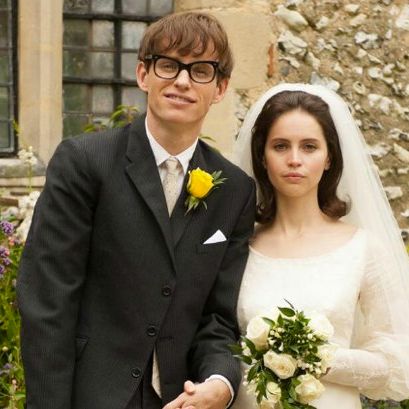 The movies they show at film festivals are often rife with outlandish hookups and unlikely sexual situations, but who would have expected that the most complicated cinematic love triangle at the Toronto Film Fest would include A Brief History of Time author Stephen Hawking? In James Marsh's new film The Theory of Everything, the famous physicist is played by Les Miserables standout Eddie Redmayne, and we meet Stephen long before his crippling diagnosis of ALS, when he's a physically active young man at Cambridge. Redmayne is handsome in a highly unusual, specific way, and though Marsh tries to offset those looks by outfitting him in nerdy glasses, brushed-forward hair, and crushed-velvet blazers, there's only so much that can be done: He looks like Austin Powers in Burberry.
At Cambridge, Stephen meets the fetching Jane (Felicity Jones from Like Crazy and The Invisible Woman), and it's immediately apparent that they're meant to be together — not only because Redmayne and Jones fall in love onscreen so easily, but because they possess two of the most distinctive trout pouts in the business. (Marsh commits a rare misstep when he pulls the camera away during their first kiss; when lips like those come together, it's a chemistry experiment meant to be witnessed.) But just as Stephen is coming into his own as a thinker and a lover, he receives a devastating diagnosis of amyotrophic lateral sclerosis and is given two years to live. At first, his occasional spasms could be written off and ascribed to the sort of clumsiness endemic to nerds with thick eyeglasses, but now Stephen knows that his body will soon fail him, even as his mind is still racing to the farthest corners of the universe.

"We're going to fight this illness together," announces Jane, though Stephen's father corrects her: "This will not be a fight. This will be a heavy defeat." And at first, as Stephen begins to shrivel, their universe does contract, but then it unexpectedly expands to include three children as Stephen beats the odds and continues to live. Also entering their orbit is Jonathan (Charlie Cox), a handsome widower who runs the church choir and begins to assist the Hawking family. Jane loves Stephen, but she has begun to bristle at her all-consuming caretaker duties; Jonathan, then, can help offset her workload, though their feelings for each other soon get awfully complicated … especially when Stephen begins to detect their chemistry and must struggle with whether to condone his wife's affair of the heart.

And that's when things get interesting in this heretofore conventional biopic, which was well-received this morning and spurred Oscar talk for Redmayne and Jones. As a physicist, Stephen is consumed with finding a unified theory of the universe, one elegant throughline that can accommodate seemingly contrary notions of physics; a seemingly more pertinent question, though, is whether his family can accommodate both him and Jonathan. It helps, perhaps, when Stephen begins to fall for his nurse, but does that mean that his love for Jane is any less significant? If our universe keeps on expanding, so might theirs.

Redmayne is a corker in the central role, and though the film has an Oscar-ready profile — Redmayne is playing a real person who dramatically suffered from a crippling disease, so the script might as well have come with an Academy Award nomination paper-clipped to the front page — he'll be one of several strong competitors this year in a stacked Best Actor category. I hope, then, that the awards season spotlight shines on Jones, too: Near the end of the film, when Redmayne can move little but his eyes, Jones and her soul-stirring peepers match him beat for beat.

When I walked out of the theater today after the film had gotten a rousing round of sustained applause, I asked a friend what he'd thought. He was pleased, especially because the movie became something much more complicated than a conventional biopic about a genius and his steadfast wife. "I'm happy it wasn't just 'love conquers all,'" said my friend, and though I understood the point he was making, I think The Theory of Everything actually is about just that thing. Love can conquer, but there will be battles along the way, and even casualties. If love still remains at the end, then that's enough.