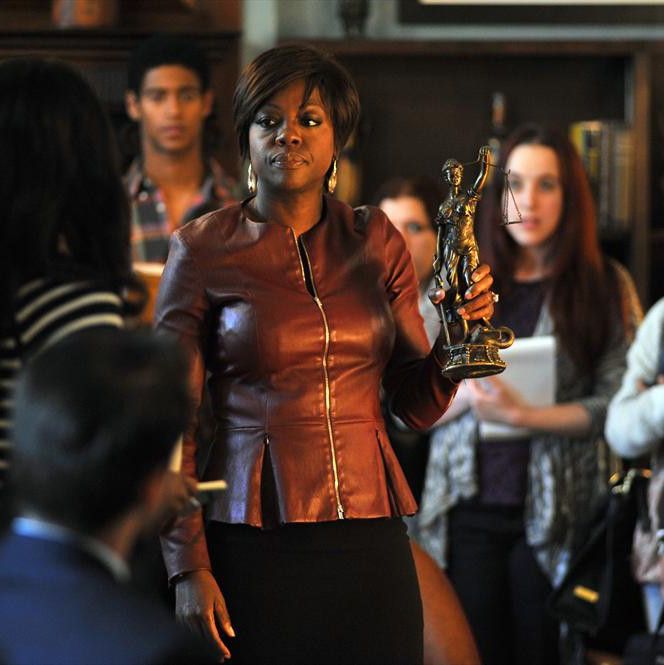 Photo: Nicole Rivelli/ABC
First, the good news: Viola Davis, the marquee name headlining ABC's new procedural How to Get Away with Murder, is every bit as commanding as you figured she'd be. And the show around her is lively. Executive-produced by Shonda Rhimes and created by Peter Nowalk (who has written for Rhimes's Grey's Anatomy and Scandal), it feels like a hip, bouncy version of one of the countless CBS crime series built around a mercurial and assholish fortysomething genius surrounded by gifted but unseasoned whippersnappers.
Davis's character, law professor and defense attorney Annalise Keating, is John Houseman from The Paper Chase crossed with Alan Dershowitz (who's named-checked in an early scene in which the show's erstwhile protagonist, Alfred Enoch's Wes Gibbins, first enters the heroine's classroom). She's cool and imperious and wears a brownish-red leather jacket that might have been filched from Tyler Durden's closet. She interrogates her students as if they're on trial and enlists them as helpers, commanding them to seek out details and solve problems related to her cases; whoever does the best job gets to work for her. (As if to drive home the reality-show parallels, Keating even offers an "immunity idol" that lets students skip a test.)
The show is fast-paced and unpretentious, and it finds clever ways to deliver exposition that might otherwise be tedious. The opening classroom scene, in which Professor Keating demands that her students recite pertinent details of an ongoing murder trial to prove they've been paying attention, does double-duty, bringing you up to speed on a case that'll become important later and also defining the personalities of key characters. Notice also how Keating doesn't complain when one of them stands up without being called upon, but berates another for interrupting her interaction with Wesley: It speaks to her value system. "Never take a learning opportunity away from another student, no matter how smart you need everyone to think you are," she says.
But in other ways How to Get Away with Murder isn't as clever as it thinks. It often tries too hard to wow us, when it might have been better off just telling its story and developing its characters. The pilot's intricate flash-forward structure, which very briefly confuses the audience into thinking that a group of students are something they aren't, seems needlessly fancy, and there are moments where the episode tries too hard to sell the heroine as a brilliantly awesome badass, layering a courtroom moment with rah-rah music, as if commanding us to cheer her. I hope they bring this sort of thing down a notch, preferably several notches, especially where Keating's charisma is concerned. When your star is electrifying, you don't need to keep telling us how electrifying she is.