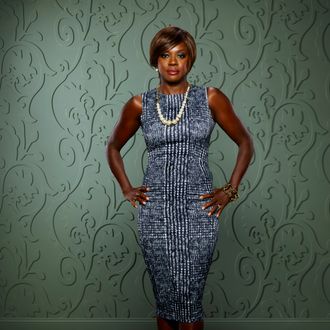 Photo: Craig Sjodin/2014 American Broadcasting Companies, Inc.
Viola Davis knows it's a big deal for her to play Professor Annalise Keating in Shonda Rhimes's new show, How to Get Away With Murder. Davis sits down with Amy Wallace for a New York Times Magazine profile where she gets candid about what it means for her, "a woman of color, of a certain age and a certain hue" to play the sexy lead of a 10 p.m. network drama. She talks about sinking her teeth into bit roles, taking off her wig, and what growing up poor taught her about art.
On getting bit roles:
"Even when I get the fried-chicken special of the day, I have to dig into it like it's filet mignon."
"I have been given a lot of roles that are downtrodden, mammy-ish. A lot of lawyers or doctors who have names but absolutely no lives. You're going to get your three or four scenes, you're not going to be able to show what you can do. You're going to get your little bitty paycheck, and then you're going to be hungry for your next role, which is going to be absolutely the same. That's the truth."
On her role for How to Get Away With Murder:

"It's what I've had my eye on for so long. It's time for people to see us, people of color, for what we really are: complicated."
"[Estelle Lasher, her manager] said, 'This is a role that you talk about all the time, Viola. That black women need to be sexy, they need to be vulnerable, they need to be strong, they need to be conflicted. This is it!'"

On growing up poor:

"We sometimes used lard for moisturizer because we couldn't afford lotion. I smelled like chicken when I went to school."
"When you grow up in abject poverty, you see people exactly the way they are. You know who's abusing their wives. You know who the drug addict is. You know the person who is stealing electricity. You see people fighting on the street with their boobs coming out and dirty clothes. So it becomes a great groundwork for an artist to observe life. I don't see it as ugliness. I see it as just kind of human beauty, you know?"
On talking about race, generally:

"I listen to really smart Caucasian women all the time talking about how hard it is for women over a certain age, and it doesn't overshadow their work." When you're white, she added, "your ability is not overshadowed by your rhetoric."
On roles for older women:

"Do I think there is a crisis for women over 40, too? Absolutely. But a 25-year-old white actress who is training at Yale or Juilliard or SUNY Purchase or N.Y.U. today can look at a dozen white actresses who are working over age 40 in terrific roles. You can't say that for a lot of young black girls. That's why I'm doing what I'm doing."
On taking care of herself:

"[Shonda Rhimes] said: 'Viola, listen, you've got to be taken care of. This show rests on your shoulders. Write a list of what you need,'" Davis recalled. The assignment was straightforward, but Davis was having trouble. Her husband, Julius Tennon, an actor and a producer, made gentle suggestions: Greek yogurts in her trailer fridge? Sparkling water? Maybe the occasional massage? Still, the List remained unwritten.
On getting rid of her wig:
"I compared it to Linda Blair in The Exorcist, with her head spinning and spewing. And the secretary and the priest run upstairs, put on their coats and go into the room. And they lift her shirt up, and on her belly, it says, 'Help Me.' That's kind of how you feel when you move through life possessed by everybody's way of seeing you and who you're supposed to be, everybody's definition of beauty and of success."
On vanity:

"Vanity destroys your work. That's the one thing you have to let go of as an actor. I don't care how sexy or beautiful any woman is. At the end of the day, she has to take her makeup off. At the end of the day, she's more than just pretty."