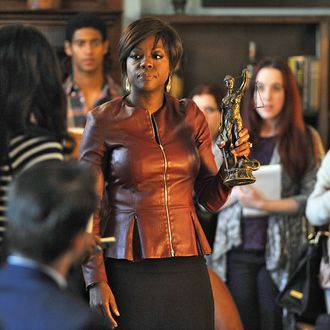 Photo: Nicole Rivelli/Courtesy of ABC
ABC's How to Get Away With Murder may be shaping up to be an even more impressive success story than first reported. Building on its already impressive same-day audience of 14.3 million viewers, Nielsen today reported that, through Sunday, an additional 6 million people have caught the show via DVR, pushing the show's tally above 20 million viewers. That's the biggest three-day viewership jump in the short history of Nielsen DVR history. What's more, Vulture has obtained exclusive data from Comcast showing the Viola Davis–led legal thriller was also last week's most-viewed broadcast show on the cable giant's Xfinity video on demand (VOD) platform, surpassing even CBS's The Big Bang Theory. "Early results have How to get Away With Murder leading the pack as the most watched premiere in the history of Xfinity On Demand," Stephen Meyer, executive director of video strategy and analysis told Vulture. But the ABC wasn't the only first-year series to get a huge bump from delayed viewing.
Comcast won't have full VOD data until next week, but it gave us an early look at how broadcast network shows did from Sunday, September 21 through last Thursday (basic and premium cable shows, as well as weekend series, have to be tallied). The data suggests, perhaps not unsurprisingly, that audiences are using on demand to check out new shows: Five of the ten most-played titles on the Comcast list were new shows. After Murder, the No. 2 series via on demand was Fox's Gotham, with CBS's Madam Secretary coming in at No. 6, ABC's Blackish at No. 7, and CBS's Scorpion ranking No. 8. Two episodes of The Big Bang Theory ranked No. 3 and 4, NBC's The Blacklist came in fifth, The Good Wife was No. 9, and ABC's Scandal ended up No. 10.
While the huge time-shifting numbers for Murder don't fundamentally change the assessment of how the show launched — it was already seen as an early success — they do once again underscore just how many viewers are now watching shows on their own timetable. The trend is particularly obvious among younger adult viewers under 50, where early data from the first four days of premiere week shows that no fewer than 14 prime-time series added at least one full rating point to their tally via three days of DVR replays. Murder, for example, rose from a 3.9 to a 5.8 adults under 50 rating, while CBS's Big Bang added two full ratings points to top everything else on TV last week (including football) with a 7.4 rating. Fox's Gotham also surged 56 percent with replays, rising to a 5.0 rating.
Even though DVR audience is mostly additive, making big shows ever bigger, there are a few cases where time-shifting may indicate a show isn't doing quite as bad as it seems in the same-day numbers. Fox's Red Band Society, for example, rose from a moribund 1.1 demo rating last week to a 1.8 rating with three days of replays. To be sure, its audience is still tiny, but the DVR data showed the series stayed flat in its second week (as opposed to declining, as same-day data indicated) and that its overall performance was on par with established Fox series such as New Girl and The Mindy Project. Networks would prefer, of course, that viewers watch a show live or as close to live as possible: Advertisers pay much more for live viewing versus delayed. But in an era of so many program choices and so many ways of watching shows, networks now are just happy viewers are watching at all.