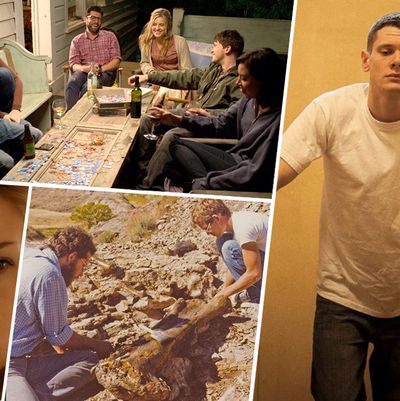 It's a magical new world. Increasingly, movies that were deemed worthy of only a limited release in a small number of theaters in Los Angeles and New York are now released via VOD (cables services, iTunes, Amazon Prime) at the same time. Movies without delay! Here's a roundup of what you should be adding to your list this month.
About Alex
The New York Times compared it to The Big Chill, and for obvious reasons: A bunch of old friends reunite and dig up all of their old shit. (They even dance to a soundtrack of oldies!) But The Big Chill was indeed wonderful, and About Alex holds its own with a cast full of young favorites (Max Greenfield! Aubrey Plaza! Jason Ritter! Max Minghella! Shannon from Lost!) who kiss and scream at each other enough to make this a worthy watch.

Dinosaur 13
There's nothing worse than watching a documentary about something you feel passionate about — passionate enough to actually do something — only to realize that the incidents detailed have already passed you by. Dinosaur 13, a documentary about the story behind the bones of a T. rex named Linda, "makes you angry, but you're not sure at what," writes Vulture's Bilge Ebiri. Good point: It's hard to know who (or what!) to blame here, but it's the type of doc that'll have you spouting weird facts about dinosaurs and paleontology to your friends — plus, if you go into watching it without any prior knowledge of the story (no judgements!), there's totally a twist.

Palo Alto
You can already already put Palo Alto down on the List of Movies James Franco Has Written or Directed or Acted in That I Should Actually Bother to Watch — which is definitely a list that needs to be written because damn, Franco has done so much. (Too much?) Palo Alto is based on Franco's book and directed by Gia Coppola, but it's Val Kilmer's son Jack and a pre–Fault in Our Stars Nat Wolff who really make things interesting.
Coherence
Another fascinatingly low-budget thriller, Coherence syncs up nicely with The One I Love (also on VOD!) in how it injects sci-fi into a relationship drama. I wouldn't want to give anything away, but something's wrong with this dinner party — and it's not that someone forgot to bring the casserole.

Other movies recently out on VOD: Robert Pattinson/Guy Pearce Australian thriller The Rover, inspiring football doc We Could Be King, Michael-Fassbender-in-a-mask indie-rock movie Frank, the ultimately depressing doc about small-town U.S.A. Rich Hill, and the incredible film about a young Brit sent to adult prison ahead of his time: Starred Up.