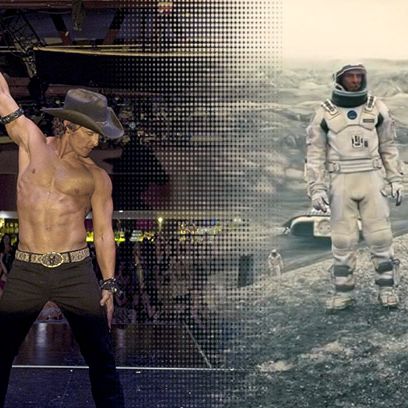 Photo: Warner Bros and Paramount Pictures
If you are a fan of the McConaissance — and, really, how could you not be? — you may have spent this year feeling a little deprived. After a three-year boom period of affecting, oddball, and occasionally award-winning roles — from Bernie and Killer Joe and Mud and Magic Mike  to The Wolf of Wall Street and Dallas Buyers Club and True Detective, which aired earlier this year — Matthew McConaughey  will appear in just one role for the rest of 2014, as the star of Christopher Nolan's Interstellar.
The movie may be great and McConaughey may be great in it, but still: The math is undeniable. One role. In one big movie. Arguably the big movie of the fall. This very fact cements exactly the kind of tippy-top-of-the-A-list status which, if he'd achieved it earlier in his career, would likely have prevented him from taking roles in films like Bernie, Killer Joe, Mud, and Magic Mike. It's also an unsettling sign of a dangerous post-comeback stage in a career: the stillback.
The stillback is what happens once the comeback is complete. The stillback happens when you stop making quirky, offbeat, attention-grabbing choices and start making cautious, predictable, attention-maintaining choices. The stillback means you've gone from having a moribund career that's badly in need of a jumpstart to having a rejuvenated career that you're preoccupied with protecting.
In order to have a comeback, of course, you need to have somewhere to come back from. For most name-brand stars, this means either the purgatory of typecasting (in McConaughey's case, as a toothsome rom-com love-hunk); the limbo of personal problems (think of Robert Downey, Jr., back when he was famous for waking up in stranger's houses); or the slough of serial career misfortune (I mean no disrespect when I say that Taylor Kitsch, post-Battleship and post–John Carter, is perfectly poised for a Kitschonnaissance). In a sense, this career nadir is a great opportunity, for both movie stars and movie fans. And it's been nothing but joyful to watch McConaughey unveil all these heretofore unseen facets. Who would have guessed, circa Failure to Launch, that McConaughey might blossom into the kind of charismatic star who can steal an entire Martin Scorsese movie with a 20-second cameo in the trailer?
The problem with successful comebacks, however, is that their very success negates the need (or even the opportunity) for exactly the kind of risky roles, weirdo cameos, and artistic leaps of faith that sparked the comeback in the first place. As you successfully leave the comeback behind, you run the risk of entering the stillback: a subsequent period marked by inevitability, caution, career obligation, and artistic stagnation.
Perhaps no recent comeback was more thrilling, and more welcome, than that of Robert Downey Jr. A supremely talented actor, Downey was, at one time, dangerously close to unemployable. (You may have forgotten, as I had, that back in 2000, he had a recurring role on Ally McBeal.) Occasionally a director like Shane Black or David Fincher would plug him into a film, and we'd be reminded anew of his oddly electric talent. But it was the Iron Man franchise, starting in 2008, that improbably vaulted him into one of the highest-grossing film actors in the world — one of only five actors who've starred in multiple global billion-dollar franchises. (For Downey, the other franchise is Sherlock Holmes.)
Ever since, Downey's been stuck in a very lucrative but repetitive stillback. Among his film credits in the past five years: Sherlock Holmes, Iron Man 2, Sherlock Holmes: Game of Shadows, The Avengers, Iron Man 3, and, squeezed in there, Due Date, a quickie comedy he did with Todd Phillips, which co-starred Zach Galifianakis. Downey's preternaturally charming presence reliably buoys films like The Avengers. But it's hard not to miss the Downey of Tropic Thunder, in which he performed in blackface, or the one who gave that prelapsarian performance in Chaplin way back in 1992. To be fair, it should be noted that Downey will star this fall in The Judge, a drama in which he acts opposite Robert Duvall.  It should also be noted that, down the road, he's already committed to Avengers 3: Age of Ultron and, potentially, to Sherlock Holmes 3.
Or remember just how fun it was to rediscover John Travolta in Pulp Fiction in 1994? His résumé since is a stillback catalogue of action films, vanity projects, and ill-considered remakes. Mickey Rourke surprised everyone with The Wrestler in 2008, then surprised no one by parlaying that film into a role as a villain in Iron Man 2. And it seems like Ben Affleck, the heartwarming comeback story after Argo won Best Picture, walked straight off the Oscars stage that night and into a fitting for a Batman costume.
There's no point in resenting these actors for parlaying a career uptick in to higher profile roles, or, hell, even just cravenly cashing in. Matthew McConaughey worked hard to make the McConaissance happen, and we, as the audience, have been the happy beneficiaries. And fears of a McConaughey stillback may yet be premature: For starters, he's got the Gus Van Sant film The Sea of Trees on deck in 2015. Unfortunately, though, McConaughey won't be appearing in Magic Mike 2. And while no one would discourage him from making Interstellar 2, 3 and 4, if it comes to that, it would also be great if there were room on the dance card for the Rust Cohle and Dallas-type roles that made the McConaissance happen in the first place. That hardly seems like too much to ask. Alright? Alright? Alright?