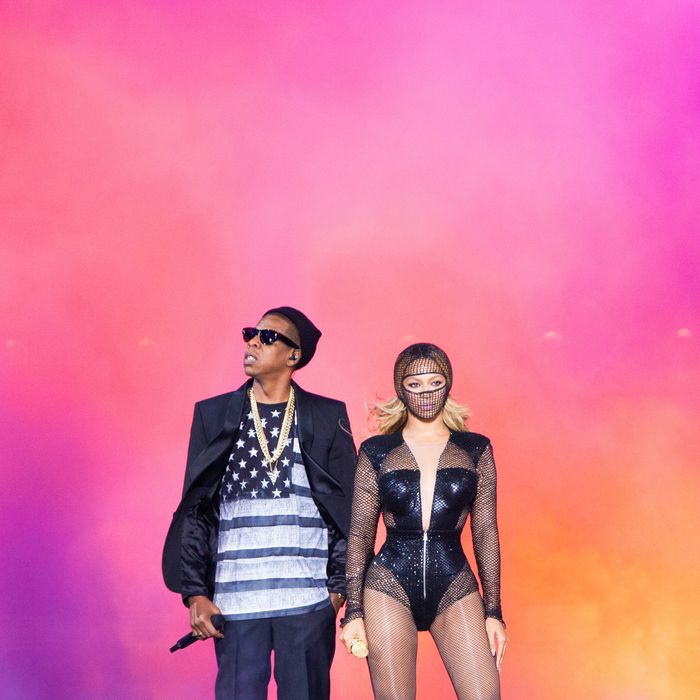 Not that I'm complaining — please don't hurt me, Beyhive — but we've been bombarded by moments from Beyoncé and Jay Z's On the Run tour ever since it was announced. So when HBO aired the entire thing on Saturday, there wasn't much that the diehards hadn't already seen. But still: It was Beyoncé and Jay Z onstage together, which means that there were plenty of highlights. Here's what you missed over the weekend.
The French-film-noir-meets-Wild-Wild-West pre-roll
If you've been keeping up with Bey and Jay via GIFs, Instagrams, and Vines, you might not have caught the On the Run interludes — a jumble of film genres resembling the tour's "Bang Bang"–soundtracked trailer. Is there any semblance of a plot? No. Does it at all matter? No.
Aw, just look at this tiny True Romance tribute:
Onika (a.k.a. Ms. Nicki Minaj)
Probably the biggest change in the HBO special (and the most anticipated): Nicki's appearance to perform the "Flawless" remix. It would've been a crime if this hadn't been captured in HD.
Oh, yeah, and this part:
The slow-mo
The genius (and overworked) squad that is Beyoncé's Editing Team obviously added its own touch to Bey and Jay's live performance. Quick cuts, aerial views, and maybe the coolest: slow-mo. Ooooh, look at her:
A whole lotta Blue Ivy
If you attended any date on the On the Run tour, you'll remember that Blue got the most applause … and she wasn't even onstage. The littlest Carter appears in an interlude between songs, and here are the best parts:
I guess we know who the real star is here.