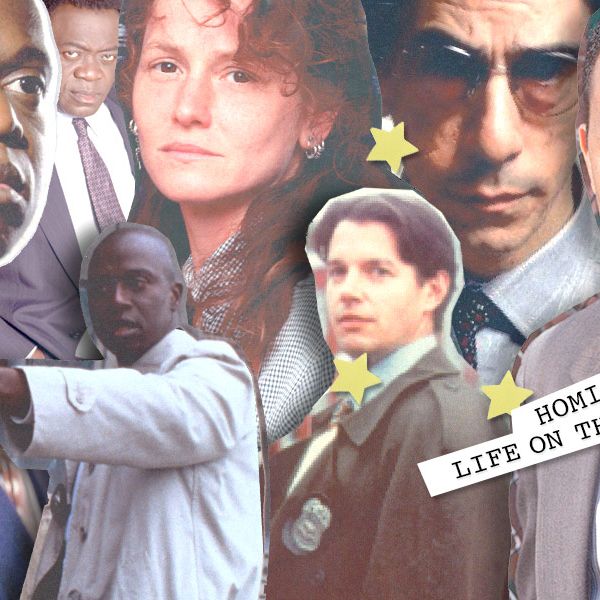 When you write about television, lots and lots of people want to talk to you about The Wire. That's fine. An occupational perk. And after I listen to this engaged citizen rave on and on about David Simon's masterpiece, I ask: "Have you watched Homicide?" And god damn it, most people say no. Then it's my turn to launch into a hagiography. Homicide is the best. Homicide is arguably the best cop show of all time. Homicide is as dramatically intense and as emotionally nuanced as Mad Men. And yet, somehow, Homicide is often left out of "the canon."
I rewatched all of season three of Homicide in putting together my list of the 100 best episodes of the '94–'95 TV season. I could easily have included all 20 episodes. There's an enthralling serial-killer arc, and if you like True Detective's ruminations on the nature of good and evil and murderthoughts, well, you'll like these more since they are more interesting and surprising. There's terrific guest roles from Steve Buscemi and Bruno Kirby, among others. And there's a dark, cynical comedy that runs through the show, too. A few of our detectives go in on buying a pub together in season three, and when the woman from the bank tells them they've been approved for a loan, they're all happy but surprised. "We're homicide detectives," Munch (Richard Belzer) explains. "We never give people good news face-to-face unless, oh, it's someone who's thrilled to hear their spouse has been murdered." "Well, that's not never!" the bank lady responds brightly and weirdly. Ha? Ha. The characters themselves make jokes — Munch in particular — but one-off marginal characters have senses of humor, too. (For those not in the know: Law & Order: Special Victims Unit's Detective Munch actually originated on Homicide. The shows, and OG L&O, had a few cross-over episodes, too. NBC synergy!)
You want riveting interrogations? We've got riveting interrogations. You want season-long arcs about police corruption? We've got season-long arcs about police corruption. You want villainous yet alluring drug lords? A commentary on the fractured state of American racial politics? Stories about working-class people? A fraught father-and-son relationship where they're both cops? Well! Have I got a show for you. As a bonus, said son is played by Breaking Bad's beloved Giancarlo Esposito. Some of us have enjoyed his work since far before Gus was a glimmer in anyone's meth eye.
NBC was not a particularly hospitable home to Homicide. The show faced out-of-order scheduling, was off for almost a year in between the nine-episode first season and the four-episode second season, and was frequently a bubble show when it came time for renewals. But Homicide eventually ran for seven seasons, with a total of 122 episodes, plus a made-for-TV movie. It wasn't a hit show, but critics sure loved it, and it won three Peabodys. It has that same "underappreciated in its time" vibe as The Wire, and yet David Simon's second project gets so much more love.
But I'm not pitting Homicide against The Wire. I'm pitting Homicide against No Homicide. My fondest wish is for the show to land on Netflix streaming, but until then it's widely available on DVD and through less savory means. Homicide needs to be widely embraced and venerated, and then the groundswell will start. People will begin chitter-chattering about it. The vast Internet will suddenly become filled with pro-Homicide propaganda. The tides will have turned. And then my other fondest wish can come true: Homicide reunion movie.