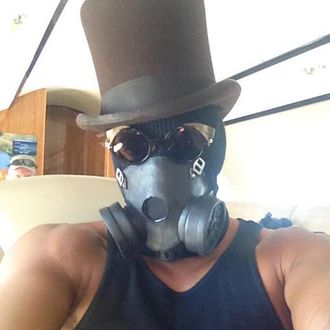 Is that…?
Photo: Will Smith/Facebook
Yes, the man was burned, and Burning Man 2014 has come to an end. Plenty of the masked revelers shared evidence of their attendance across social media, and a few happened to have faces you might recognize. Cassie, Chamillionaire, Michelle Rodriguez, model Candice Swanepoel … and this familiar-looking dude doing a Segway dance:
Sure, you can't see this masked man's face, but take a look at a selfie Will Smith posted to his Facebook page earlier that week. Same mask, familiar-seeming body:
Nice sunglasses.