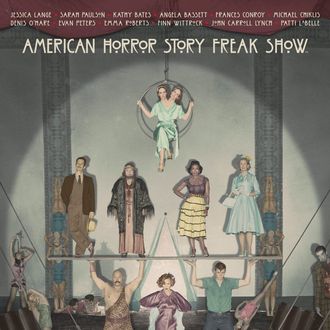 Oh, man, there is so much good stuff in this week's issue of Entertainment Weekly about the upcoming season of American Horror Story: Freak Show. If you're like us and just cannot wait for details on the cast and their particular specialties, read below. If you'd rather be surprised about who's what, we'll put a spoiler alert right here.
So, here is who everyone is:
Elsa Mars (Jessica Lange) is a "former German cabaret star" whom Lange characterizes as "very manipulative …  [but] truly cares for [the other characters] in her own selfish narcissistic way. It's not just exploitation."

Bette and Dot (Sarah Paulson) comprise a two-headed performer whose personality is "not as simple as nice and evil," explains Paulson.

Jimmy (Evan Peters) is a boy "born with lobster-like hands," and his mother is …
Ethel (Kathy Bates). She's a bearded lady who "helps run the camp, and she's sort of the guardian of the law."
Edward Mordrake (Wes Bentley) is "a [man with a] normal face and then a face on the back of his head that would whisper evil things and force the forward-facing entity to commit horrible crimes."

Dell Toledo (Michael Chiklis) is Ethel's ex-husband (and Jimmy's father), a strongman "who's on the run from the law."
Desiree Dupree (Angela Bassett) is Dell's new wife, and also a three-breasted performer. 

Twisty the Clown (John Carroll Lynch) is the show's villain, an evil retired clown who wears "a mask on the lower part of his face. There's a point in the season where takes the mask off and when you see what's under you will faint in terror," says Ryan Murphy.
And here are the characters we don't have names for yet: Emma Roberts and Denis O'Hare are "a pair of con artists; Frances Conroy is "a wealthy woman whose son wants to join the freak show; and Gabourey Sidibe plays "a socialite who returns home to Jupiter when her mother (Patti LaBelle) goes MIA.
Good lord, this show is gonna be weird.