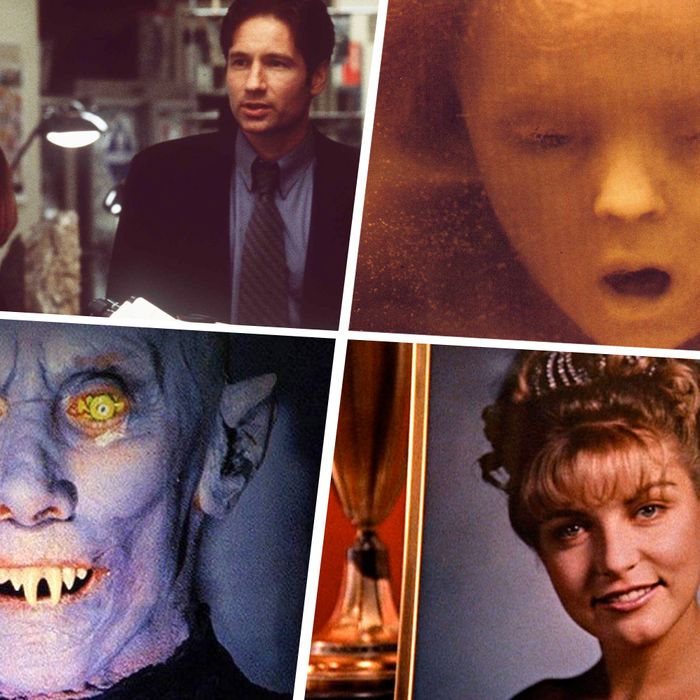 Photo: Fox/Getty Images, Warner Brothers, Arte, CBS/Getty Images
When you think of horror, you think of horror movies, but some of the deepest and most lasting shivers have come from television. Here is a list of eleven small-screen classics guaranteed to keep you up at night.
Ghostwatch (BBC, 1992)
Originally broadcast in the U.K. as part of the BBC series Screen One, and based on the legend of the Enfield Poltergeist, this is a faux-live TV broadcast that takes viewers inside a house in Northolt, Greater London, that's believed to be haunted by a spirit known as Pipes (because the parents told their kids that those eerie noises were caused by the plumbing). The audacious final stretch attains an almost Lovecraftian awesomeness.
The Kingdom (DR, 1994)
Set in a haunted hospital on the border between Sweden and Denmark, this miniseries from Lars von Trier (Nymphomaniac, Antichrist) is one part M*A*S*H-style black comedy, one part classic ghost story, in which the sins of the past come back to scare the bejesus out of the living.
The X-Files (Fox, 1993-2002)
Week in and week out, no ongoing series was as creep-tastic as Chris Carter's conspiracy-minded drama, which introduced a whole menagerie of terrifying new monsters to the horror lexicon: the Fluke Man, the bark creature of "Detour," razor-toothed Bob Roberts, Leonard and Lanny of "Humbug," Eves 9 and 10, and Leonard Betts, cancer-eater.
Twin Peaks (ABC, 1990-1991) and Twin Peaks: The Return (Showtime, 2017)
You know, this is a damn fine cup of coffee.
It (ABC, 1990)
As if clowns weren't already scary enough, Stephen King has to go and write an epic novel built around a supernatural one known as Pennywise, and then some diabolical TV people turned it into an eerie miniseries starring Tim Curry, dear sweet mercy.
The Woman in Black (BBC, 1989)
In this TV movie based on Susan Hill's 1983 novel, the aftermath of a seemingly routine funeral for an old woman is haunted by the recurring appearance of the titular figure, who seems to create lethal bad luck wherever she's spotted. The film's poker-faced presentation invests scary recordings, spooky fog, self-opening doors, and other horror chestnuts with unnerving freshness. Remade many times.
The Twilight Zone (CBS, 1959-1964)
You've entered a dimension in which you pass the same hitchhiker over and over; the monsters are due on maple street. Beauty is in the eye of the beholder; there's a man on the wing of this plane. P.S.: I'm Talky Tina, and I'm going to kill you.
Trilogy of Terror (ABC, 1975)
Think twice before you watch the final episode of this Karen Black acting showcase, because afterwards, you'll never be able to look at the space between the bathroom door and the floor without expecting to see a tiny spear blade poke through it.
Salem's Lot (CBS, 1979)
"Open the window, Mark." [Scratch, scratch.] "Open the window."
Hannibal (NBC, 2013-2015)
This entire gorgeous series from Bryan Fuller (Pushing Daisies) is an endless lucid nightmare. And you have no control over it.
The Returned (Canal+, 2012)
Remade (disappointingly) for American TV, this story of dead people suddenly reappearing in the lives of their loved ones proves that mystery and suggestion can be much scarier than blood and guts.