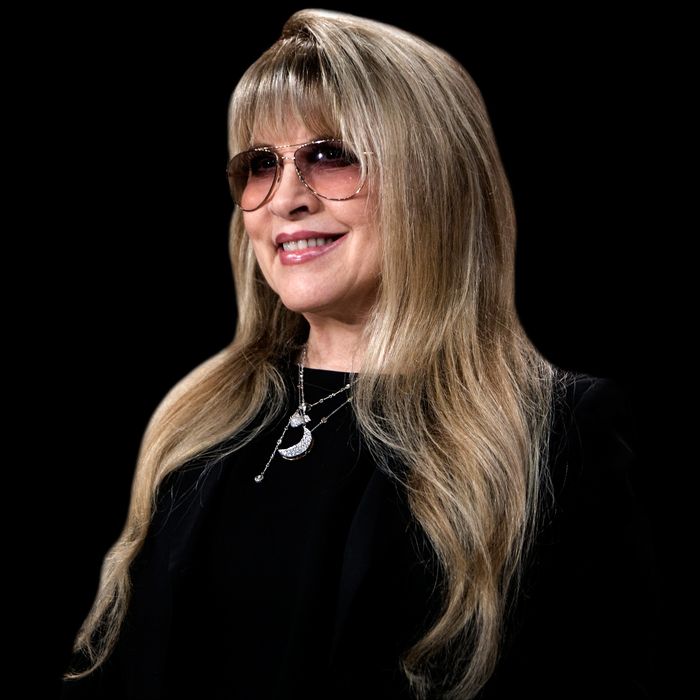 Stand back! Stevie Nicks, that witchy fairy godmother to sisters of the moon everywhere, just released 24-Karat Gold — Songs From the Vault.
The album is filled with demos from the '70s and '80s that she's finally properly recorded with her favorite producer, Dave Stewart of the Eurythmics, the Mad Hatter behind 2011's In Your Dreams. The new album arrives in conjunction with a U.S. tour for Fleetwood Mac, which is welcoming back into the band keyboardist-singer Christine McVie, who'd retired to the English countryside 16 years ago after developing panic attacks and a fear of flying. On October 9, Stevie will be performing on The Today Show, plus opening an exhibit at the Morrison Hotel Gallery in Soho of her personal Polaroid selfies taken from 1975 to 1987. After that, she's packing up those shawls for more of the tour, which runs until March 18.
So, on the occasion of this burst of activity, I've compiled a few fun facts that didn't make it the Stevie profile I wrote for this magazine last year, or that I've gleaned in the meantime, including during a quick backstage visit at one of the band's two recent Madison Square Garden concerts.
1. Her favorite song on 24-Karat Gold is "Mabel Normand," which she wrote in 1985 about a silent movie star who died from cocaine abuse. Stevie had seen a documentary about Normand just a few months before a doctor told her that she had a hole in her nose from cocaine use and would die if she snorted again. So she packed her bags, checked into Betty Ford, and wrote this song.
2. If it looks like she's lost weight since last year, she has. "Weight Watchers," she said. "Anyone can do it!" It's a sad time for her travel buddies, though, because Stevie now never asks for anything other than a small fruit plate for her dressing room. She's even had to give up blueberry yogurt, which, as we know, she used to eat every night as part of her "special time."
3. Animal crackers are her weakness, and she has to make sure someone hides them from her. When we were at rehearsal last year, she nearly had to run past the craft services table. "I know they're back there. I can smell them," she said. "I could trash this whole place finding those animal crackers."
4. During the tour's New York stop on October 6, Stevie dedicated "Landslide" to Matthew Anderson, her stepson from her one brief marriage. His mother, Robin Snyder Anderson, was Stevie's best friend and tragically died of leukemia two days after giving birth, well before full term. Three months later, a grief-stricken Stevie married Robin's similarly grief-stricken husband, Kim Anderson, with the idea that she would raise Matthew as her own. They divorced three months later. "It was a terrible, terrible mistake," Stevie has said. "We didn't get married because we were in love, we got married because we were grieving and it was the only way that we could feel like we were doing anything." She left to continue being a rock star and didn't see Matthew again for eight years, but later put him through college. Now they have a really sweet, easy rapport. And, it seems, a lot of love between them.
5. Stevie thought something was very wrong when she first got her 16-year-old Yorkshire terrier mix and constant companion, Sulamith, because the dog's back was completely bald. "I totally freaked out!" she said. It turns out Sulamith — named after the early 20th-century German painter of mysticism Sulamith Wulfing — is also part hairless Chinese Crested. Luckily for Sulamith, every time Stevie's longtime backup singer Sharon Celani buys a piece of cashmere, Sharon sends a picture of it to a service that creates a replica in Sulamith's size. Sulamith has more cashmere than any human on the tour.
6. Sulamith has a new frenemy on tour, a (non-bald) Yorkie named Mana that Stevie and her longtime assistant Karen Johnston adopted right before tour. Mana has a feisty personality and a tendency to pee on the rugs in very expensive hotel rooms.
7. Stevie has a black-leather massage chair that she bought for a tour in 2003 that travels with her everywhere she goes. It is visibly worn and has the aura of a sacred space you must not sit on if your name is not Stevie Nicks.
8. In her bathroom at home, she hangs her important jewelry — most of it was her mother's — on a goddess statue and on her sconces. Her rings go on a chain that loops and locks. "Put your rings on a chain," said Stevie, "and you will never, ever lose them."
9. Stevie was supportive of Christine McVie quitting Fleetwood Mac in 1998. "I understood why," she explained. "I understood that in her heart of hearts, she could not do it anymore. There were reasons … she was having panic attacks. She was getting to be afraid to fly. There's nothing worse than being afraid to fly. I understood that she needed to go home. I love Chris, and she was my best friend for 30 years. So when your best friend looks at you, in your eyes, and says, 'I can't do this anymore,' you just have to let her go. And I did. I said, 'Christine, pack your bags and go home. We'll be fine. It's not your responsibility to stay in this band for the rest of your life. It's your responsibility to be true to yourself. You've done a great job. You've been in a band with Mick [Fleetwood] and John [McVie] for five years before Lindsey [Buckingham] and I even came along. So you've paid your dues. Go home.'"
10. She knew she was a drug addict when she started buying her own cocaine. "When you're just using other people's drugs, you're not really doing it, but as soon as you start buying it, you're doing it," she says.
11. She actually hired her longtime costume designer Margi Kent to develop her Dickensian "Stevie Nicks look" because she gained ten pounds on her first Fleetwood Mac tour, and everything she'd brought with her to wear onstage no longer fit. "It was a nightmare," she says. "So when I came home, I said, 'Well, I need a uniform.'" Stevie is sensitive to touch, so the fabrics have to be luxurious — a lot of velvet and silk.
12. She describes her yearlong affair with Mick Fleetwood as "The crazy accidental affair. Never shoulda happened. And we knew it from the beginning … If there's anything I learned from that relationship, it was, 'Don't go after other women's husbands,' because it never works out. You are never gonna be the woman if you break up a marriage. You're just the home-wrecker."
13. Among the shows TV shows she loves, besides American Horror Story and Million Dollar Listing, are The Good Wife, Ugly Betty, Glee, Elementary ("That guy [Jonny Lee Miller] who used to be married to Angelia Jolie, oh my God, he's amazing. I'd marry him. In a second"), and "all of the creepy shows," like the Law and Order franchises, Criminal Minds, NCIS, and NCIS: L.A.
14. She has special scarves she brings to hotel rooms to drape over lamps in case the lighting isn't right. She also used to be big on rainbow lightbulbs.
15. Among the projects she hopes to get to eventually are a "Rhiannon" movie and a cartoon based on the Buckingham Nicks song "Goldfish and the Ladybug," about two creatures from different worlds falling in love but never being able to make it work because the goldfish couldn't go on land and the ladybug couldn't go in water. Those projects, though, are "way down the line," she said. "Those are, like, when I'm 70 and can rent a castle in Scotland on the ocean and just take all my books and go there and write. I have all these amazing projects that I'm never gonna get to, for years and years and years and years. So the things that I can get to now, you need to start. Stop wasting time, basically."