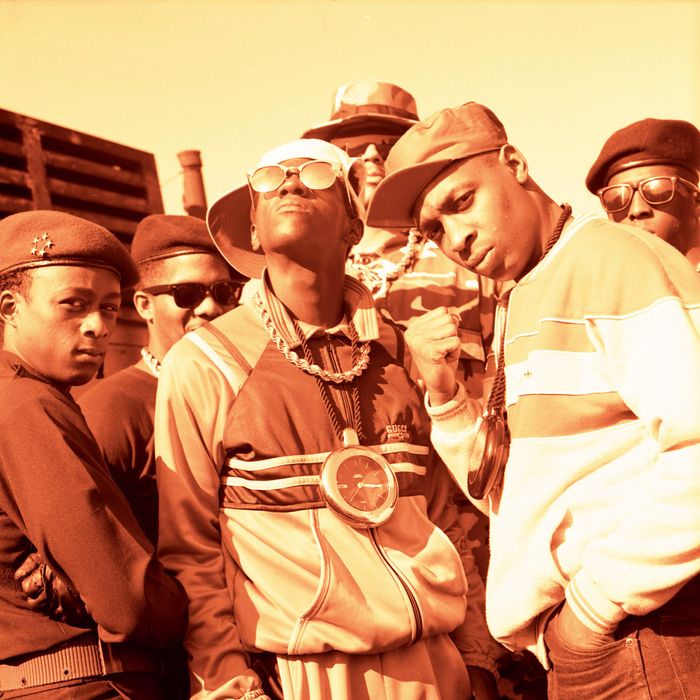 For what started as an NYU dorm-room project in 1983, it's safe to say that Rick Rubin's Def Jam Records has far surpassed the hydroponic tinkerings of your average Bobcat. From its raucous early Beastie Boys releases all the way to its more contemporary Kanye West and Frank Ocean offerings, the label has continually proved itself to be one of hip-hop's most popular and influential entities. In honor of Def Jam's recent 30th anniversary, here's a list (unranked!) of the label's 21 most important albums.
1. Beastie Boys, Licensed to Ill (1986)
This album was one of the first to successfully blur the borders of rock and hip-hop. It was the first official Beasties LP and the first full-length rap record to top Billboard charts. Kerry King of then-labelmates Slayer rips the ballsy guitar solo in "No Sleep 'Til Brooklyn," the  rowdy homage to the trio's home borough. "She's Crafty" speeds up the guitar riff from Zeppelin's "The Ocean" and adds some drum machine. It helped bring mainstream audiences to hip-hop, and made the Beasties stars.
2. Slayer, Reign in Blood (1986)
Surprisingly, these thrash-metal maestros invited Rick Rubin to produce their third studio album, a technically complex, face-melting release. Many call this album, which diversified Def Jam's roster as much as it elevated Slayer's deeply influential sound to new heights, the greatest thrash recording of all time.
3. Public Enemy, It Takes a Nation of Millions to Hold Us Back (1988)
This influential East Coast rap crew chased up their debut, Yo! Bum Rush the Show, with this even more definitive follow-up. Producers the Bomb Squad stuffed it with James Brown and jazz samples; Chuck D. and the obnoxious Flava Flav both embraced a galvanizing, aggressive delivery. It Takes a Nation marked one of the first times hip-hop took a political stance that looked far beyond the local. Chuck D. preaches on "Bring the Noise": "Never badder than bad cause the brother is madder than mad / At the fact that's corrupt like a senator …" And then, an actual challenge: "Radio stations, I question their blackness / They call themselves black, but we'll see if they play this." They did, and the track hit No. 56 on the Billboard Hot R&B/Hip-Hop Songs chart. The album — with other cuts like "Rebel Without a Pause" taking shots at then-president Reagan, "Don't Believe the Hype" setting a target on the American media — paved the way for later political acts like Dead Prez and Cypress Hill.
4. EPMD, Business As Usual (1990)
For Erick Sermon and Parrish "PMD" Smith's first Def Jam release (and third overall), the duo declared war on sucker emcees. It was a game-changer, one that zealously introduced the full force of DJ Scratch's heavy funk samples, from James Brown to Funkadelic to Steve Miller Band. Most notable, however, were tracks "Brothers on My Jock" and "Hardcore," which introduced a pre-Wu-Tang, then-Padawan Redman who tested his now-legendary growls with intricate tongue-twisters like "Punk push a pen and pencil when I'm pissed / Pack pistol posse, flow some more pro shit." That unflappable bass line on "Brothers" is the stuff of very good dreams — dreams that went on to inspire future rap nobility like Jay Z, Outkast, and Das EFX.
5. LL Cool J, Mama Said Knock You Out (1990)
A year after LL's commercially successful Walking With a Panther received a tepid response from the hip-hop community in 1989, producer Marley Marl threw the veteran rapper a cred lifeline with Mama Said by highlighting his aggro roots with thudding beats in a slick recording. Other than the title track, which won LL a Grammy in 1992 for Best Rap Solo Performance, the album also houses classic beef track "To Da Break of Dawn," which disses en vogue rappers like MC Hammer, whom LL compares to a whistle-toting PE teacher (an insult so confusing, it might sting twice as much). On Mama Said, LL Cool J set a new standard for lighthearted peacocking in hip-hop.
6. Redman, Whut? Thee Album (1992)
Post-EPMD and pre–Def Squad, Redman unleashed his first proper effort in Whut?,  which blended Parliament samples and "Jersey block party" vibes and topped it off with a sneer. In the video for "Tonight's Da Night," Red gestures to Q-Tip, musing, "Like Q-Tip, I kick more styles than Bruce shoes kick / But tonight's the night, what I write tonight / This type of funk with the flavor like Mike 'n' Ikes." He spends the record folding in comedic prods inspired by his mentor Biz Markie, with whom he'd previously toured. On Whut?, the now-iconic Red established his buttery yet acerbic rapping style, which would attract disciples and copycats for years to come.
7. Method Man, Tical (1994)
Just a year after the release of the highly praised Enter the Wu-Tang, Method Man was the first to break away from the Shaolin family. The result: Tical, a murky solo joint produced by RZA that copped Wu's signature kung-fu film samples. The album title refers to either a blunt wrapped with honey or syrup-soaked cigar papers, which is ironic considering its extremely dark contents (save its sole love song, "All I Need"). On Tical, Meth reintroduced himself as "that brother you don't know if he's gonna stab you in the back or kiss you." His wide-ranging, unpredictable lyrics and Wu-honed rhythmic skills allowed the rapper to stretch beyond a one-dimensional crew persona.
8. Foxy Brown, Ill Na Na (1996)
Foxy was a (mostly) regular Brooklyn teen when Jay Z first invited her to lay down a freestyle on "Ain't No Nigga" in 1995. That same year, at just 16, guesting on Case's "Touch Me, Tease Me," she started calling herself "ill na na," an apparently empowering (and since-retired) slang term for a vagina. Ill the album granted the matured rap goddess the platform she could easily dominate, all while rocking the hell out of some deep plum lipstick (miss you, OG j.a.n.e. cosmetics). Sex is, of course, the prevalent theme on the impressively guest-heavy debut; Foxy brags about riding guys quasi-cowgirl so adeptly, they forget to doff their socks. Jay Z and Method Man make appearances, but the album would stand strong even without them. Gurgling synth beats simmer in "I'll Be," where Foxy rejects the idea of men funding her life with, "Nasty girl, don't pass me the world / I push the V, not the backseat girl." Ill Na Na went platinum and springboarded the rapper into hip-hop royalty (before various legal troubles began tripping her up, that is).
9. DMX, It's Dark and Hell Is Hot (1998)
DMX and his Ruff Ryders crew must have noticed the rise of decidedly masculine, violent rap, because in 1998, they joined the wave — but not without first forcing a fistful of gravel down its throat. Sinister synths and hellhound barking flood the Swizz Beatz/Dame Grease–produced debut record, which debuted at the top of the Billboard 200 and has since sold more than 5 million units. Not only are there hardly any samples, there's no question about how deeply serious DMX was, is, and perhaps always will be, his delivery often waxing downright frightening and otherwise introducing an unprecedented virility in rap. Later that year, DMX would prove that seriousness with the release of also-chart-topping Flesh of My Flesh, Blood of My Blood, becoming the second rapper ever, after Tupac, to release two albums in one year.
10. Slick Rick, The Art of Storytelling (1999)
British-born Slick Rick plays a silver-tongued, streetwise Brother Grimm incarnate in this collection of urban fairy-tales. He masters the hip-hop narrative with a buttery flow in the star-studded album, which features Outkast, Nas, and Snoop Dogg, among others, to deliver a record with strong storytelling quality to match the album's earnest title. "Who Rotten 'Em" follows the protagonist (probably Rick) into a meeting with the pharaoh who expects a sick freestyle on demand. "Kill Niggaz" details Rick's life now after five years in prison for attempted murder. After he hit a home run with Storytelling, however, he quit the game altogether. He never released another full-length, making Storytelling his consummate pièce de resistance. Today, he busies himself with haters at Nets game performances and hosting '90s-themed dance parties in the West Village instead (the latter of which, admittedly, are a whole lot of fun).
11. Jay Z, The Blueprint (2001)
This record's celebratory, Jackson 5–sampling single "Izzo (H.O.V.A.)" not only afforded Jay yet another nickname (a reference to Jehovah a.k.a. God, which means Jay Z is calling himself the Messiah — which, considering this album, is kinda okay) — it also put Kanye West squarely center on the superstar producer map. The track got so many radio requests and was bootlegged so aggressively that Def Jam dropped the album earlier than planned. As an album, The Blueprint showcases Hov's stunning delivery, production ear, and sharp business savvy. Widely considered the pinnacle of his career, the record features minimal guest-verses, which is fine because it's easily supported almost entirely by Jay's talent alone. The Blueprint made it official: The Jigga had replaced Biggie as New York's rap king.
12. Ludacris, Word of Mouf (2001)
Luda's second release for Def Jam solidified the country-fried Dirty South that was igniting rap radio in the early '00s: lyrics celebrating violence, rough sex in public places, and lots of epic, high-school-band-style horn sections. "Move Bitch" was a particularly A-list cameo jam, delivering verses from Lousiana's Mystikal and Ludacris's Disturbing tha Peace crew (which included 2 Chainz back in his Tity Boi days). Other flammable numbers like "Rollout (My Business)" and "Cry Babies (Oh No)" gave the album fangs for middle-school listeners and expert dis-slingers alike.
13. Jay Z, The Black Album (2003)
The Black Album was marketed as Jigga's retirement album, which explains its all-star production roster: Rick Ross, Just Blaze, Pharrell, and a handful of other artists whose names sound great when shouted. The result is an impossibly polished, durable full-length. It's personal, including "December 4," a track named after his birthday that details his life thus far in lyrical fragments and commanding instrumental samples. "99 Problems" arguably marks his last powerful single, highlighting his humble beginnings ("I'm from the hood, stupid …") and now-established swagger … with cowbell. It was incredibly influential outside hip-hop, too. The Black Album inspired two mash-ups: one from Danger Mouse, who blended it with the Beatles' "White Album" (The Grey Album), and one with Pavement's Slanted and Enchanted (The Slack Album) from the obscure DJ N-Wee.
14. Kanye West, The College Dropout (2004)
Having credits on Hova's Black Album gave then-scrappy Chicago producer West enough swaggering validation to take on his proper debut album as an emcee. With 21 tracks, Dropout is an audacious start, made brasher by his blatant "Izzo" callback, an "allow me to introduce myself" in the heavily Auto-Tuned "The New Workout Plan." West's persona was fresh and unprecedented, blurring the line between underground and mainstream hip-hop, asserting a charming prance and delivery over complex production over crate-dug samples. Consider this record the opening chapter in the Yeezy Bible.
15. Ghostface Killah, Fishscale (2006)
For his fifth solo album, the rapper also known as Tony Starks commissioned productions from legends like MF Doom, Pete Rock, and the late J Dilla. His fellow Wu-Tang members also appear on Fishscale; most notable, Raekwon, on the anthemic drug-slinging jam "Kilo." Elsewhere, the Doom-produced "Underwater" swims through a trippy dream, "Beauty Jackson" peeps at a bizarre love pursuit with a surprise ending, and "The Champ" foams in a boxing ring of rage. It's an album dense with  narrative forays ("Barbershop"), whacked-out drug references (the title itself references a particularly premium Peruvian cocaine), and Ghostface's outsize, irresistible personality.
16. Rihanna, Good Girl Gone Bad (2007)
Rihanna picked up Foxy Brown's hypersexualized torch and sprinted with it towards the nearest dance floor. Her third album, which added a more pop-friendly groove to her style, made it easy for the larger listening community to truly get why Jay Z first signed her as a wide-eyed rookie from Barbados. This is where we get the synth-storming, radio smash "Umbrella," ushered in with a verse from Jay Z, as well as Timbaland-produced R&B diamonds like the horn-heavy, material-girl anthem "Lemme Get That," and the album's forlorn final single, "Rehab." 
17.  Young Jeezy, The Recession (2008)
No one ever questioned Jeezy's thriving machismo, stepping into the rap game in 2003 with the swag of decorated coke-slinging sergeant and Come Shop Wit Me. However, his Man of the People persona (save the occasional Lambo-related boast) bleeds through on his most ambitious, political release, which perfectly coincided with the economy's bottoming out. His timing couldn't have been better, especially with "My President," which features Nas and thumbs its nose at the U.S. involvement in Iraq. Amidst zealous synth raps, he growls shout-outs to friends in the service without really endorsing their participation: "'Be all you can be,' now don't that sound like some dumb shit / When you die over crude oil as black as my nigga, Bu/It's really a Desert Storm, that's word to my nigga, Clue."
18. The Roots, How I Got Over (2010)
There are few artists as gritless and street-cred-less as Joanna Newsom, yet somehow, on How I Got Over, the Roots were able to pair her warbly vocals with chill beats to legendary effect on "Right On." The Philly ensemble took their ninth proper full-length as an opportunity to continue the mostly subtle stride they established with 2008's Rising Down, an album originally insinuated to be their last. Fiercely intellectual and stunningly musical, How I Got Over showed that the Roots weren't content to just be Jimmy Fallon's house band. 
19. Kanye West, My Beautiful Dark Twisted Fantasy (2010)
Boasting is a time-honored traditional in hip-hop, but on MBDTF, Ye takes chest-puffing to the next level, exploring solipsism with six-, seven- and nine-minute rap epics. He stacks the album credits with producer greats like the RZA and L.A. Reid and guest appearances from Elton John, Bon Iver, Alicia Keys, Rihanna, John Legend, and more. West approached Beautiful with obsessive intentionality, claiming that he and his crew spent 5,000 hours writing "Power" alone. Featuring prog-rock gurgles alongside stomping French horns and ethereal folk dudes singing in Auto-Tune, this inventive record stands out as sharply today as it did the moment it was released.
20. Frank Ocean, Channel Orange (2012)
The summer of 2012 was made magical by the release of Channel Orange, the first proper major-label offering from a member of iconoclastic L.A. outfit Odd Future. Frank Ocean, the crew's resident R&B singer, swapped the confrontational, violent lyricism of his peers for a soulful pop that resounded particularly loudly when coupled with a timely, super-confessional Tumblr post that challenged the stereotypes and cultural norms pervasive in its musical lineage. With the heavy gloss of strip club saga "Pyramids" and spacey, Earl Sweatshirt–featuring "Super Rich Kids," Channel Orange became the Triple Sec that mixed sincere soul, pop, and R&B together with a knowing, mournful attitude.
21. Pusha T, My Name Is My Name (2013)
After two releases with Kanye's G.O.O.D. label, Pusha T fully cemented his menacing-thug persona beyond Clipse with this Def Jam debut. Continuing his relationship with the Neptunes, Pusha had Pharrell onboard to produce several tracks, while Kanye lend a hand to others, most notably on "Who I Am," which also features verses from 2 Chainz and Big Sean. The track hearkens back to Pusha's snow-peddling days in Virginia Beach — with brother Malice, who later found God and adjusted his moniker to "No Malice" (one of the reasons for Clipse's 2011 breakup) — and promises to keep hustling. Statement of intent: "I just wanna be who I am / I just wanna be who I am / Always knew I could rule the world / Let's define what my world is / Knee-deep in this dope money / Damn near where my world ends."