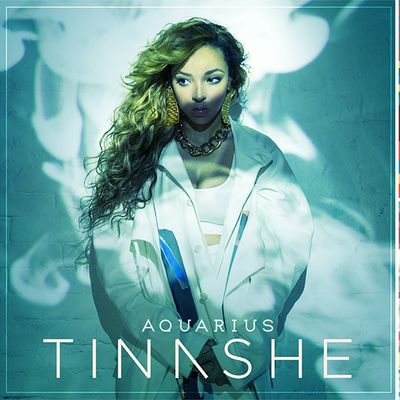 At last, the drought is over. It's finally that time of the year when, on any given week, there is actually more than one album worth reviewing. I'll have some thoughts about (arguably) the week's biggest release, Weezer's Everything Will Be Alright in the End, coming a little later, but in the meantime, here's my short take on three other albums worthy of your time this week: Tinashe's Aquarius, Caribou's Our Love, and Ex Hex's Rips.
Tinashe: Aquarius
This summer, my favorite radio hit to hear drifting out the windows of any passing car, preferably after the sun went down, was Tinashe's "2 On." It's one of those songs whose atmosphere is so blissfully dusky that when it's played in open air, it practically merges with the night; producer DJ Mustard punctuates the mix with understated twinkles as though he's some benevolent deity scattering a fresh crop of stars across the sky. The (similarly understated) star at the song's center, though, was R&B up-and-comer Tinashe — an intrepid survivor of a failed, Vitamin C–assembled pop girl-group (The Stunners) who now sounds much more comfortable and confident in the laid-back, post-Weeknd vein of her debut album, Aquarius. "2 On" is the only surefire smash here, but Aquarius establishes Tinashe as an artist more interested in atmosphere than big, obvious hooks. Her songs don't build so much as they slowly, seductively uncoil. (In a world where we're all defined by our place on the Beyoncé Zodiac — and aren't we? — Tinashe's sign is definitely "Haunted.") Over the past two years, Tinashe sketched out her ideas as a solo artist across three solid mixtapes, and Aquarius has the same virtues and faults of that loose form: intimate, personal, and (at 18 songs in just under an hour) occasionally in need of an editor. But in the end, the highlights outweigh the filler. Aquarius's guest spots are so well-curated (Dev Hynes produces "Bet," Future spits like a short-circuiting robot on "How Many Times") that some fool on Wikipedia felt compelled to give it the shudder-inducing tag "PBR&B." But, at least in its brightest spots, Aquarius is made from the stuff a few shelves up: pure, effervescent Champagne.
Caribou: Our Love
Dan Snaith, the Canadian mastermind behind Caribou, once expressed his desire to make "dance music that sounds like it's made out of water." Up through his 2007 Polaris Music Prize–winning album Andorra, his collagelike sound was just as indebted to psych-rock as it was to dance music, but that all changed on his most beat-oriented (and, in my opinion, best) album, 2010's Swim. After a detour making more traditional, deep-house-indebted dance music under the name Daphni (whose 2012 album JIAOLONG was largely culled from Snaith's live DJ sets), he's back to once again assume — but also complicate and expand — the Caribou name. Texturally (and so much of Snaith's music is about texture), Our Love is his sleekest record to date: The great lead-off single "Can't Do Without You" warps like slowly melting plastic, while the smooth surface of "Silver" draws you into the hypnotic loop at its center. Our Love doesn't quite have the kaleidoscopic, barely containable explosion of ideas that made Swim such an exciting record, but what it lacks in (comparatively) youthful enthusiasm it makes up for in fluid, simplistic elegance.
Ex Hex: Rips
"We're gonna let the good times … toll!" D.C. indie legend Mary Timony declared when we last heard from her in the way-too-short-lived supergroup Wild Flag, where her proggy daydreams were a perfect foil to Carrie Brownstein's tight punk riffs. But Timony's new power-pop trio Ex Hex is, unquestionably, here for a good time: kick-the-door-down percussion (courtesy of drummer Laura Harris), T. Rex–worthy hooks, and take-no-prisoners 'tude. I'm a big fan of Timony's '90s work with grungy Ren Faire weirdos Helium (for my money, their debut The Dirt of Luck is the most underrated entry in the Matador Records catalogue), but there's something refreshing about hearing her rock out so completely and uncomplicatedly on Rips. Highlights like "Waterfall," "Radio On," and "Don't Wanna Lose" feel so classically, perfectly rock 'n' roll that on the first spin, you already feel like you've known them for decades. Rips is crisp, precise, fearless — a tribute to '70s rock grit and '80s New Wave gloss that never tries to hide behind the gauzy haze of nostalgia. But it's also a subtly subversive take on rock's past, given that most of the genres Ex Hex riff on — power-pop and glam in particular — were total boys' clubs in the '70s and '80s. Half the songs on Rips are good enough to have been on the first Cars album, if the girl on the cover had come to life, kicked the guitars out of the boys' hands, and given them a piece of her mind: "I've been the target of your cruel intention, and I know just how you got that girl!"