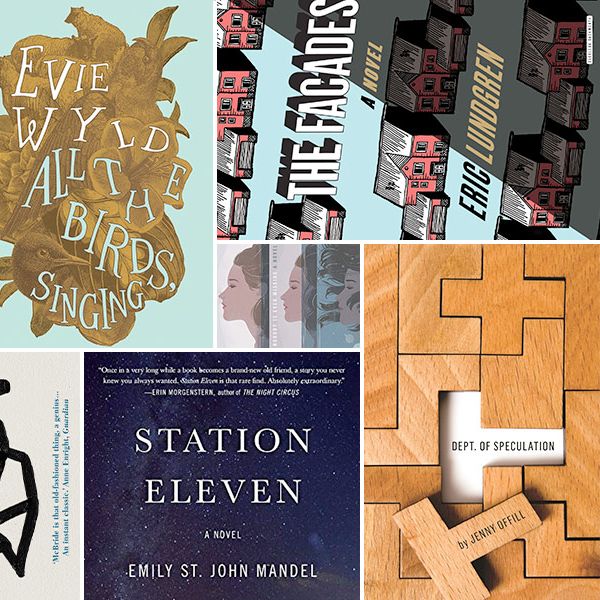 What to read while you wait for David Fincher's adaptation of Gillian Flynn's blockbuster novel, Gone Girl (or to fill the void once you've seen it)? You've already conquered Flynn's own backlist, and you've read all the Tana French you can get your hands on. You need a book that will grab your attention and mess with your head like Gone Girl. A spirited tale that will make you question the foundations of marriage and whether or not you can ever truly know another person, maybe where a woman literally leaves or goes missing, with an unconventional structure, shifting narrative perspective, slow reveals, insight into the everyday horror of existing as a woman in the world, and hopefully, some suspense. These seven recent novels should keep you busy until you see Nick and Amy on the big screen. (Suspense being key to many of these stories, spoilers for this list and Gone Girl have been carefully avoided.)
1. Station Eleven, by Emily St. John Mandel
Mandel's spectacular, unmissable new novel is set in a near-future dystopia, after most — seriously, 99.99 percent — of the world's population is killed suddenly and swiftly by a flu pandemic. (Have fun riding the subway after this one!) The perspective shifts between a handful of survivors, all connected to a famous actor who died onstage just before the collapse. A literary page-turner, impeccably paced, which celebrates the world lost while posing questions about art, fame, and what endures after everything, and everyone, is gone.
2. NW, by Zadie Smith
Smith's most recent novel, and her most structurally playful work, centers on childhood BFFs Leah and Natalie (known in childhood as Keisha, she rechristens herself as part of creating her own life) in the eponymous NW London neighborhood where they grow up. Each of the five sections of the book follows a different character and employs a distinctively different style. Natalie's section is in turn subdivided into 185 short chapters. When Natalie's Craigslist affairs are exposed, she escapes her husband and home and wanders NW with an old classmate. Like Gone Girl, NW is preoccupied with facades, the ways people construct and present themselves, and the unknowability of anyone, especially the people you are closest to.
3. A Girl Is a Half-Formed Thing, by Eimear McBride
With the most unconventional narrative structure of this group by far, McBride's novel is a blazing, unexpected, punch-in-the-face revelation. The half-formed girl narrates in propulsive fragments ("I couldn't bide the loud Do not"), like Flynn's "cool girl" speech gone off the rails in the most wonderfully frightening way. Once you submit to the destabilizing rhythm of the prose, the book is wildly compelling and unlike anything else you've ever read.
4. Nobody Is Ever Missing, by Catherine Lacey
Lacey's debut novel could also have been called Gone Girl: The narrator, Elyria, suddenly flees her husband and their comfortable New York City life, telling no one where she has gone or why. She arrives in New Zealand and makes her way to the farm of a poet she met once at a party, who mentioned she should come visit him. She has trouble being in the world, a habit of sneaking away from her various hosts as she wanders the country without saying good-bye, an internal monologue at once melancholic and joyfully empathetic, and an increasing struggle with how to manage her own thoughts and feelings. The story of her marriage and what drove her to leave are gradually unspooled in Lacey's strikingly beautiful, haunting prose.
5. The Facades, by Eric Lundgren
Sven Norberg's wife goes out for an egg for her throat, evidently something opera singers do, and never returns. When the police offer no help, he searches for her in the streets of his midwestern town, Trude, which is just this side of bizarre, yet somehow believable. You quickly suspect Sven is refusing to acknowledge his own fault in his wife's disappearance and that his version might not be the full story. Also included: vigilante librarians, a literal labyrinth of a mall, a detective named the Oracle, and a very MFA-esque asylum.
6. All the Birds, Singing, by Evie Wyld
We meet our girl, Jake, living alone on her sheep farm on a remote, cold island off the coast of England. She is intentionally isolated, making an effort to befriend no one, secretive and fearful that her past will catch up to her. Then something wild and unknown begins killing Jake's sheep, and a drunk man appears on her property. The narration switches between the forward momentum of this sheep-killer mystery on the farm and Jake's backstory, which is told in reverse in alternating chapters. Her complicated history and the reasons she came to England and left her home in Australia are slowly revealed. A different exploration of the ways we can never truly know a person than the particular perspective in Gone Girl, Wyld's book is dark and beautiful, and Jake will stay with you long after her secrets have come to light.
7. Dept of Speculation, by Jenny Offill
This short, pocket-size novel punches far, far above its weight. We follow the courtship and marriage of our unnamed heroine and her husband in short, stanzalike paragraphs, peppered with information from the autobiography of a Russian cosmonaut the wife is ghostwriting and other fun facts. The story begins in the first-person but switches to third when the husband's adultery comes to light. The book will upend your brain in a Gone Girl way, make you question the notion that any marriage can be a happy one, that any relationship has the hope to recover from betrayal or simply from the unfortunate fact of time passing and people changing. Read it, then immediately read it again.
Bonus recommendations: An Untamed State, by Roxane Gay: kidnapping in Haiti; Broken Monsters, by Lauren Beukes: serial killer in Detroit; Everything I Never Told You, by Celeste Ng: a missing girl and family secrets in Ohio.