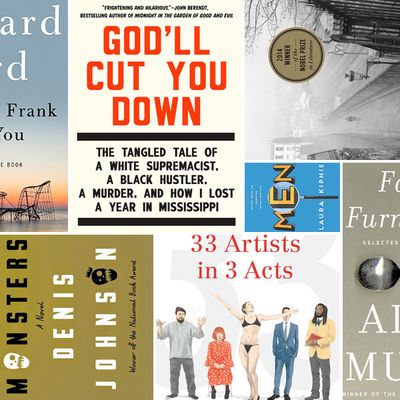 Each month, Boris Kachka will offer nonfiction and fiction book recommendations, and you should read as many of them as possible.
33 Artists in 3 Acts, by Sarah Thornton (WW Norton, Nov. 3)
The author of the pop ethnography Seven Days in the Art World takes a more pointillist approach here, profiling nearly three-dozen makers ranging from Jeff Koons (in a harsh light) to Ai Weiwei, Damien Hirst, and, yes, briefly, the Dunham family, but also many others more obscure. Her interviews, interwoven to show conjunctions and contrasts, cohere into a strong three-part whole — first politics, then kinship, and finally, a readable interrogation of what's so often overlooked: craft.
Let Me Be Frank With You, by Richard Ford (Ecco, Nov. 4)
Looking past the throwaway title, there's nearly as much savor in this four-novella postscript to Ford's Frank Bascombe novels as in the trilogy itself. Now a boomer retiree, Bascombe finds death to be less of an abstraction than it once was. Churning in the background is an America of lowered expectations and, more concretely, Hurricane Sandy, which has devastated the oceanfront real estate on which he built his late career. Faced with a dying friend and a fading ex-wife, Bascombe finds his optimism eroded but intact.
The Laughing Monsters, by Denis Johnson (FSG, Nov. 4)
The writer of Jesus' Son (and poet and novelist and playwright) never goes to the same place twice. In his tenth novel, he invades the country of Sierra Leone and the genre of Graham Greene's "entertainments" — a thriller of spies and black marketeers that's hard to put down for all the right reasons. As antihero Roland pushes into the African interior, the frightening post-9/11 world of loose nukes and high-tech surveillance makes the dark-hearted adventures of Greene and Conrad look innocent by comparison.
Suspended Sentences: Three Novellas, by Patrick Modiano, translated by Mark Polizzotti (Yale Univ. Press, Nov. 11)
So what if the Nobel Prize has become an expensive mechanism for discovering foreigners? It's a valuable service in a market hardly glutted with novels in translations. This year's laureate well deserves it, to go by Yale's short collection. Like The Sorrow and the Pity as directed by Godard, translated with force and fluidity, Modiano's autobiographical recollections of a ragged youth in occupied-then-liberated France is catnip for Francophiles and anyone besotted with the postwar writing life.
Family Furnishings: Selected Stories, 1995–2014, by Alice Munro (Knopf, Nov. 13)
One of those rare modern Nobelists who wasn't a well-kept secret, the category killer of short-story writers has published all these tales before. But this later-life meta-collection gathers up the absolute gems for initiates and rereaders both. Jane Smiley's introduction sets her up briskly as a lapidary miniaturist prone to sneak attacks, and clues you in to the glimpses Munro offers of her own life in her best work.
Men: Notes From an Ongoing Investigation, by Laura Kipnis (Metropolitan Books, Nov. 18)
The gender-centered essayist and author of Against Love turns her female gaze on the other gender, filing free-flowing musings on Ron Gallela, Tiger Woods, Larry Flynt, and many others under four rubrics: operators, neurotics, sex fiends, and haters. Her thoughts meander in the direction of her idiosyncratic curiosity, with a particular relish for grit over polish and for complicated truth over political cant.
God'll Cut You Down, by John Safran (Riverhead, Nov. 28)
Imagine In Cold Blood written not by Capote by an Australian, higher-brow Johnny Knoxville. For this very self-conscious emulation of Janet Malcolm and John Berendt, published last year in Australia as the best-seller Murder in Mississippi, the race-obsessed documentary filmmaker spent the better part of a year in the Deep South, interviewing and occasionally enmeshing himself with the players and bystanders in the murder of a leading white supremacist — by a young black man who may have been fending off a sexual advance.