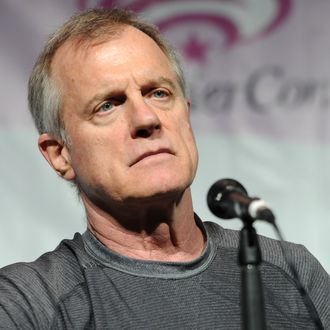 Photo: Albert L. Ortega/Getty
Actor Stephen Collins, best known for his role as Reverend Camden on 7th Heaven, appears to confess on a tape obtained by TMZ to molesting one child and exposing himself to multiple children. The admissions were recorded during a therapy session secretly taped by Collins's estranged wife, Faye Grant. (Collins filed for divorce in 2012, after 27 years of marriage.) Warning, the audio is pretty disturbing.
"When you exposed yourself to ***** 10-year-old sister, did you have an erection?" Grant asks. "No, I mean … partial, maybe?" Collins says.
Collins: The exposure happened a couple of times.

Grant: A couple of times? With a 10-year-old?

Collins: Well, no, she was 11, and then like 12, and 13 … There was never any conversation around it … There was one instance where there was one moment of touching, where I put her hand on my penis.
Collins says on the tape that there were a total of three girls, one of whom he tried to apologize to years later.
According to TMZ, the NYPD is investigating.