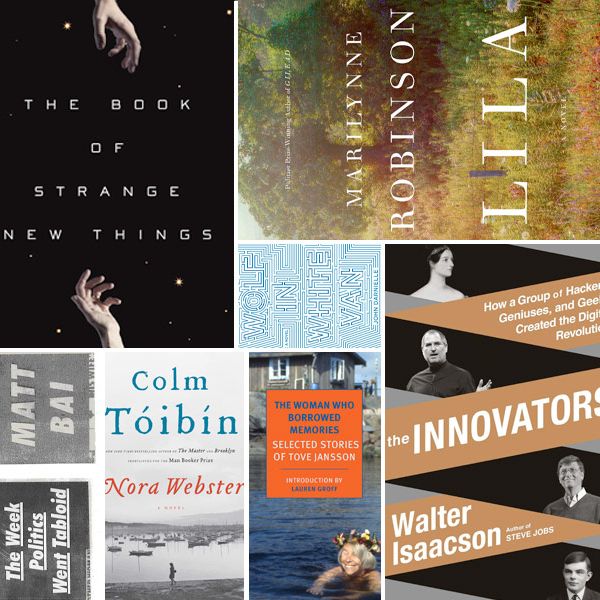 Each month, Boris Kachka will offer nonfiction and fiction book recommendations, and you should read as many of them as possible.
Wolf in White Van, by John Darnielle (FSG, September 16)
Okay, so this is technically a September book, but they moved the publication date at the last minute to take advantage of it being long-listed for the National Book Award. And in a landscape littered with rock stars' literary larks, the debut novel Mountain Goats front man definitely stands out. The young narrator of this novel, horribly disfigured from a suicide attempt, convalesces by inventing a role-playing game transacted over snail-mail. A tragedy involving two players allows Darnielle to explore thorny moral questions, but most captivating is the point of view: raw and claustrophobic, like Darnielle's own wounded lyrics, but with the traumas made visible.
Nora Webster, by Colm Toíbín (Scribner, October 7)
The Irishman who made subtle, moving novels out of the lives of a young immigrant woman, Henry James, and the Virgin Mary comes home to County Wexford in the '60s, a place screaming out for the sexual revolution around the corner. The titular 40-year-old mother, recently widowed, finds the walls of her world closing in (to say nothing of her greedy neighbors), forcing her to push out in new directions.
The Innovators, by Walter Isaacson (Simon & Schuster, October 7)
To the groaning shelf of Isaacson's genius-biographies (Franklin, Einstein, Jobs) you can add this biography of the internet — a project whose gestation preceded Steve Jobs and whose vision exceeds it. Employing a cast of dozens and a span of centuries, Isaacson straddles the chasm between Great Man worship and more communal theories of innovation. He also shows how, in the scheme of things, Lord Byron's countess daughter was as crucial a figure as the self-regarding libertarians of the Valley.
Lila, by Marilynne Robinson (FSG, October 7)
Readers who preferred Gilead, Robinson's very long-awaited and Pulitzer Prize–winning second novel, to her third, Home, will be relieved to know she's returned not only to its main subject — this prequel recounts the wild, sad youth of the wife of the Iowa minister narrating Gilead — but to its airy, compact style, at once folksy and eternal. Morally fraught, it's also got an itinerant plot that keeps the pages turning, even though we already know what becomes of Lila.
All the Truth Is Out: The Week Politics Went Tabloid, by Matt Bai (Knopf, October 8)
It's easy to rail against the coarsening of public discourse, but more complicated to argue, as this political writer does persuasively, that we were all better off back when Kennedy's nighttime romps were off the record. Revisiting and re-reporting the pivotal case of Gary Hart, a smart and charismatic shoo-in for at least a presidential nomination brought down by a brief affair, Bai decries the red herring of "character" across the political spectrum, right down to the sitting president whose "campaign was a story rather than an argument."
 The Woman Who Borrowed Memories: The Selected Stories of Tove Jansson (New York Review Books Classics, October 21)
Jansson's comically existential quite-short stories, collected Stateside for the first time, bear the marks of her peculiar career. The Swedish-speaking Finn created the famous Moomintrolls, a Nordic answer to the Smurfs, in order to support her work as a painter. Only in her 50s did she turn to adult fiction, infusing it with the fearful visions of children's tales but also the nagging concerns of advancing age — its doldrums and consolations, its warping effects and acid ironies.
The Book of Strange New Things, by Michel Faber (Hogarth, October 28)
The author of both the Victorian romance The Crimson Petal and the White and the recently filmed science-fiction creeper Under the Skin approaches this interplanetary saga as an expert genre traveler. He's certainly more comfortable on alien turf than his latest protagonist, a far-future missionary set on civilizing the natives of Oasis, a new colony for exiles from endangered Earth. Faber's potent new amalgam of sci-fi and spirituality puts him within rocket range of David Mitchell.
The Secret History of Wonder Woman, by Jill Lepore (Knopf, October 29)
Relegated to second-class status in her kitschy later years, long overshadowed by her male colleagues in the Justice League, the exiled Amazonian goddess is rescued and recast as the missing link of the feminist movement. She was created by William Moulton Marston: rogue psychologist, inventor of the lie-detector test, and head of a polyamorous household that included the niece of birth-control pioneer Margaret Sanger. In wartime, she was a Rosie the Riveter in actual combat. It's an origin story far deeper, weirder, and kinkier than anything a cartoonist ever invented.