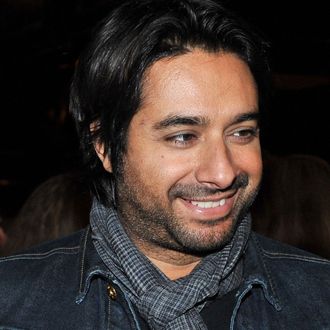 Photo: Sonia Recchia/Getty Images
More unpleasant details have emerged in the case of Jian Ghomeshi, the iconic Canadian broadcaster who was fired from his CBC radio show "Q" this past Sunday. While details of his dismissal weren't immediately clear, a Toronto Star article released Sunday night revealed that four women alleged that Ghomeshi was violent with them during or leading up to sex. Ghomeshi responded to the firing with a $50 million lawsuit against the CBC and a lengthy Facebook post about his proclivities for BDSM and the claim that the firing was based on a "moral judgment" about his personal sexual preferences.
Now four more women have come forward, accusing Ghomeshi of sexually abusive behavior dating back as far as 2002 in a Toronto Star article released Wednesday. That brings the number of total accusers to eight. While most of the women have asked to remain anonymous, Canadian television actress Lucy DeCoutere (who plays Lucy on Trailer Park Boys) agreed to have her name used in the article, saying that in 2003 Ghomeshi choked her so hard she couldn't breathe and slapped her hard on the head three times. "He did not ask if I was into it. It was never a question. It was shocking to me," she said.
The other women share a range of accusations, including nonconsensual choking, hitting, verbal abuse, and workplace sexual harassment. Here's the story from one woman, a twentysomething fan of Ghomeshi's who met him at a book-signing event:
She alleges that in the stairwell, Ghomeshi slammed her against a cement wall and she dropped her belongings. When she knelt to pick them up, he choked her from behind and struck her across the head. He demanded that she stand, and he marched her up the stairs into her friend's empty dorm room. She says he demanded that she kneel, then hit her repeatedly about the head while she stared up in shock. She asked him about bruising, and he laughed and replied that he knew how to hit her so there wouldn't be any. He hit her again, and she stared in disbelief and shock. She remembers feeling that he then lost interest and left, hugging her on his way out of the building. She later sent him an accusatory email, and he responded by email. The Star has copies of the correspondence. "it IS about sex," wrote Ghomeshi in an email to the woman, asserting that she had consented, "it WAS… that you've decided to turn this ugly is disappointing. i wish for good karma into 2013."
And from another woman, also a twentysomething fan who met Ghomeshi at a book-signing event the same year:
When she arrived at his house and greeted him, she says Ghomeshi answered the door and stared at her. Without speaking, she alleges that he threw her against the wall and demanded that she get on her knees and perform fellatio. She alleges that when she kneeled down he struck her repeatedly about the head, "hard enough that (her) vision was blurred." She says he took his belt off, tied it tight around her neck, "yanked" it, and led her around by the belt. They had intercourse, she said, and during it she alleges he whipped her back with his belt and hit her about the head. She alleges he put his full body weight on her face during fellatio, to the point where she gagged, couldn't breathe, and felt she would vomit. A subsequent encounter, she alleges, left her with deep bruising on her body. She alleges that when she later confronted Ghomeshi and showed him pictures of her bruising, he told her that he found her bruises to be "hot."
And the horrifying allegations continue to pour out: Of note, two of the women claim that before they were assaulted, Ghomeshi introduced them to his teddy bear, Big Ears Teddy, and that he turned the bear around before abusing them, saying, "Big Ears Teddy shouldn't see this." Meanwhile, Gawker reports that "Big Ears Teddy" also happens to be the name of a Twitter account that posted incriminating tweets about Ghomeshi and sexual abuse this April, before the story broke. For example:
Apart from his preemptive Facebook strike, Ghomeshi has yet to respond to any of the allegations.