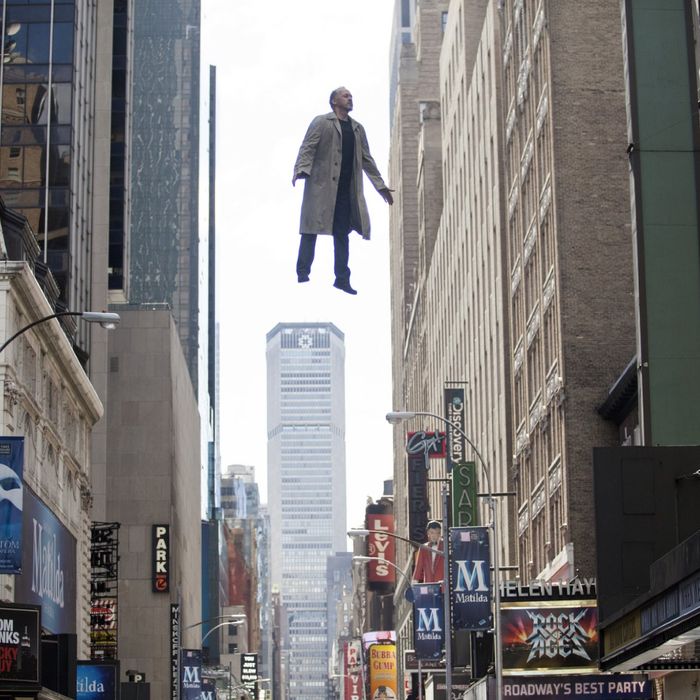 Through long takes and immersive tracking shots, films and TV shows like Goodfellas, Boogie Nights, and True Detective have given viewers the impression that they're watching drama as it unfolds in real time. Birdman continues in this tradition, immersing viewers in the tortured headspace of Michael Keaton's emotionally disturbed, has-been actor through one seemingly uncut two-hour shot. It's the latest triumph for cinematographer Emmanuel Lubezki, who pulled off last year's 12-minute opening shot in Gravity and several memorable long takes in Children of Men. But Birdman's Alejandro González Iñárritu isn't the first filmmaker to attempt a feature-length tracking shot/long take, nor is he the first director to include several invisible cuts that divide his film's action into multiple smaller takes. Here are nine other very long movie shots.
9. The Passenger (6:31)
The second-to-last scene in The Passenger perfectly encapsulates why it's somehow even more disquieting than Blowup and Zabriskie Point, the other two dramas director Michelangelo Antonioni made with producer Carlo Ponti. Unlike most tracking shots, which draw viewers into action visualized within the camera's frame, The Passenger's tracking shot highlights what's happening off-screen. In this scene, Jack Nicholson's reporter is murdered off-camera as ambient street sounds from outside of his hotel window filter in, and his body is inevitably discovered. Antonioni makes us slip outside of the window's prison-cell bars, out into the street, then back inside before we realize what's happened. Shot in the Spanish town of Vera, this scene was hard for Antonioni to pin down, given how windy it was and how hard it was to keep the shot's lighting consistent as the filmmakers moved from inside to outside the hotel.
8. Weekend (7:25)
The traffic-jam sequence in Jean-Luc Godard's typically discursive, quasi-science-fiction comedy is one of the most vital scenes in his dense filmography. In the scene, Mireille Darc and Jean Yanne's boorish bougies suddenly emerge from a traffic jam full of self-absorbed motorists, children at play, and various other domesticated animals. The punch line to this Jacques Tati–esque long take? Darc and Yanne's characters don't slow down long enough to rubberneck when they zip past a bloody car crash. It's a wryly hysterical gag whose shaggy-dog structure is that much more funny because of its pointedly inconclusive climax.
7. The Player (8:05)
Robert Altman introduces viewers to all The Player's major characters in his film's opening scene. Shot 15 times over the course of half a day, the scene sets the stage for Altman's scathing Hollywood satire. The movie is populated by know-something wheeler-dealers that all inevitably chase after the wrong next big thing. In this opening scene, everyone falls over each other, trying and failing to remain in the loop and/or in the know. In real life, there was no script for this scene; all of the dialogue is improvised, including the discussion of various different real-life cinematic tracking shots.
6. Nostalghia (9:20)
Andrei Tarkovsky's dramas aren't sleepy or meditative, but rather, sublimely transformative. Characters' natural surroundings interrupt and even enhance the gnostic silence that surrounds them. In this typically rapturous scene, a Russian poet visiting Italy tests a local superstition by trying to keep a candle lit long enough to traverse a drained mineral pool. You feel every tentative footstep actor Oleg Yankosvskiy makes thanks to the scene's complex sound-design: heavy breathing, water dripping, and the soft tread of shoes in shallow water. Tarkovsky makes the most of his long take's cumulative effect by skillfully transitioning from medium close-ups of Yankorvsky to extreme close-ups of his quavering hands as he puts the candle down.
5. Snake Eyes (12:57)
Brian De Palma's longest tracking shot immerses viewers in the manic fight-night energy that fuels Nicolas Cage's typically hyper protagonist. It's one of the most technically virtuosic sequences in all of De Palma's filmography, and is even more elaborate than tracking shots from films like Bonfire of the Vanities, Carrie, and Carlito's Way. The shot isn't completely continuous, containing four or five invisible cuts. But it is insanely effective, completely disorienting viewers by highlighting various competing sights and potential clues that lead up to and follow a murder that Cage's hero must solve.
4. Rope (80 minutes)
Like Birdman, Alfred Hitchcock's Rope isn't really one long tracking shot, but rather, a series of long takes (ten, to be exact) that look like a single one. This was a source of great tension on the set of the film, a thriller based on Patrick Hamilton's play. Since each take was so long, the film's crew tiptoed around the camera so as not to force everyone to start all over again. This ostentatious technique makes Rope's drama appear to unfold in real time. Hitchcock got that idea from an earlier BBC version of Hamilton's play, also presented in real time.
3. La Casa Muda (88 minutes)
This Uruguayan horror film was later remade as Silent House, a lousy little indie horror film starring Elizabeth Olsen. It was shot over four days on a microscopic budget of $6,000. La Casa Muda follows a young woman who tries but can't bring herself to leave a soon-to-be-renovated home after she hears noises coming from upstairs. Somehow, this is the first horror film to attempt to represent events in real time, from start to finish.
2. Timecode (90 minutes)
Like The Player's opening scene, Mike Figgis's drama also features improvised dialogue and was also shot 15 times. Filmed on four different VHS cameras at the same time and presented in a split-screen format, Timecode follows four different stories of L.A. denizens who bump into each other during a movie shoot. The film's soundtrack alerts viewers to which of the four stories is most important at any given time. The theatrical version of the film was filmed in about 90 minutes.
1. Russian Ark (90 minutes)
Aleksandr Sokurov's dazzling, oneiric journey through the Russian State Hermitage Museum is known as the film to beat. Shot without any cuts, the film follows a bemused French aristocrat as he watches representatives of various periods of Russian history interact with each other throughout the Hermitage. The version that Sokurov released theatrically was the first complete attempt at shooting the film and his fourth total attempt. Additionally, Sokurov had only one day to shoot the film, since Hermitage had to be shut down when he filmed. The results are mesmerizing.