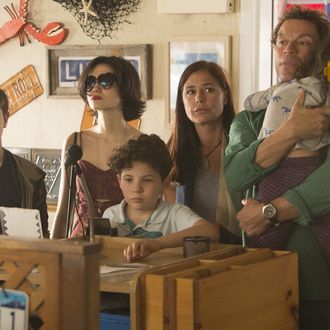 Photo: Craig Blankenhorn/Showtime
Audiences are apparently in no hurry to rush into The Affair: Showtime's critically worshipped new drama drew just 507,000 same-day viewers for its first telecast Sunday night at ten. That's barely half the size of the initial sampling for Masters of Sex, which opened to one million viewers last September when it, too, aired after an episode of Homeland. And it's even below the modest numbers for this summer's Penny Dreadful (which drew 872,000 viewers and built on its Californication lead-in.). There's no sugarcoating it: The ratings for The Affair have to be a massive disappointment for Showtime execs, particularly given the strong buzz for the show. And yet, it's also probably wise not to pass final judgement on the show's performance just yet.
For one thing, comparisons between Affair and Masters are hardly apples versus apples. Masters followed the season premiere of Homeland last fall, whereas Affair arrived after the second week of the Claire Danes show. That's no small difference: Homeland gave Masters a lead-in of 1.9 million viewers, whereas the series drew just 1.2 million Sunday (thanks, The Walking Dead!). And while Masters aired the same night as the Breaking Bad finale, The Affair entered the scene on the same night as an even bigger draw, the season premiere of The Walking Dead. It's also important to remember, as ever,  that Showtime series are among the most heavily time-shifted on TV, with initial telecasts often accounting for as little as 30 percent of an episode's ultimate viewership once DVRs and video on demand get added up. In fact, Showtime (like FX these days) refused to release same-day ratings data for The Affair, saying it wants to wait until three days of DVR replays get tallied. A network rep did, however, note that 600,000 viewers "sampled" the show via the network's on-demand services — more than watched on linear TV and more than checked out the debuts of Masters or Ray Donovan. (The first episode was also available to non-subscribers via an edited version on YouTube, but it's unlikely that affected ratings much.) Such data can seem like spin when it comes from advertiser-dependent cable and broadcast networks, but in the case of Showtime (or HBO), it really doesn't matter how or when Showtime subscribers watch a show — as long as they eventually find it. As depressing as the same-day linear numbers for The Affair may be, there's no reason to expect Showtime will be divorcing its newest series just yet.