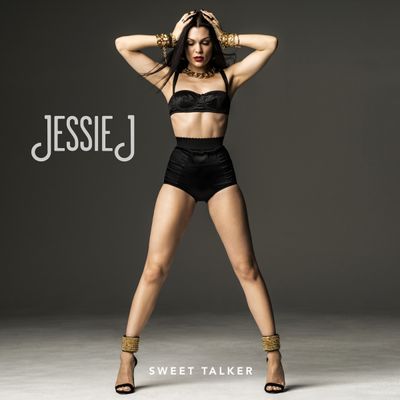 The first rule of divadom: The moment of silence in "I Will Always Love You" is even more important than the Note. I wish someone would deliver this message to ubiquitous Brit Jessie J, pop's most fidgety star. Throughout her third album, Sweet Talker (which is out this week in the U.S.), she sings like someone utterly incapable of restraint; even her inhales have jazz hands. Like an empty-nester with a newly acquired Bedazzler, Jessie J has never met a note she has not adorned with a trill, a flutter, or — the signature move she busts out when she is Really Emoting — a bleating effect I can only describe as goat vibrato. ("Big White Room," her 2011 ballad about a young boy with a terminal illness, has a lot of goat vibrato.) I have a friend who, two years later, remains freshly angry that during the 2012 Olympics Opening Ceremony, when, by some clerical error, Jessie J was summoned to front Queen for the night, Jessie felt compelled to grinningly air-guitar during Brian May's solo, as if she were trying to steal his thunder with an invisible instrument. ("WHO AIR-GUITARS IN FRONT OF BRIAN FUCKING MAY??" this friend just texted me when I reminded her of this. Stay mad.) I saw Jessie J last week at the Gramercy Theater, and I was, at times, entertained. More often, though, I was exhausted and a little confused, wondering if I had accidentally walked into an off-Broadway theater where Kristen Chenoweth was performing a one-woman show about Young Liza Minnelli.
On a technical level, Jessie J is a very impressive singer, but the trouble is that she doesn't let you forget that for a second. I'm reminded when listening to Sweet Talker that pop stardom is something more complicated than a contest to see who can sing the best or the loudest or put the most goat vibrato on a note. It's a measure of something ineffable and more difficult to define: spark, personality, taste — none of which Jessie has yet proven to have. Even in a moment when she's all over American radio thanks to her Ariana Grande–and–Nicki Minaj collaboration, "Bang Bang," it's hard to figure out exactly whom Jessie J appeals to. (Before the Gramercy show, my plus-one and I tried to predict what the crowd would look like. Who is Jessie J's fan base? We could not answer this question. "Even the gays are apathetic about her," my friend said, "And we're not apathetic about anyone.") Jessie J could, perhaps, carve out a space for herself as a kind of back-to-basics technician, in the vein of her old BRIT School classmate Adele, but Sweet Talker finds her once again insisting on something much more spangly. (Its first track, the manic "Ain't Been Done," sounds like Sleigh Bells crossed with Karmin.) At 15 tracks, Sweet Talker is a taxing listen, and somewhere in the middle of it all, this relentless fixation on technical ability curdles into a kind of distrust in the listener. Did you forget somewhere in the middle of reading this paragraph that Jessie J is a very impressive singer?
It doesn't have to be this way. Jessie J has shown us, at least once, that she's capable of lightness and (relative) restraint, on her great 2011 single "Domino." But therein lies the problem: I'm willing to bet that at least half of the people who have passively sung along to it on the radio still believe "Domino" is a Katy Perry song. Jessie J got her start writing for other artists (most famously, she penned Miley Cyrus's "Party in the U.S.A."), and many of the songs on her debut album suffered a common failing of writers attempting to cross over into solo stardom: They sounded like they were written for other artists' personas and thus didn't really tell us what was unique about Jessie J. (The grating "Do It Like a Dude" desperately wanted to be a Rihanna song, and thank God it wasn't.)
Jessie J is still much bigger in the U.K. than she is over here. Her second album, 2013's Alive, was not even formally released in the States — apparently her label didn't think it was suited for the American market and decided to hinge all their crossover hopes on Sweet Talker. Even riding the momentum of "Bang Bang," though, Sweet Talker still isn't Jessie J's star-making, this-is-who-I-am statement. There are a few nice moments: I really like the power ballad "Personal," even if there are certain notes in the chorus that make me so worried about Jessie J's vocal cords that I would like to personally pour her a shot of honey. "Seal Me With a Kiss," which features De La Soul and also flips a fun "Me Myself and I" sample, is a not-completely ill-advised attempt at some "Fantasy"-era Mariah vibes. "Burnin' Up," her current single with 2 Chainz, will be used to great effect in many a SoulCycle class.
But even in its least manic moments, Sweet Talker doesn't give the listener — or Jessie, for that matter — any breathing room. There's been a sense since her awkward turn as "house artist" at the 2011 VMAs that Jessie J is the kind of pop star that's been thrust upon us, rather than one that we elected; pop's greatest queens have about them a sense that we sanctioned their coronation, whereas Jessie J was introduced to us, puzzlingly, as a stranger singing "Firework" on a white throne. No one's questioning her pipes, but Sweet Talker does little to change the perception that Jessie J is a staunch try-hard slightly out of step with this era of DGAF pop. "The world is so loud," she sings on the very appropriately titled "Loud." "Loud, loud, louuud," she continues. Heard you the first time, Jessie.