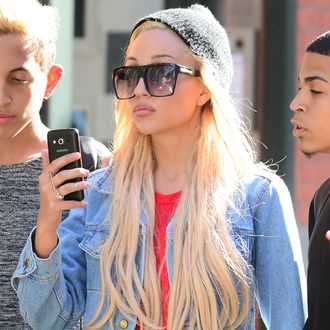 Photo: JDH Imagez / Splash News
The Amanda Bynes story keeps getting more and more distressing: After claiming that her father was "verbally and physically abusive" to her throughout her childhood, Bynes has recanted the story, blaming what she says is the "the microchip in my brain."  Bynes had been living with her parents under a conservatorship until a few weeks ago. In the words of TMZ, "things have been bad" between them.
According to Radar Online, Rick Bynes recently forbade his wife from visiting Bynes in New York, and sources quoted him as thinking "a long stint in jail would be the best thing for Amanda."
This post has been updated throughout.