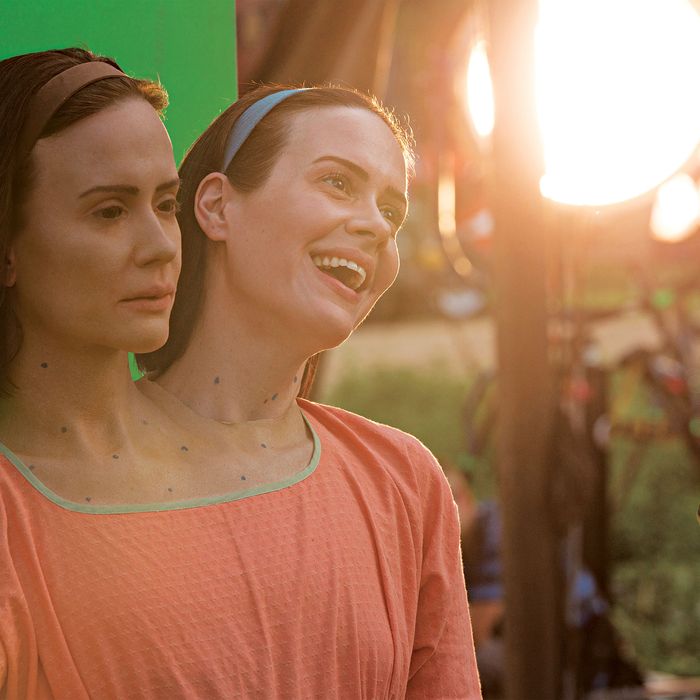 Photo: Michele K. Short/Courtesy of FX
In three seasons on FX's American Horror Story, Sarah Paulson has had to telepathically commune with the dead, breast-feed an adult sociopathic killer, and have sex while surrounded by dozens of snakes, to pick just a few discomfiting scenes from a series that has become a hit thanks its gothic blend of the camp and the demonic. Yet it was filming a seemingly mundane sequence for the first episode of American Horror Story: Freak Show, as the new season is titled, that caused Paulson to melt down, worried she might not be up to the task of playing Bette and Dot, conjoined twins who are recruited to help revive an embattled freak show in 1950s Florida.
The trouble? While eating a roll of bread (as Bette), Paulson had to simultaneously write in her diary (as Dot), a disorienting feat of mind-body multitasking. "They have two heads and two brains in one body, but, of course, I only have one of each," explains the actress, 39, over a boozy dinner in New Orleans, where the show is currently shooting. "So I was doing my part as Bette"—here Paulson begins buttering a roll with her left hand—"but as Dot I'm writing with my dominant side" — she pantomimes the movement with the fork in her right — "and my voice kept wanting to come out as Dot. I freaked out. Before I knew it, I was crying on set." Ryan Murphy, the show's co-creator, stopped shooting to take Paulson for a reassuring walk. "He was like, 'Lady, you're doing something that no one has ever done before,'" Paulson says. "Which was nice, but I was just so scared." She pauses, then adds, "I am so scared."
A little fear is a good thing. Over two decades as an actress, Paulson has proved herself to be an eager risk taker, able to inhabit characters as diverse as a devout-Christian comedian (on NBC's Aaron Sorkin-created Studio 60 on the Sunset Strip) and the vindictive wife of a plantation owner (in the Oscar-winning 12 Years a Slave). "My career doesn't quite look like how I once imagined it," she says, noting that as a teen, she filled her locker with photos of her then-idol Julia Roberts, "but my main thing now is I just want to work on things that scare the shit out of me because I may not be able to do it."
In person, perhaps buoyed by the wine, Paulson projects both an intense confidence and a beguiling vulnerability. She's frank when discussing her life outside acting, whether it be her bouts of insomnia or the mild debauchery of the previous evening, which was spent in the French Quarter and ended with her dancing at one of the city's most notorious dive bars. "You know you've had a good night," she notes wryly, "when you wake up with the word MINE mysteriously stamped on your hand." Her dating situation is also fair game. "Guys don't ask me out because they think I like women," says Paulson, whose last relationship was with the actress Cherry Jones. (Prior to that, she had only dated men.) Women, she surmises, "don't ask me out because they don't know what I am. Do I have to write a sign that says EQUAL-OPPORTUNITY EMPLOYER?"
For now, the daunting nature of American Horror Story is keeping her occupied. The show's theater-troupe template — each season, the main actors take on new roles in a self-contained story — has made it Paulson's "dream job." She was midway through playing the supreme witch Cordelia Foxx in last season's American Horror Story: Coven when Murphy pulled her aside and informed her that he had figured out her character for the next season. "I was so excited," recalls Paulson about learning she'd be playing conjoined twins. "I had no idea how the hell they were gonna do it." She began researching the role by studying Joined for Life, a 2003 documentary about Abby and Brittany Hensel, twins who share Dot and Bette's rare physiognomy. Every day before shooting, Paulson views a few minutes of the film to be reminded of details like the slight, asymmetric tilt of the Hensels' heads, which Paulson incorporates into her rendering of the sisters. "I thought it would make it look less like a special effect," she says, "but it's wreaking havoc on my neck."
A few months into filming the season, Paulson is no longer worried about breaking down on set, but she isn't the only cast member who struggles with the technical requirements of her role. She has to do each scene multiple times, first as one twin and then as the other, and on occasion her co-stars lose track of whether they're speaking to Bette or Dot. Jessica Lange, who plays Elsa Mars, a former German cabaret star who manages the failing freak show, found the process especially frustrating, according to Paulson. "In the beginning, Jessica would get so confused," she says. "She was always cursing: 'I don't even know who the fuck I'm looking at!' " Eventually, Paulson began slyly pointing to either her real head or the prosthetic one to let Lange know where to look while delivering her lines.
AHS's creepy milieu was easier for everyone to get a bead on. "The moment I saw the set," Paulson says, "these huge striped tents and a broken-down Ferris wheel on the water—I knew that from a visual standpoint this season would be unmatched." The freak-show setting, Paulson adds, is also "more in line with my personal tastes." Which means it's more enjoyable. "My character in Coven wasn't as much fun as playing Lana," she continues, referring to Lana Winters, the gay journalist in American Horror Story: Asylum, a role that earned Paulson her first Emmy nomination for the show. And whereas Coven was campier in tone than previous seasons, Paulson likes that Freak Show is a return to something darker. "It's about the idea of feeling totally cast aside," she says. "Me, I feel that way every day. I feel that way right now! I mean, I'm joking, but only sort of. I've never been one of those people who has a very healthy sense of themselves. I suffer from the sense that everything good in my life is about to go away."
American Horror Story, though, seems destined to haunt her for the foreseeable future. Albeit in a good, if occasionally weird, way. "This is the first time I've ever been on anything with a large audience of young people who are absolutely obsessed," Paulson says. She describes an encounter last year, while doing the play Conviction in Sag Harbor, when a fan approached her in the lobby of the theater and rolled up the sleeve of her shirt to reveal a tattoo inked in Paulson's handwriting. It read I'M TOUGH BUT I'M NO COOKIE, a line of hers from the show. A friend of the fan had asked Paulson to write the text on a piece of paper, then passed it along to use as the tattoo's template. "I wrote it in the quickest chicken scratch out of a car window," marvels Paulson, "and there it was scrawled on this woman's body forever." She takes a sip of wine. "I thought, That is so insane. And so cool."
*This article appears in the October 20, 2014 issue of New York Magazine.