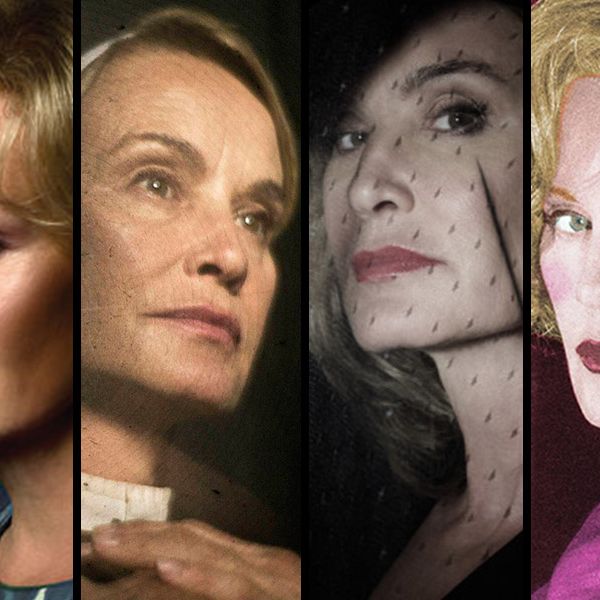 Last month, when Ryan Murphy confirmed to Entertainment Weekly that American Horror Story: Asylum's Pepper would return to also appear in Freak Show, AHS fans were positively freaked. Now that Murphy has allowed one character to return, could others be next? Could the different worlds of AHS be connected? Well, we have a proposal. Consider this our working unified theory of the American Horror Story universe. After thorough examination, we've discovered that the three seasons have many of the same rules regarding murders, death, and ghosts, and several of the characters' histories show potential overlap. But, of course, this is just a theory. We still need your help to work it all out. Below, we present seven connections between the three seasons, followed by a timeline of all the events that have taken place. What have we missed? What Easter eggs have you noticed? Read our hypotheses here and add your own in the comments.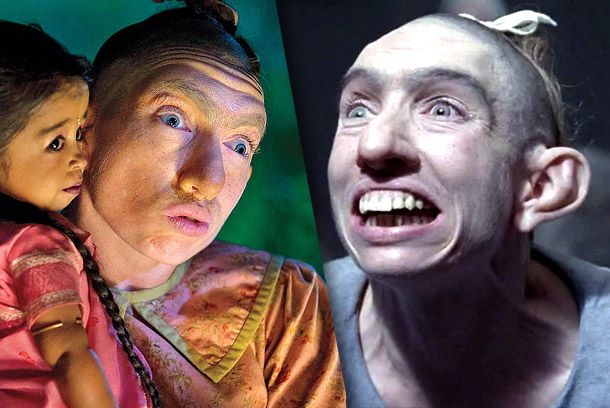 Pepper
Our only confirmed unifying evidence belongs to Pepper, the microcephalic woman played by Naomi Grossman, who is first seen in Asylum. (She is committed to Briarcliff Manor after she "drowned her sister's baby and cut off his ears" — but Pepper later denies those charges: "When my sister's husband drowned her baby and sliced his ears off, he told everyone I did it … That's how it works for us freaks, we get blamed for everything.") Freak Show precedes Asylum by ten or so years. It's "sort of like what happened to Pepper before she went to the asylum," said Ryan Murphy, confirming that Pepper would be back as herself. "We thought about it long and hard and we decided that it was interesting to do."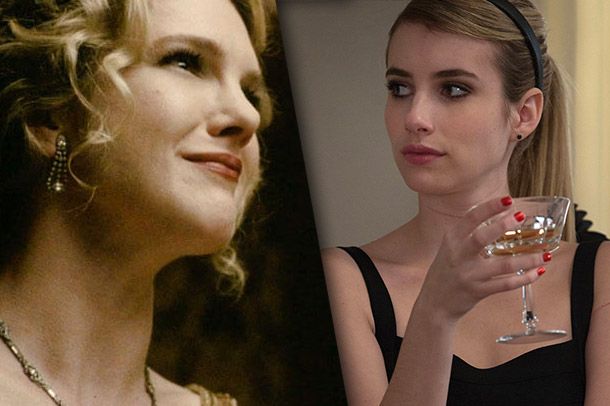 The Montgomerys
Coven's Madison Montgomery (Emma Roberts) is around high-school age in Coven (which takes place in 2013), so let's say she was born in 1995. Madison happens to have the same last name as Murder House O.G. couple Charles & Nora Montgomery, who built and then lived in the murder house in the 1920s — keeping their mutilated child Thaddeus (or "Infantata") in the basement. Could the two Montgomerys be related? Descendants? Consider this: Emma Roberts will be playing a fortune-teller on Freak Show. Could this be related to Madison Montgomery's telekinesis? Telekinesis could be genetic …

The Goodmans
More potential relatives: In Murder House, Constance Langdon's (Jessica Lange) lawyer, Harry Goodman, advises her on the murder of Travis Wanderly. This is in 2011. Forty-nine years earlier, in Asylum, a Nazi hunter and Holocaust survivor named Sam Goodman (Mark Margolis) is hired to investigate Dr. Arthur Arden. Could Harry and Sam be related? Grandfather and grandson? Both are in the business of criminal investigation …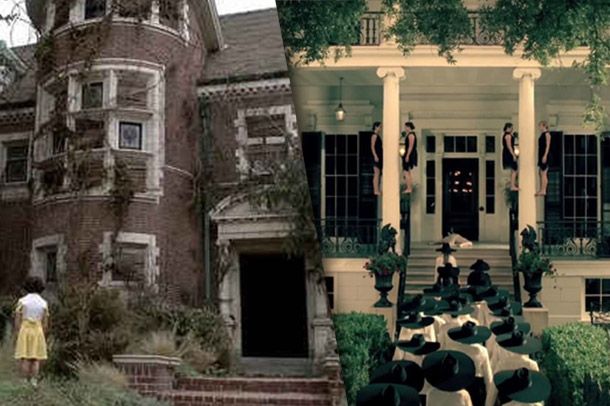 Massachusetts
In Murder House, the Harmons are originally from Boston — they move to the murder house in 2011. Briarcliff Manor, the asylum from Asylum, is on the outskirts of Boston. In Coven, many of the witches trace their lineage back to the days of the Salem Witch Trials, which took place right outside Boston. Might Freak Show have a Massachusetts element, and does it all trace back to Salem? We shall see …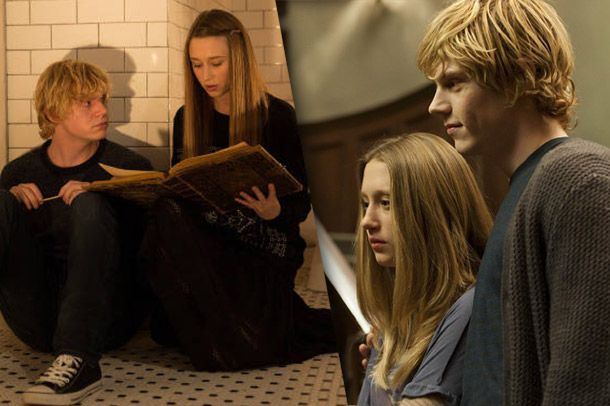 Ghost soul mates
Do you think love connects us all? Taissa Farmiga and Evan Peters play lovers and soul mates in both Murder House and Coven. (In one, he's a ghost; in the other, he's a Frankenstein monster.) At the end of Murder House, Taissa becomes a ghost, too — meaning these two could technically live forever together … in another season of American Horror Story? Think about that!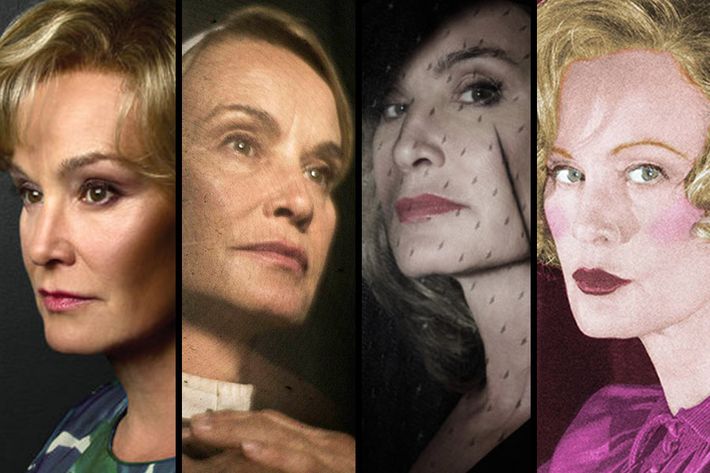 Florida
We haven't seen all of Freak Show yet, but Murder House's Vivien Harmon (Connie Britton) mentions her family is in Florida, and Freak Show takes place in Jupiter, Florida. Could Vivien be connected to the freaks?
Bloody Face crossover
Another fun stretch: As Asylum's Bloody Face in the 1960s, Zachary Quinto goes around killing lots of random people in home invasions. At the same time, in Murder House, a bunch of nurses are killed in a home invasions. Connection? Eh?
Help us fill in the details? Here's a timeline.
Items for Coven are in red, items for Murder House are in blue, items for Asylum are in green, and items for Freak Show are in purple.
1600s
1692: Tituba is accused of being a witch in Salem, Massachusetts, setting off a series of witch trials. The witches flee south to New Orleans for safety.
1700s
1790: Miss Robichaux's Academy for Exceptional Young Ladies is founded.
1800s
1826: The Delphi Trust, an organization of witch hunters, is established.
1830: Marie Delphine LaLaurie moves to New Orleans from Paris.
1833: LaLaurie throws a Halloween party to show off her "Chamber of Horrors."
1834: LaLaurie throws a dinner party in the opening scene of season three.
1868: The current iteration of Miss Robichaux's is created by Marion Warton, the Supreme of her generation, after the home was used as a Civil War hospital.
1910s
1919: The witches of Miss Robichaux's kill a notorious murder, the Axeman.
1920s
1922: Dr. Montgomery, a surgeon from Philadelphia, moves to Los Angeles with his socialite wife, Nora, and builds her a mansion.
1926: After their son is murdered, Nora Montgomery shoots her husband and then kills herself. According to Myrtle Snow, 1926 was the last time a witch was burned at the stake.
1940s
1947: Elizabeth Short is murdered by dentist Dr. Curran after he accidentally gives her too much anesthesia. The ghost of Dr. Montgomery helps Dr. Curran dissect and dispose of her body. The police find the body and refer to her as the "Black Dahlia."
1949: Judy Martin, a nightclub singer, kills a girl in a drunk-driving accident before becoming a Catholic nun, Sister Jude.
1950s
1952: Elsa Mars, a German cabaret performer, opens a freak show in Jupiter, Florida.
1960s
1961: Marie Laveau raises zombies from the dead to murder the men responsible for killing a boy in her community.
1962: The Catholic church purchases Briarcliff Manor and transforms it into a sanitarium. Leigh Emerson murders 18 people while dressed as Santa Claus.
1963: Leigh Emerson is committed to Briarcliff Manor.
1964: The beginning of the present-day events of season two. Kit Walker, Lana Winters, a woman claiming to be Anne Frank, and then, eventually, Sister Jude are all committed to Briarcliff.
1965: Kit Walker and Lana Winters are released from Briarcliff. Lana later kills her captor and the father of her son, Dr. Thredson.
1966: Pepper dies at Briarcliff. Management of the asylum is transferred to the government.
1968: Two nursing students are murdered during a home invasion at the Montgomerys' mansion.
1969: Lana Winters publishes a book chronicling her time at Briarcliff.
1970s
1971: Lana Winters creates a documentary exposing the horrors of Briarcliff. Fiona Goode kills the Supreme of her generation, Anna-Lee Leighton, thus becoming the new Supreme. The academy's butler, Spalding, bites off his tongue to protect Fiona.
1978: Two boys, Bryan and Troy, are killed by the ghost of Thaddeus Montgomery in the opening scene of season one.
1980s
1983: Constance Langdon shoots her husband and her maid Moira after finding them in bed together.
1984: The ghost of Nora Montgomery protects Tate Langdon from being attacked by the ghost of her son, Thaddeus.
1990s
1991: Hank Foxx, Cordelia Foxx's husband, goes witch-hunting for the first time with his father.
1994: Tate Langdon murders 15 people in a school shooting and is later killed in his home by a SWAT team.
2010s
2010: The current residents of the Montgomery mansion, Chad Warwick and his partner Patrick, are murdered by the ghost Tate Langdon.
2011: All present-day events of Murder House.
2012: All present-day events of Asylum.
Queenie assaults a man in Detroit before being take to Miss Robichaux's Academy.
2013: All present-day events of Coven.
Lana Winters gives a TV interview about her time at Briarcliff. When she is later confronted by her son, Johnny, she shoots him.
2014: Constance Langdon raises her grandson Michael by herself.