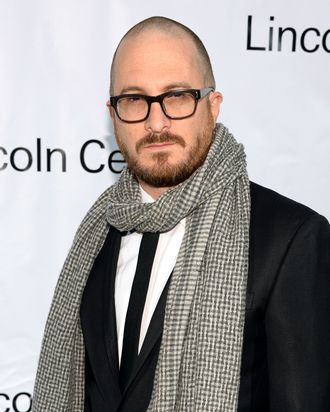 Darren Aronofsky attends the Great American Songbook event honoring Bryan Lourd at Alice Tully Hall on February 10, 2014 in New York City.
Photo: Theo Wargo/Getty Images
The Wrap reports that Darren Aronofsky will receive the Humane Society's first-ever filmmaker award, for his "compassionate decision" to use CGI instead of real animals on the set of Noah. "When I started working on Noah, an early question was how to express the vastness and complexity of the animal kingdom on the big screen," said Aronofsky in a statement. "It was quickly apparent that working with live animals would be dangerous for them. It was also morally ambiguous considering we were making a film about the first naturalist, Noah, who saved and cared for all the varied species on the planet." Kudos to Aronofsky for doing Noah proud and respecting all of God's creatures, even the giant rock monsters. Especially the giant rock monsters.