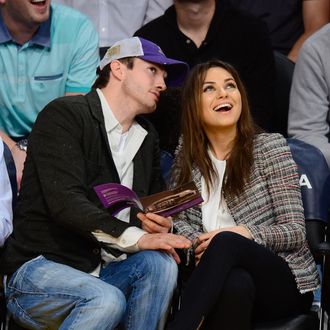 Ashton Kutcher (L) and Mila Kunis attend basketball games between the New Orleans Pelicans and the Los Angeles Lakers at Staples Center on March 4, 2014 in Los Angeles, California.
Photo: Noel Vasquez/GC Images
On Tuesday night, That '70s couple Mila Kunis and Ashton Kutcher welcomed their first child into the world. It's a girl, according to TMZ. The name has yet to be released to the public, so it's unclear whether they'll opt for a regular-person name or go the Blue/Apple/North route. Congrats to Mila and Ashton! Hope the shredding wasn't too bad.