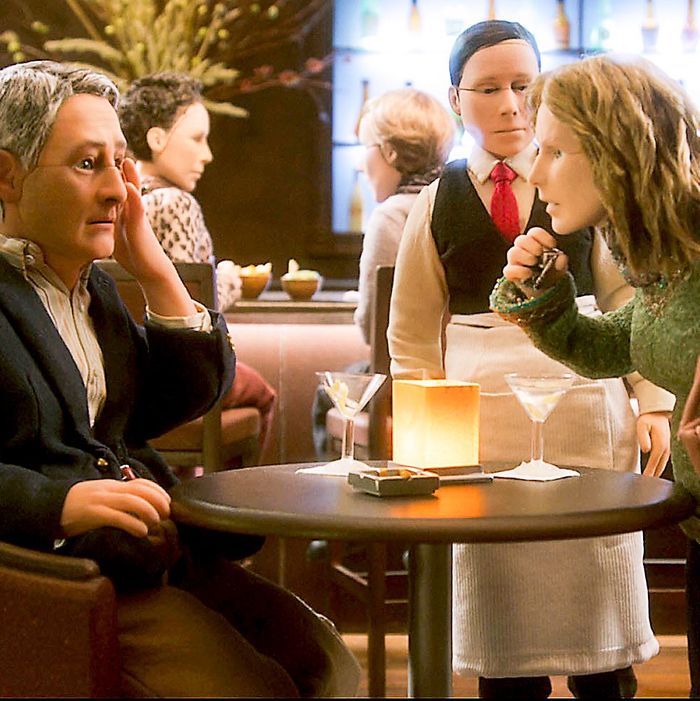 Anomalisa.
Photo: Paramount Pictures
This list was updated April 24, 2017 to reflect Amazon Prime's current offerings.
The abundance of Amazon Prime streaming options can be so overwhelming that even picking the right genre to fit a mood can turn into an all-night affair. That's why we at Vulture have parsed thousands of possibilities to present you with the best of the best. Critical consensus, general popularity, legendary status — if a movie could be considered objectively great (and it's on Amazon Prime), you'll find it below. Feel free to note anything we've left out in the comments. We'll update this list as titles are added and removed.
DRAMA
The Fits (2016)
It's not easily forgotten, but even so — remember the name Royalty Hightower. Judging by her arresting turn as 11-year-old Tori in this genre-blending drama from first-timer Anna Rose Holmer, she's destined for big things. Tori trains as a boxer with her brother, but dreams of joining the local girls' dance team even as their members experience unusual levitating convulsions. Nimbly navigating light horror, a coming-of-age tale, and athletic drama, Hightower was 2016's breakout cinematic star.
Anomalisa (2015)
Sorry, Team America, but here's the all-time greatest film to feature marionette cunnilingus. Charlie Kaufman goes stop-motion for this existential drama about a sad-sack businessman (voiced by David Thewlis) who sees everyone around him as a plain-looking man with the voice of Tom Noonan. Except for the shy and insecure Lisa (voiced by Jennifer Jason Leigh), that is, setting off a surreal and cerebral romance between the two lonely souls. Equal parts bizarre, amusing, moving, and depressing, it's as fine a cinematic tribute the city of Cincinnati one could hope for.
The Conversation (1974)
Here's how good Francis Ford Coppola was in his prime: He crafted one masterpiece as a break from another, directing this paranoid thriller in between shoots for The Godfather Part II. A solitary wiretapper (Gene Hackman) records what he believes to be plans for a murder, and then loses his mind when he gets an inkling that the baddies are coming for him too. Even as it plays a taut cat-and-mouse game with its frightened protagonist, the film wryly comments on the voyeuristic aspects of filmmaking and film-watching.
Stage Door Canteen (1944)
During World War II, the Stage Door Canteen offered Allied servicemen a New York oasis where they could take in a show by a rotating cast of volunteer celebrities drafted from Broadway. This musical crammed in appearances from over 80 stars of the time for one rollicking night at the famed club, oriented around a meet-cute between a starry-eyed hopeful and a soldier soon to ship out. When oldsters grumble that they don't make 'em like they used to, this is what they're referring to.
Gangs of New York (2003)
Leave it to Martin Scorsese to get awards-caliber work out of Cameron Diaz, and in a 19th-century period piece, no less. But of course the star is Daniel Day-Lewis as Bill the Butcher, tearing a bloody swath through Boss Tweed's political machine. (Leonardo DiCaprio is good as our young vengeance-seeking hero, too.) There's plenty to marvel at — it's a Martin Scorsese movie, after all — but Day-Lewis devours the screen.
Intolerance (1916)
D.W. Griffith's three-and-a-half-hour silent epic spans 2,500 years with four intercut stories that reveal the never-ending strife that humanity creates for itself. Think Cloud Atlas by way of Birth of a Nation — this is every bit as epic as that sounds. Griffith packs Intolerance full of subversive, taboo content. The film is known for being one of the first films to depict an orgy. Imagine how that played to crowds in 1916.
COMEDY
Kentucky Fried Movie (1977)
Moving at the speed of a seasoned channel surfer, Blues Brothers director John Landis and Airplane! trio Jim Abrahams, David Zucker, and Jerry Zucker's sketch movie implodes 1970s television with genius levels of stupidity. A Fistful of Yen, the "feature film" tucked inside its comedic cavalcade, is actually the lowpoint, if only because the film's manic energy is half the fun.
His Girl Friday (1940)
The romantic comedy is alive and well … in 60-year-old movies streamable on Amazon. Howard Hawks's His Girl Friday is less about doe eyes and whirlwind love affairs than it is about snappy flirtation. Cary Grant and Rosalind Russell play an ex-husband and wife whose journalism careers set up screwball situations.
My Wife's Relations (1922), The Blacksmith (1922), Daydreams (1922), The General (1926), College (1927)
Slapstick is only a lesser form in the wrong hands. Proof: Buster Keaton, whose pratfalls and dangerous plummeting stand up to anything theJackass boys are doing today. One can indulge in a number of his classics on Amazon, with The General demanding top priority. (And if you're more of a Charlie Chaplin fan, there's always 1921's The Kid.)
What We Do in the Shadows (2015)
New Zealand's finest (Taika Waititi and Flight of the Conchords' Jemaine Clement) direct and star in this off-beat mockumentary about a group of vampires uncomfortably sharing living quarters and navigating a modern world. The elevator-pitch version is "The Real World meets Bram Stoker's Dracula," but that fails to take the film's magnificent feats of wordplay into account. ("Leave me to my bidding," one vamp says as he bids on a lamp on eBay.)
Terms of Endearment (1983)
Nobody straddles the line between humor and melancholy quite like James L. Brooks. This Oscar-winning chronicle of the relationship between a single mother and her adult daughter (Shirley MacLaine and Debra Winger) established a delightful comic rapport between the estimable actresses, but also grappled with themes like finding love after marriage, coping with loneliness, and bracing for death.
The Lobster (2016)
An ineffectual man (Colin Farrell, in the role of his career) has 40 days to find love with a fellow guest at a large hotel complex, or else he'll be transmogrified into an animal. Beyond the walls of their compound, a renegade colony in the forest has completely sworn off all love in an inverted form of emotional fascism. Oddball genius Yorgos Lanthimos laces this wholly original rom-com with cruel wit, and then captures it all with chilly, gorgeous photography. It's not the sort of movie that can be duly described in a few lines, but trust us — it is truly something else.
THRILLER
Ex Machina (2015)
A brilliant inventor (Oscar Isaac) invites a young coder (Domhnall Gleeson) to his mountain retreat, where he reveals that he's working on an advanced piece of artificial intelligence (Alicia Vikander). Alex Garland's directorial debut has all the anxiety-inducing eeriness of an episode of Black Mirror — plus the fodder for debates on everything from technological ethics to gender politics — but it's also punctuated by a few brief moments of hilarity.
WESTERN
A Pistol For Ringo (1965), Return of Ringo (1965), Three Bullets for Ringo (1966), Who Killed Johnny Ringo (1966)
The gunslinger known as Johnny Ringo was a recurring figure in the lore of Italy's so-called spaghetti Westerns, protecting the innocent from roving bandits across a long series of films from a rotating cast of directors. Amazon hosts four of the cowboy's assorted exploits, with all the high-noon showdowns, displays of sharpshooting skill, and tumbling tumbleweeds you need.
FOREIGN
Everlasting Moments (2008)
Filmmakers love making movies about the power of photography — but this one's actually amazing! Sepia-toned and palpable, this story of love, motherhood, abuse, and citizenship avoids art-as-empowerment sentimentalism thanks to Maria Heiskanen observant performance. We believe a camera is her weapon of choice because she's drawn to others.
The Handmaiden (2016)
Korea's Park Chan-wook goes all out in this ravishing erotic thriller, capturing the most swooningly gorgeous footage of his career while spinning a twisty tale of betrayal and secrets. A pair of con artists team up to gaslight a rich heiress into marrying away her fortune, but various double-crossings (and triple-crossings, and quadruple-crossings) complicate everyone's allegiances. Be forewarned: evil octopi, sexual mannequins, and graphic scissoring lie ahead.
The Terrorizers (1986)
Taiwanese master Edward Yang braided three narratives into one indelible portrait of urban alienation and isolation. A young woman runs with a gang of street toughs in Taipei, while elsewhere a married couple from mainland China acclimate to their new home, and a disaffected photographer wanders the city, taking it all in. It's a minor-key wonder, a penetrating testament to and critique of city life.
DOCUMENTARIES
The Last Waltz (1978)
No conversation about the greatest concert films ever made can omit Martin Scorsese's account of the Band's farewell show at San Francisco's Winterland Ballroom in 1976. From the songs to the personnel — everyone from Bob Dylan to Neil Young to Joni Mitchell drops in — the classic-rock legends couldn't have asked for a better sendoff. (Don't forget to turn up the volume.)
Thin (2006)
The HBO documentary was the culmination of Lauren Greenfield's ten-plus years investigating eating disorders in America. Thorough research empowers Thin, which follows multiple women as they battle anorexia and bulimia in therapy, doctor's offices, and at home.
I Am Big Bird: The Caroll Spinney Story (2015)
Get to know the man behind the yellow suit with this intimate and heartwarming documentary. Caroll Spinney has been playing Big Bird and Oscar the Grouch simultaneously since 1969, and as he makes clear throughout this doc, he plans to do so for the rest of his life.
Blurbs by Matt Patches, Charles Bramesco, and Devon Ivie.