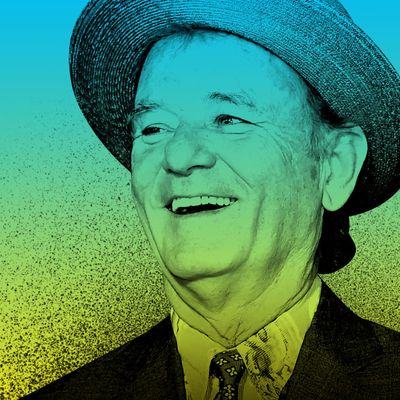 Photo: Kelly Chiello and Photo by Jamie McCarthy/Getty Images
"Did you know that Bill Murray doesn't have an agent? He just has an 800 number and answering machine." I remember exactly where I was when I heard about how Murray manages his career, just like some people remember when they first heard about Keith Richards snorting his dead dad's ashes. It's one of the best pieces of Bill Murray folklore, right up there with how he's always crashing house parties. But it hasn't helped his work much. Just look at his recent filmography. If you forget about his work with Wes Anderson and flukes like Get Low and Zombieland, it's been a pretty dire stretch since 2005's Broken Flowers — The Lost City, Garfield: A Tail of Two Kitties, City of Ember, The Limits of Control, Passion Play, Hyde Park on the Hudson, A Glimpse Inside the Mind of Charles Swan III, The Monuments Men, and his latest, the treacly dramedy St. Vincent, which Vulture's Bilge Ebiri called "hopelessly predictable." We love Bill Murray — on talk shows, in viral videos, on kickball fields — but it would be nice to love him in movies again. It's time for him to hire an agent.
It's not like Murray has never had an agent. He was repped by Michael Ovitz — the co-founder of CAA and one of the most powerful agents ever — between 1981 and 1995. (To give a sense of Ovitz's influence: It's widely rumored that he made a bet that he could turn anyone into a movie star, and he did just that with his theretofore unknown aikido teacher, Steven Seagal.) It's probably no coincidence that the peak of Murray's career overlapped with the time he was represented by the top agency of the day. And the only reason Murray stopped working with Ovitz is because Ovitz left to become president of Disney. Recently, Murray told Variety that after Ovitz left, he spent some time looking for a new rep but ultimately decided to go with just a lawyer. The rest is history.
But let's look at that history more closely. One assumes the deal for 1996's Kingpin — Murray's last great straight-comedy role — was made while he was still at CAA. But after that the drop came fast — his next role was co-starring with an elephant in Larger Than Life. Now what about Wes Anderson, who has been responsible for most of Murray's decent movies these past few years? Yes, Murray signed on for Rushmore while agentless, but his relationship with Anderson started before that. The director first tried to hire Murray while the actor was still represented by CAA, to star in Bottle Rocket (the role ultimately went to James Caan). At the time, Anderson was told that Murray's reps couldn't get an answer from him because he was traveling in his Winnebago. (The seeds of being unreachable were planted early.) Still, when casting for Rushmore came around, Anderson and Murray were already in touch. Then there's Lost in Translation, a role director Sofia Coppola wrote for Murray. Fortunately, the very connected Coppola was able to leverage her friendship with Anderson to help land him. But not every great director is as patient. Noah Baumbach wanted Murray for The Squid and the Whale (the role, which he would've been perfect for, eventually went to Jeff Daniels), for example, but couldn't get ahold of him. Murray, without an agent to help him, also turned down Little Miss Sunshine (the Steve Carell part was written for him) and signed up for Garfield because, he claims, he thought it was a Coen brothers movie.
So what's Murray's problem with agents? From that same Variety article: "If you have an agent, you get a lot of bad scripts." This may have been true in 1995, back when he was 44 (for comparison, that's how old Matthew McConaughey is right now) and everyone wanted him for everything. As a result: bad scripts. But there are fewer movies written for 64-year-old guys (and Robert De Niro seems to be starring in all of them.) Plus, says one agent I spoke to, "The agencies have grown so much, and the staffs are so large now that there are agents of just about every personality type or style working in most of those shops." If Murray wants a super-chill agent who only forwards him scripts for the projects with the highest pedigree, he could hire that agent. Hell, if he wanted, he could treat his agent as a glorified version of his answering machine, ignoring all offers unless they came from the actual Coen brothers.
Murray's other problem with agents, he tells Variety, is that they "try to package you with other people they got." He's not wrong. Besides getting 10 percent from their clients, agencies often make money on a project from what is called the package, in which they get a percentage of the project's backend as a result of providing the director and stars (and sometimes the writer, too). But not all packages are bad. It's hard to say for sure, but Ghostbusters (Murray, Harold Ramis, Dan Aykyrod, and Ivan Reitman were all CAA, not to mention John Belushi, whom Murray replaced, was also with Ovitz before he died), Groundhog Day (Murray and Ramis again were both with CAA), and Kingpin (Murray, the Farrelly Brothers, and Woody Harrelson were all CAA) all seem like they could've been packages. When I read that quote from Murray, I instantly thought of Silver Linings Playbook­ — David O. Russell, Bradley Cooper, Jennifer Lawrence are all with CAA — and wondered what Murray would've been like playing Cooper's dad. Instead, Robert De Niro got the role (he's also with CAA).
I mention Silver Linings Playbook because De Niro got nominated for an Oscar for that role, and it sure seems like Bill Murray really, really wants to win an Oscar. He'll deny it in interviews, but I remember how crushingly sad he looked after he lost for Lost in Translation in 2004. Also, actors who don't want Oscars don't star in biopics about disabled presidents (Hyde Park on Hudson) or disgruntled working-class antiheroes who have to recover from a stroke (St. Vincent). (In a post–Tropic Thunder world, this strategy actually seems pretty cynical.) But the thing is, we all want him to win an Oscar, too. I get chills just thinking about an envelope being torn open, Billy Murray's name being called, and the audience — led by George Clooney, of course — rising out of their seats to applaud Murray's talent and career. But for any of that to happen, he needs a truly great role in a truly great movie. And nobody's going to leave one of those on an answering machine.