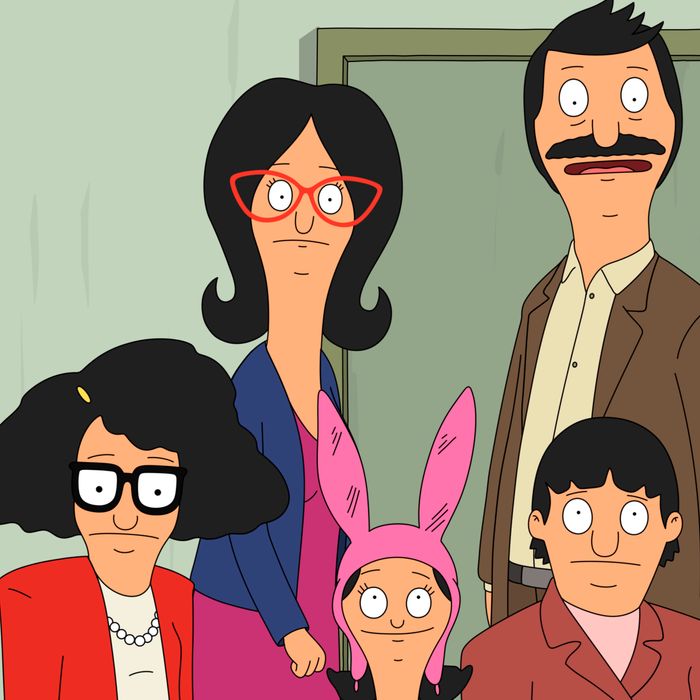 For the people who thought George Clooney was Thursday's big New York Comic-Con surprise, they clearly didn't see the gargantuan, dancing Tina Belcher that stormed the main stage. After Disney's Tomorrowland panel, the real-life stars behind FOX's Bob's Burgers — Loren Bouchard (creator), H. Jon Benjamin (Bob), Eugene Mirman (Gene), John Roberts (Linda), Kristen Schaal (Louise), Larry Murphy (Teddy), and Bobby Tisdale (Zeke) — came, character voices in tow, to tease fans about the show's upcoming exploits. Here's what we learned about this season:
1. There are some deliciously sexy awkward moments coming.
Bouchard screened three sneak-peek clips for attendees. Two of them were spicy. Kind of. In one, Linda accidentally dyes her hair completely blonde. She looks like a crazed version of Carol Brady. With her new look, she also tries on a new persona: sexy-chef-cum-sexy-nurse. In another clip, the curmudgeonly, geriatric couple Edith and Harold, from the "Art Crawl" episode, return — with a nude vengeance. For some reason, Bob decides to dabble in (it looks like he's forced into) a little life-drawing. Edith poses nude while her husband critiques Bob's poor art skills over his shoulder. "If you can draw a nude figure, you can draw anything!"
2. Bob's Burgers will poke fun at high-end grocers, as well as the holidays.
The third clip featured two interesting teases: (1) Bob and Linda evidently participate in some sort of gourmet-cooking competition; (2) An absurd upscale food boutique, called FigJam, hits the neighborhood, and Gene and his siblings must buy black garlic for their parents. It's not as easy — or affordable — as it sounds. Bouchard also confirmed that there will be special Halloween-, Thanksgiving-, and Christmas-themed episodes this season. For Christmas, viewers will meet Bob's dad for the very first time.
3. The Bob's Burgers soundtrack still isn't ready, but it's close.
The tracks are being prepped, Bouchard said, but they have not been uploaded yet. "We have to put it up; it's just got to happen." Although there's no set date for a release, Bouchard solemnly promised that a soundtrack would happen soon. In his most optimistic voice, he floated "before the end of the year" as a potential option. One can only hope that the delay is because they're putting Gene's Die Hard: The Musical numbers on it.
4. Bouchard wants to figure out an opposite crossover episode with Archer.
After the Belchers found themselves in Archer's universe, some fans were wondering if the opposite would happen, with Archer showing up in Bob's Burgers. Benjamin, who voices both Bob and Archer, said it would be difficult, but he's posed the idea of the Russian thugs from Archer coming to the restaurant. "Clearly, we have to address this issue," Bouchard added. "My feeling is we're going to figure out a way to do it that is in the spirit of our show, the way they did it in the spirit of their show."
5. Cast members are writing their own episodes.
Last season's "Equestranauts" episode was written by Dan Mintz, who voices the Tina character. The installment, which was a nod to the Bronies subculture, (kind of) dove into Tina's character and her obsession with horses. Bouchard said he's been trying to get cast members to write their own episodes — some of them are done, some are half-baked, and some have not even been started — because who knows the characters better than the actors who voice them? No more specifics were given on that front, but earlier in the panel, Mirman did tease an A-Team: The Musical idea for Gene, which, for all intents and purposes, would be huge if seen to fruition.
Bonus fun fact: The show's original pitch was much darker.
When Bouchard first approached FOX, he wanted the show to stand out from the other animated heavyweights on the weekend 'toon block. He thought "the show would have to be shocking in some way, and so my first pitch was: Family runs a restaurant and they're cannibals." The network executives said they loved it, but wondered: What if they're not cannibals? That works, too.