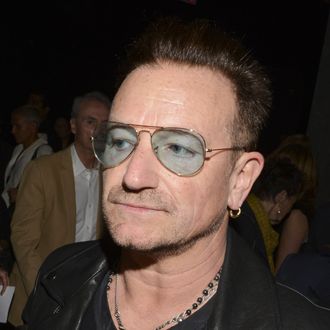 Photo: Vivien Killilea/Getty Images
Bono has heard your complaints about the automatic download for U2's Songs of Innocence — that it was "creepy," "invasive," and "characteristically presumptuous" — and now he wants you to know that's he's very, very sorry. In a Q&A session on Facebook (a tech-friendly band needs to cover all its bases), Bono promised fans that he loved them and that he would never do anything like that again.
After a questioner asked Bono to promise that U2 would never again release an automatic album, the front man was forthcoming about the errors in judgment the band suffered in the run-up to Songs of Innocence's release:
"Oops. I'm sorry about that. I had this beautiful idea and we got carried away with ourselves. Artists are prone to that kind of thing. Drop of megalomania, touch of generosity, dash of self-promotion, and deep fear that these songs that we poured our life into over the last few years mightn't be heard. There's a lot of noise out there. I guess we got a little noisy ourselves to get through it."
The band also released the music video for "The Miracle (of Joey Ramone)" the old-fashioned way (by putting it on iTunes, then seeing fans upload it to YouTube anyway).