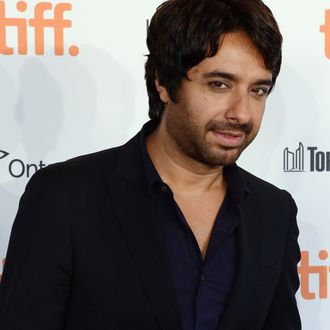 Photo: Peter Bregg/2012 Getty Images
It's been a big week for scandals north of the border, and the Toronto mayoral election hasn't even happened yet: On Sunday, renowned Canadian broadcaster Jian Ghomeshi — arguably one of the most famous media personalities in Canada — was fired from his long-running CBC radio show Q. While the reason for his dismissal wasn't immediately clear, a Toronto Star report released late Sunday night revealed a history of sexual-abuse allegations from a number of women.
According to the Star report, three young women claimed that Ghomeshi was physically violent with them during or leading up to sex without their consent, and that "he struck them with a closed fist or open hand; bit them; choked them until they almost passed out; covered their nose and mouth so that they had difficulty breathing; and that they were verbally abused during and after sex."
The Star also spoke with a CBC staffer who alleged that Ghomeshi verbally and physically harassed her during work. None of the women contacted police, citing a desire for anonymity and the fear they would be subject to backlash, which is hardly unfounded: Last year, writer Carla Ciccione wrote a piece for xoJane about a "bad date" she went on with a radio host who many believed to be Ghomeshi, after which she was subjected to a cavalcade of threats and online abuse.
Ghomeshi, meanwhile, shared his side of the story, and the basis for the $50 million lawsuit he is now pursing against the CBC, in a lengthy message on his Facebook page Sunday evening just before the Star story broke, claiming his termination stemmed from "the risk of my private sex life being made public as a result of a campaign of false allegations pursued by a jilted ex girlfriend and a freelance writer" — arguing essentially that he was fired for having kinky sex. In the letter, Ghomeshi goes into detail about engaging in said "rough sex (forms of BDSM)" with his former partner, which he claims were always consensual. He writes:
About two years ago I started seeing a woman in her late 20s. Our relationship was affectionate, casual and passionate. We saw each other on and off over the period of a year and began engaging in adventurous forms of sex that included role-play, dominance and submission. We discussed our interests at length before engaging in rough sex (forms of BDSM). We talked about using safe words and regularly checked in with each other about our comfort levels. She encouraged our role-play and often was the initiator. We joked about our relations being like a mild form of Fifty Shades of Grey or a story from Lynn Coady's Giller-Prize winning book last year. I don't wish to get into any more detail because it is truly not anyone's business what two consenting adults do. I have never discussed my private life before. Sexual preferences are a human right.
According to Ghomeshi, he ended the relationship, after which his former partner set out to bring him down by teaming up with a journalist to spread false claims about sexual abuse. Ghomeshi alleges that he was fired from CBC purely based on a "campaign of vengeance" and that no formal allegations or complaints were ever received by CBC's HR department:
CBC execs confirmed that the information provided showed that there was consent. In fact, they later said to me and my team that there is no question in their minds that there has always been consent. They said they're not concerned about the legal side. But then they said that this type of sexual behavior was unbecoming of a prominent host on the CBC. They said that I was being dismissed for "the risk of the perception that may come from a story that could come out." To recap, I am being fired in my prime from the show I love and built and threw myself into for years because of what I do in my private life.

Let me be the first to say that my tastes in the bedroom may not be palatable to some folks. They may be strange, enticing, weird, normal, or outright offensive to others. We all have our secret life. But that is my private life. That is my personal life. And no one, and certainly no employer, should have dominion over what people do consensually in their private life.
Judging from the new allegations in the Star story, this is shaping up to be about a whole lot more than consensual rough sex. We'll have more as the story develops.