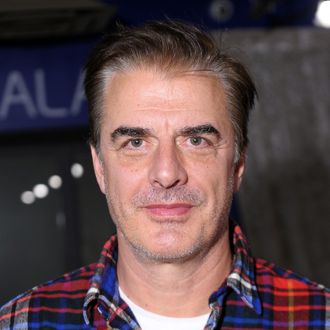 Photo: Michael Loccisano/2013 Getty Images
After calling rumors of a third Sex and the City movie "bullshit," Chris Noth (a.k.a Mr. Big) offered up some verbal diarrhea of his own, when an Australian news site asked about his character's flame Carrie Bradshaw and he jokingly called her "such a whore."
Here's the full quote:
One of the things I tell people is that he never tried to pretend he was anything other than what he was. It was [Carrie] who tried to pretend he was something he wasn't. He was always honest about himself — he never cheated on her. The relationship just didn't work, and he went on to get married while she went on to … how many boyfriends did she have? She was such a whore! [laughs] There's a misconception that Carrie was a victim of him, and that's not the case — she was a strong, smart woman.
Naturally, people called Noth out for slut-shaming, although show co-creator Michael Patrick King was quick to come to his rescue. "Well, I'm sure Chris was kidding when he joked that, note the laugh afterwards," he told BuzzFeed News. "We always had a wonderful time working on SATC and I know he has the greatest affection for SJP as an actress and a friend. To take his comment any other way would be a 'Big' mistake."

Added SATC writer Jenny Bicks: "Oh my God, that's such a 'Big' thing to say!" (She noted that Big was also " kinda slutty," which … fair.) Team Aidan, console yourself: John Corbett would never say something like that.