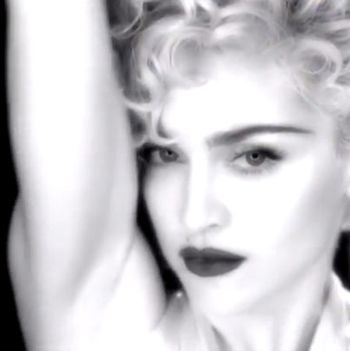 With Gone Girl wowing critics and audiences last weekend, David Fincher is once again at the center of the movie universe. But long before he was the auteur behind Zodiac, Se7en, and The Social Network, he was a hotly in-demand music video director toiling in supermodel slo-mos and glossy glamour shots for some of the world's biggest musical acts. Let's take a look back at 28 of them, from bad to brilliant.
28. "Say You Will," Foreigner (1987)
Close-ups, shifting shadows, black-and-white film stock, and glamorous women … "Say You Will" features the quartet of trademarks that would define Fincher's '80s aesthetic. (And Lou Gramm.) It also makes virtually no sense. Does anyone know what is going on here?
27. "Holding On," Steve Winwood (1988)
Here, Fincher places the viewer in the perspective of a Weegee-like photographer who weaves his way through a shadowy city. He would intercut color and black-and-white photography the following year — to far more memorable effect — with Paula Abdul's "Forever Your Girl."
26. "Johnny B," the Hooters (1987)
This Fincher effort is oft forgotten, but interestingly enough, the song itself wasn't: The German rap group Down Low, the Finnish rock band Yö, and the Czech rock act Tlustá Berta each did a cover or riff on this track.
25.  "We Don't Have to Take Our Clothes Off," Jermaine Stewart (1986)
The trumpets! The tailcoats! The claps! Fincher has (thankfully) come a long way from this video for Jermaine Stewart's biggest hit.
24. "(It's Just) The Way That You Love Me," Paula Abdul (1988)
Fincher and Abdul's frenetic first collaboration (and also the first time Abdul tap-danced in a video) led the way to four more videos from the singer's blockbuster Forever Your Girl album.
23. "Most of All," Jody Watley (1988)
Fincher's smooth camera moves and skilled use of black and white couldn't save this single, which was the least successful of the five released from Watley's multi-platinum debut album.
22. "Shattered Dreams," Johnny Hates Jazz (1988)
Call it Fincher's first remake: This second video for the British trio's '80s pop hit enlisted Fincher's sexy, moody cool for a fresh take on the original, which itself had received heavy rotation on both British and American MTV in 1987.

21. "6th Avenue Heartache," The Wallflowers (1996)
By this time, Fincher had largely left music videos behind. Yet hot off of helming Se7en, he reached out to Wallflowers front man Jakob Dylan about directing the video for what would become the album's first hit. But grainy footage of the band rambling around NYC looks like a lazy imitation of earlier Fincher videos.

20. "Roll With It," Steve Winwood (1988)
Come for the sultry steaminess, stay for the close-up of the button tumbling to the barroom floor. And that's about it.
19. "Forever Your Girl," Paula Abdul (1989)
Who'd have thought Fincher could do cute? Packing this video with kids — including an 8-year-old Elijah Wood — makes for a playful Paula video, but not a terribly interesting one.
18. "Judith," A Perfect Circle (2000)
Though the band wanted a story line for this video, time constraints made that impossible. Fincher added edge and devil-may-care energy to simple rehearsal footage with scratches, flares, and other distortions that reflected A Perfect Circle's dark mystique.
17. "The End of the Innocence," Don Henley (1989)
Along with Aerosmith's "Janie's Got a Gun" and Madonna's "Vogue," "The End of Innocence" scored Fincher three of four nominations for the MTV Video Music Awards' Best Direction honor in 1990. He won for "Vogue," and considering the competition, one can only imagine this bit of handsome but sleepy sentimentality was a distant runner-up.

16. "Englishman in New York," Sting (1987)
Fincher made great use of author Quentin Crisp's eccentric elegance, playing him against a suave Sting and the chilly streets of New York City. Crisp, who had semi-recently co-starred with Sting in the 1985 horror movie The Bride, was the inspiration for this song.

15. "She's a Mystery to Me," Roy Orbison (1989)
Two versions of this video exist, one ending with a heartbroken Orbison being abandoned by a glamorous woman. The other features that woman reuniting with her young daughter. Mostly made up of random second-unit footage, both are moody … and a bit mediocre.
14. "Love Is Strong," the Rolling Stones (1994)
Fincher took the monster success of the Stones literally by having them swagger through skyscrapers like impossibly cool Kaiju. The striking final product rightly won Fincher his first Best Music Video Grammy.

13.  "Cold Hearted," Paula Abdul (1989)
The inspiration for this steamy dance vid came from Flashdance, with Abdul's choreography and Fincher's low camera angles ratcheting up the dirty-dancing aspect of its finale exponentially. "Tastefully hot," indeed!  

12. "Oh Father," Madonna (1989)
With surreal shots like falling snow intercut with falling pearls, Fincher took this autobiographical song of Madonna's childhood trauma and transformed it into something haunting and gorgeous. Its most chilling image — of the corpse's lips sewn shut — comes directly from the pop icon's memory of her mother's funeral.

11. "Real Love," Jody Watley (1989)
Intimate close-ups, flashy graphics, and lots of Watley strutting thrills as much today as it did when this video earned a record-setting six VMA nominations. This honor held until 1995, when Michael and Janet Jackson's unleashed "Scream," snagging 11 nods.  

10. "Janie's Got a Gun," Aerosmith (1989)
Fincher didn't shy away from this song's taboo topic of child abuse. With lush vibrancy of color, dramatic lighting, and suggestive shot choices of Janie wincing in her bedroom, he constructed a crime story that would pave the way for his later crime films.

9. "Bad Girl," Madonna (1993)
Blending inspirations from the erotic thriller Looking for Mr. Goodbar and the fantasy-romance Wings of Desire, Fincher crafted a creepy murder-mystery for his final collaboration with Madonna. Cloaking her in cool colors and ominous shadows, he paints a forebodingly romantic work.
8. "Only," Nine Inch Nails (2005)
Rare on two fronts in the Fincher universe, "Only" features a large amount of CGI as well as a cameo from the director, whose hand is in its opening. The concept is simple: pin art driven into frenzy by the thumping track. And yet watching pin-art Trent Reznor never gets old!

7. "Freedom! '90," George Michael (1990)
When its fame-fatigued singer refused to appear in this video, Fincher turned lemons into pouty, pulchritudinous lemonade by calling in a slew of the day's top supermodels. A barrage of skin, sweat, and runway stomping amid desolate backdrops (and a few explosions) resulted in a lush fashion shoot come to life.

6. "Who Is It," Michael Jackson (1992)
While a variant video was more commonly played on television, Fincher's version is far more fascinating, featuring an ambitious story line stacked to the brim with high fashion and late-night allure. Even today, it's kind of shocking how much sex is implied between cuts.

5. "Straight Up," Paula Abdul (1989)
Paula is cool and in control in what remains one of her most iconic videos. Fincher's high-contrast performance footage creates the perfect showcase for Abdul's choreographic prowess and sexy sass. Little wonder it won a slew of awards at the VMAs.

4. "Cradle of Love," Billy Idol (1990)
With Idol recuperating from a motorcycle accident, Fincher could only shoot him from the waist up. This led to a puckish spirit of lust in this sex fantasy that still makes us sweat with its close-ups of wiggling hips, strategically spilled wine, and Idol smiles.

3. "Suit & Tie," Justin Timberlake (2013)
Like Madonna and Paula before him, JT looks powerful and passionate as he shimmies in shades of gray. Fincher came out of music-video-directing retirement to reunite with his Social Network actor, and the results won him his second Grammy for Best Music Video.

2. "Express Yourself," Madonna (1989)
Inspired by the sci-fi classic Metropolis, these imposing sets, army of sweaty factory slaves, and chic costumes (from gowns we covet to chains we don't) made for one of Madonna's most memorable efforts as well as one of the most expensive music videos of all time. Fittingly, Fincher won back-to-back VMA honors for Best Direction thanks to this and our No. 1 pick …

1. "Vogue," Madonna (1990)
A nod to the names dropped in the song, Fincher had the Material Girl step into the long locks and bold lips and poses of the Golden Age of Hollywood's greatest heroines. The best use of Fincher's black and white is the platinum blond's vogueing, her milky-white skin popping brilliantly against black suits and brazen brassieres. Its every pose, shoulder shimmy, bump, and grind are perfection.