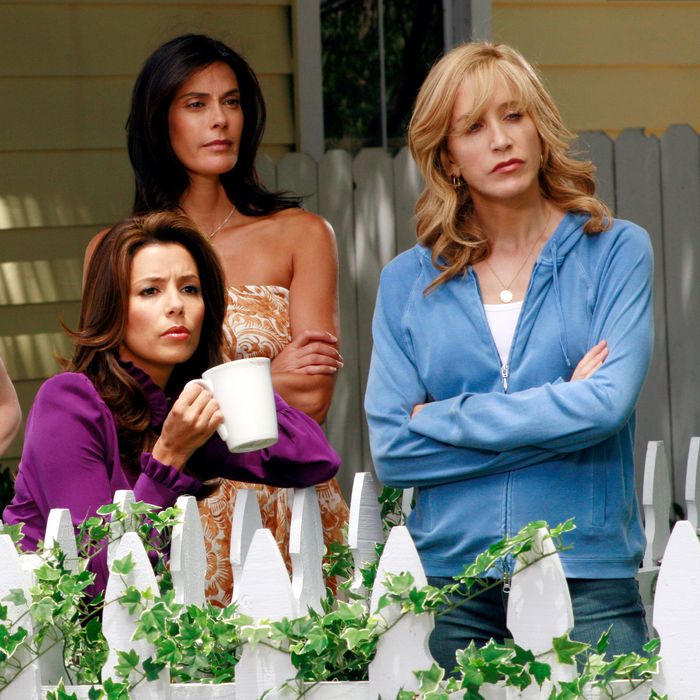 Desperate Housewives somehow stayed on the air until 2012 — and those few last years were not pretty, onscreen or off — but we prefer to remember the show as it was during the halcyon days of 2004, when Marc Cherry first brought the world into the sordid living rooms and bedrooms of the women of Wisteria Lane, sparking a global TV phenomenon and increasing the Q scores of Teri Hatcher, Eva Longoria, Felicity Huffman, and Marcia Cross dramatically. Those days are long past, but in honor of the show's tenth anniversary today, we take a look back at many of the season-one cast members to see where they are now.
Felicity Huffman (Lynette Scavo)
Huffman is the Housewife who has achieved the most critical success as an actress. She won a Golden Globe award for her performance of a transgender woman in Transamerica, back in 2005, and while she has yet to find her breakout film role, this year she starred two notable indies: Rudderless, directed by her husband, William H. Macy, and Cake with Jennifer Aniston, which recently premiered at TIFF. She's also headed back to TV for the lead role in ABCs forthcoming American Crime, from 12 Years a Slave screenwriter John Ridley.
Marcia Cross (Bree Van de Kamp)
Melrose Place alum Cross was nominated for a slew of awards for her performance as the type-A Bree, but has since taken a break from acting to focus on motherhood. (Although, according to IMDb, she is also in a TV movie called Fatrick, so we'll just leave that here.)

Teri Hatcher (Susan Mayer)
Hatcher, who was already well-known going into Desperate Housewives for her stint as Lois Lane on ABC's Lois & Clark and for the Seinfeld quote "They're real … and they're spectacular," also hasn't done much onscreen acting since Housewives left the air, but she has done quite a few voices in kids shows and movies, including Jake and the Never Land Pirates, Planes, and its sequel, Planes: Fire and Rescue. Teri Hatcher loves children's entertainment! She's also apparently running triathlons.
Eva Longoria (Gabrielle Solis)
Eva Longoria has remained a tabloid and commercial fixture (cat food, shampoo, you name it), but her acting work has generally flopped since Housewives. Remember A Dark Truth and The Baytown Outlaws? We didn't think so. (It must be said, though, that her role in Lake Bell's In a World was a stroke of genius.) Instead, Longoria has become a serious mover in the world of liberal politics, campaigning for Obama, advocating for immigration reform and working to increase voter registration and political engagement in Latina and Latino communities. She also founded a series of nonprofits, including Eva's Heroes and the Eva Longoria Foundation, executive produced a documentary about agricultural laborers called Food Chains, and even found time to get a masters master's degree in Chicano studies.
Nicollette Sheridan (Edie Britt)
Not such a happy story here: As you may remember, Nicollette Sheridan became involved in a nasty lawsuit with Desperate Housewives creator Marc Cherry back in 2010, claiming he physically assaulted her and wrongfully terminated her from the show. The case has been making its way through the courts for years, and believe it or not, she's still fighting it: Just last month, Sheridan's case was dismissed by an L.A. judge for the second time in less than a year (although, according to THR, her lawyers say "The case isn't over"). If a gavel falls in a Desperate Housewives trial and nobody hears it, does it still make a sound?
Marc Cherry (series creator)
Aside from paying legal fees, Cherry created, wrote, and produced the Lifetime dramedy series Devious Maids (on which Longoria was an EP), another drama about the sordid personal and professional lives of a group of women, which was recently renewed for its third season.
James Denton (Mike Delfino)
Post–Wisteria Lane life hasn't been so good to sexy Mike Delfino: He has been in a couple of bad movies, including the lead in a (non–Left Behind) straight-to-video Christian rapture flick called Revelation Road 3: The Black Rider. He also modeled for French designer Daniel Hechter's spring-summer 2012 ad campaign.
Mark Moses (Paul Young)
He was Duck Phillips on Mad Men! And generally continues to make it as a working actor, as he was before Desperate Houewives, taking on a range of TV and movie roles. He's also apparently going to turn up in a recurring role on Homeland this year, so keep your eyes peeled.
Kyle MacLachlan (Orson Hodge)
To most people, MacLachlan will never do any wrong, ever, not even in Showgirls, because of his roles in various David Lynch properties, most notably as Agent Dale Cooper in Twin Peaks. This could also explain why he so easily survived the Housewives curse. Like Moses, he continues to be a fairly regular onscreen presence, recently appearing in shows such as Agents of S.H.I.E.L.D., The Good Wife, and Portlandia.

Ricardo Chavira (Carlos Solis), Steven Culp (Rex Van De Kamp), and Doug Savant (Tom Scavo)
The casting gods have not been so good to the Housewives husbands. Chavira did a voice on the video game Dead Space 3 and just did two episodes of Bad Teacher (Housewives daughter Juanita Solis also guest-starred!), Culp supposedly had a small role in Captain America: Winter Soldier as "Scudder" (we do not remember him), and Savant has had small parts on Vegas, Rizzoli and Isles, and Criminal Minds.
Shawn Pyfrom (Andrew Van de Kamp)
He also guested on Rizzoli and Isles, which seems to be a common post-Housewives stopover point. After Philip Seymour Hoffman's death, he was inspired to share his struggles with drugs and alcoholism in a moving Tumblr piece. He's also buddies with Penn Badgley. Look!

Jesse Metcalfe (John Rowland)
As you might be able to tell from the above list, Desperate Housewives didn't catapult many of its alums to big-screen success. But during his turn as Gabrielle Solis's gardener-lover John Rowland, some of Eva Longoria's star power must have rubbed off on him. Metcalfe was one of the few male alums to sort of make a name for himself: He starred in the relatively successful teen rom-com John Tucker Must Die, back in 2006, and up until the end of the third season, he played Christopher Ewing on TNT's Dallas. In 2015, he'll star in the horror film Dead Rising: Watchtower, based on Capcom's Dead Rising zombie video game franchise.

Brenda Strong (Mary Alice Young)
Everybody's favorite deceased housewife/omniscient narrator now plays Ann Ewing on Dallas, who happens to be the stepmother of Christopher Ewing (Jesse Metcalfe!!!). We wonder if they bond on set by sharing horror stories from their Wisteria Lane days?
Alfre Woodard (Betty Applewhite)
True, she was only in seasons one and two, but we wanted to end on a more upbeat note: It is possible to get acting work after Desperate Housewives! After leaving the show, she was on True Blood and BBC America's Copper, in the Steel Magnolias TV movie, had a short but powerful appearance in 12 Years a Slave, and now plays the president on Katherine Heigl's new NBC political drama, State of Affairs. Yay, Alfre!