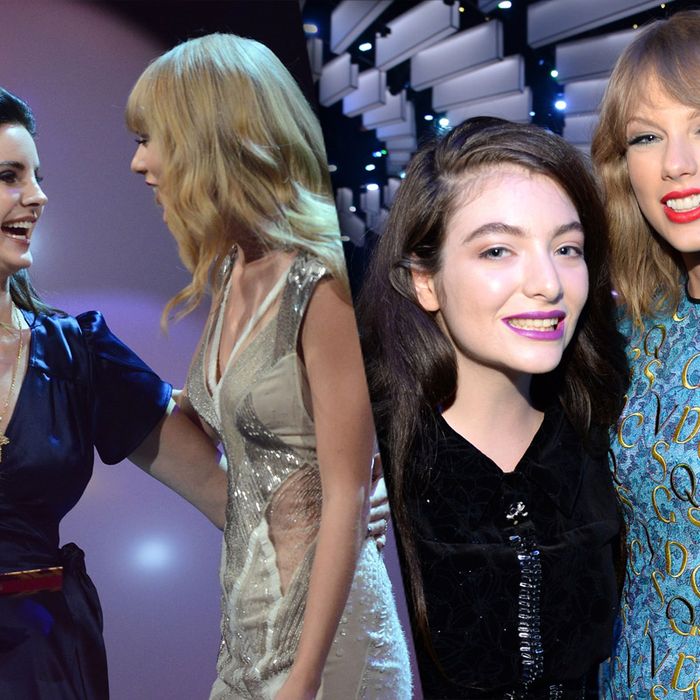 Photo: Dave J Hogan/Getty Images, Kevin Mazur/MTV1415/Getty Images
Much — too much? — has been made about the late-'80s influence on Taylor Swift's self-proclaimed first pure pop album 1989, but on my first few listens, I detect two more modern shadows looming large: those of current pop-paradigm-shifters Lorde and Lana Del Rey. Taylor's current award-show bestie/recreational-cooking classmate Lorde is a more fitting influence here: I hear her moody, electro-minimalist vibe all over 1989's last two songs, the driving, is-this-seriously-not-on-the-Mockingjay-soundtrack "I Know Places," and the muted breakup song "Clean." Then there's the (first impression: awesome) second track, "Blank Space," which is a good deal peppier than anything on Pure Heroine but has a rhythm that reminds me so much of its lead-off track "Team" that I find myself wanting to add a "… you can watch from your window" at the end of every verse.
Elsewhere, though, Taylor does a less convincing impression of pop's other reigning queen of darkness, LDR. One of 1989's weakest tracks is "Wildest Dreams," which sounds like it was strung together from a bunch of phrases sputtered out by a Lana Del Rey Twitter bot ("Say you'll remember me / Standing in a nice dress / Staring at the sunset, babe / Red lips and rosy cheeks"). Tay can't quite pull off Lana Del Swift (I swear I can even hear her ever so subtly attempting to say it like "noice dress," WELCOME TO NEW YORK, BABY) but whether or not they fall flat, these influences are revealing. Lana and Lorde were both unknown insurgents when Taylor's last blockbuster Red was released, so it's interesting that part of the blueprint for making a Too Big to Fail Pop Album in 2014 includes the instructions "make sure there are songs on there that sound like Lana Del Rey and Lorde." Taylor can't channel either artist's sense of macabre, but ultimately, I see that as a good thing: It leaves room for her own signature. As she boasts on "Blank Space," Taylor Swift is "a nightmare dressed up like a daydream," and in a pop world hopped up on that new darkness, that's its own kind of subversion.
Still, these are just some initial thoughts. Full review to come next week!