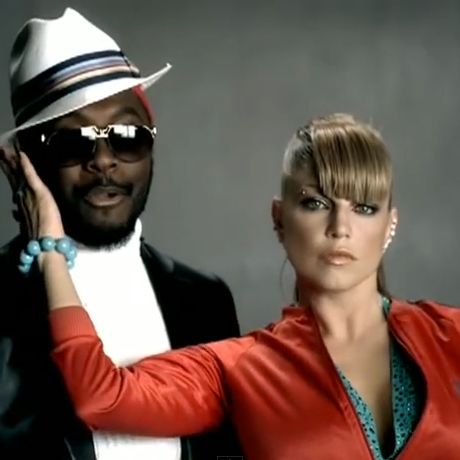 Nineties music now seems old enough to deserve our nostalgia, but the early oos still feel so recent that its songs currently reside in pop purgatory: They're not contemporary enough to still be cool, but not distant enough to be time-capsule candidates. In the same way trucker hats, high-heel Timberlands, Ed Hardy, and frosted tips probably won't make a comeback anytime soon, those hit pop songs that we couldn't avoid on the radio (remember radio?) will be kind of embarrassing for the rest of our lives. To help you never forget that embarrassment, here are the 15 most embarrassing songs of the early 2000s. We forgive you for unconsciously singing along when they come on at the mall.
15. "My Humps" by Black Eyed Peas (2005)
Really, any song BEP has released could fill this slot, but "My Humps" gave us some of the best flirting call-and-response tips of the mid-2000s. Somehow, they also made the idea of calling your lady parts "humps" and "lovely lady lumps" less gross than in any other instance?
14. "A Thousand Miles" by Vanessa Carlton (2001)
There are only so many times you can pretend to be reenacting the scene from White Chicks where they're singing along to "A Thousand Miles" before you just have to admit that your play count on this song is high for more than just ironic reasons.
13. "Promiscuous" by Nelly Furtado feat. Timbaland (2006)
Like "My Humps" from the year before, "Promiscuous" was as cheesy and awkward as actually indicating the thoughts contained therein to a stranger. If you're a true 00s kid, you and your friends know when to take turns being either Furtado or Timb on the flirty conversation of a song.
12. "Need You Now" by Lady Antebellum (2009)
Lady Antebellum's "Need You Now" is kind of like hearing Drake's "Marvin's Room" told from both sides — a sad tale of exes drunk-dialing each other in the middle of the night. We've all been there, so there's no shame in feeling a little bit more connected to this song than you would readily admit to anyone within your clique. Just maybe hold back on those shots of whiskey before you put it on repeat next time, okay?
11. "Ocean Avenue" by Yellowcard (2004)
There are not many songs in this world that can make a generation go full teen nightmare (read: irreconcilably LOUD) quite like "Ocean Avenue," but that's okay. I mean, we've all been 16 when it felt so right. And let's face it: We're all still looking for our Ocean Avenue, and maybe scream-singing along to a pop-punk band with a violinist helps us get a little closer.
10. "Gives You Hell" by All-American Rejects (2008)
Preceded by 2002's "Swing, Swing" and 2005's "Dirty Little Secret," "Gives You Hell" was the final addition to the unholy trinity of AAR songs you will never refuse to sing along to, and we can't tell if we're thankful or bitter. Okay, maybe we're more thankful, because the song is one of the best "F you" revenge tunes in history. Truth be told, there's nothing quite as cathartic as unleashing the chorus: "When you see my face, hope it gives you hell / hope it gives you hell."
9. "Tipsy" by J-Kwon (2004)
Teen drinking is very bad. J-Kwon had a fake I.D., and you know you silently uttered that intro every time you used yours. "Tipsy" was made for soundtracking every teen-movie party scene both on film and in real life. Even Kanye loves this theme song to all sordid teen memories and used it as inspiration for the sound on Yeezus. Maybe "Hold My Liquor" is the aftermath of J-Kwon's rager.
8. "Don't Cha" by Pussycat Dolls feat. Busta Rhymes (2005)
Between 2005 and 2006, PCD blessed us with songs like "Beep," "Buttons," and the poorly titled ballad "Stickwitu," then later, the eternally misunderstood lyrics of "When I Grow Up" in 2008 (she wants to have groupies, not boobies). But let's focus on "Don't Cha," the perfect "I win, you lose" song about how much hotter you are than this dude's current girl. Don't cha wish you were dancing to this song right now (like me)?
7. "Aaron's Party" by Aaron Carter (2000)
Here's a little bit of old-school for ya: Carter's (post–"Fight for Your Right (to Party)," pre-"Tipsy") teen tale of hosting a killer house party while the 'rents are gone still has the most important call-and-response of that decade. Plus, AC was the first to ask us to "come get it" — sorry, Selena. Make sure your frosted tips are sufficiently spiked and say it again, here we go, unh.
6. "Hero" by Enrique Iglesias (2001)
From the moment Enrique whispered in our ears ("Let me be your hero, bay-beh …"), we were unable to escape the breathy ballad; to this day, we still cannot resist a chance to warble our way through a dramatic karaoke cover — or sob in the rain, just like Enrique and Jennifer Love Hewitt do after Mickey Rourke wreaks havoc in a video that is still the best encapsulation of the pop year 2001 currently available.
5. "Photograph" by Nickelback (2005)
This is our collective punishment: For every time we make fun of the worst product of rock's post-grunge era — and even create a type of Facebook witch hunt for those who genuinely enjoy these earnest Canadians — we get a week of "Photograph" hitting repeat on itself in our heads. Therefore, you know every lyric and are still unsure why he's laughing at this damn photo — and what the hell is on Joey's head?
4. "Redneck Woman" by Gretchen Wilson (2005)
We've all found ourselves aggressively nodding to country music's version of "I'm Not Like Most Girls," though you probably know the lyrics better to this tune than Gretchen Wilson knows any Tanya Tucker song. In 2005, she was the beer-swilling, Skynyrd-loving, Walmart-shopping Christmas superfan America not only needed, but also, frankly, deserved.
3. "The Reason" by Hoobastank (2003)
You are not a perfect person. You never meant to learn all the words to this song. But in 2003, you were feeling emo enough — or just watched enough MTV — to etch every lyric of this bummer jam onto your brain (while simultaneously trying to figure out what the hell "Hoobastank" meant, of course). If this song taught us anything, it's that Hoobastank had zero reason for much of what they did until the reason was you.

2. "Low" by Flo Rida feat. T-Pain (2007)
Apple Bottom jeans (jeans)? Check. Boots with the fur (with the fur)? Check. Surely with this perfectly mid-2000s uniform, the entire club will be looking at you. "Low" was the conservative answer to much dirtier crunk music; it's like "Get Low" minus having to explain the definition of "skeet" to your parents. Flo gave the teens a chance to get turnt in the family car without the guilt — that guilt returned later, because it's 2014 now, and you still can't stop yourself from singing the praises of Ugg boots.
1. "Drops of Jupiter" by Train (2001)
Instead of the Milky Way, maybe we should have headed back towards an explanation of what the hell this song was trying to say? At the time, this was the "adult alternative" answer to Bowie's "Space Oddity," with lyrics about the planets and the Milky Way and imagining the worst nightmare of all: a lack of deep-fried chicken. Even though the band is still getting radio hits inexplicably lodged in our brains (why, "Drive By"? Why?), "Drops of Jupiter" actually is the best soy latte that we've ever had.