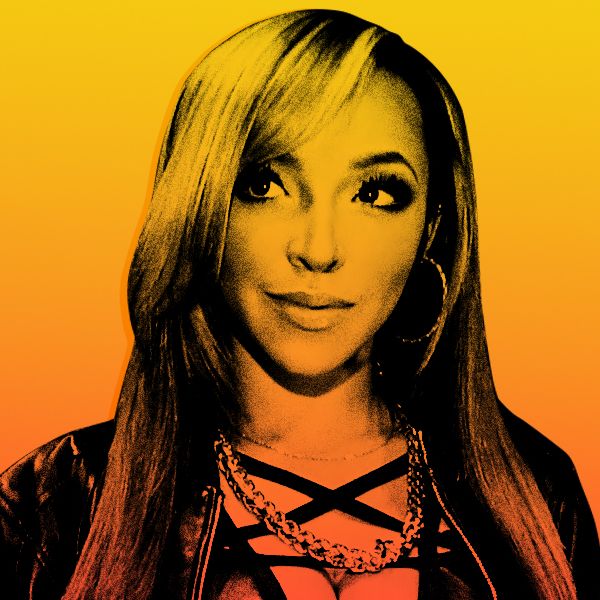 This week, alterna-R&B singer Tinashe's debut record Aquarius drops on RCA. And while you may not know Tinashe's name, she's been around for a minute, and her new album Aquarius is worth your time. Chances are you've heard her already, so please, gather round for question time.
Okay, just to get this right: How do I pronounce her name?
It's Tee-NAH-Shay. Her name is Zimbabwean, where her dad's from; her mom is "straight-up Norwegian … from Iowa … cold as fuck."
And how would I know her?
From her single "2 On,"which was omnipresent this summer, reaching No. 24 on the Billboard Hot 100, and, until last week, keeping a steady No. 3 on the Hot R&B Songs chart (Drake remixing it helped). It was New York critic Lindsay Zoladz's favorite song of the summer: "It's one of those songs whose atmosphere is so blissfully dusky that when it's played in open air, it practically merges with the night; producer DJ Mustard punctuates the mix with understated twinkles as though he's some benevolent deity scattering a fresh crop of stars across the sky."

Oh, I have heard that!
Yeah, see, it really was everywhere.
Can you tell me what "2 On" means?
Tinashe can: "2 On is basically like when you're like, too turnt up. It's like being extra at just like, whatever you're doing … .if you're extra hype or a little too buzzed, it just represents that feeling of just being all the way turnt — at 110."
She reminds me a lot of Aaliyah. Does she like being compared to Aaliyah?
No: "I hateeeeee being compared to other artists … I'm Tinashe. I make music like TINASHE." But let's be real: the crop tops and baggy pants, the slinky dance moves, the super sexy vocals … you are not wrong with that comparison.
What did she do before this?
Well, she had a recurring role on Two and a Half Men, which is unexpected. Tinashe was also one-fifth of the Stunners, an awesomely bad girl group that lasted from 2007 to 2011. They were addictively awful, in a Making the Band kind of way — see the video for "We Got It," in which they frolic with electric guitars and throw empty soda cups in the air. At least we can thank the Stunners for this amazingness: Tinashe and her bandmate discuss their love of this awesome new movie called "Twilight, then settle their Team Jacob vs. Team Edward argument via, yes, a dance battle.  Tinashe can moonwalk in pointe shoes!
What do you recommend besides "2 On"?
Between 2011 and 2013, Tinashe released three strikingly coherent mixtapes: In Case We Die, Reverie, and Blackwater (the sleekest of the three) — all recorded in her home studio. Her new album includes cameos by Dev Hynes, Future, and Stargate; she also recently worked with TV on the Radio's Dave Sitek on the excellent (and Rihanna-esque) "Xylaphone," definitely one of the better jams in which a musical instrument is used as a sex metaphor. And then you should check out her cover of "How to Love."
Is there anything else I should know?
She once danced for Justin Bieber. That's her standing next to Drake (at around 1:13), getting down in a bowling alley, in the "Baby" video.