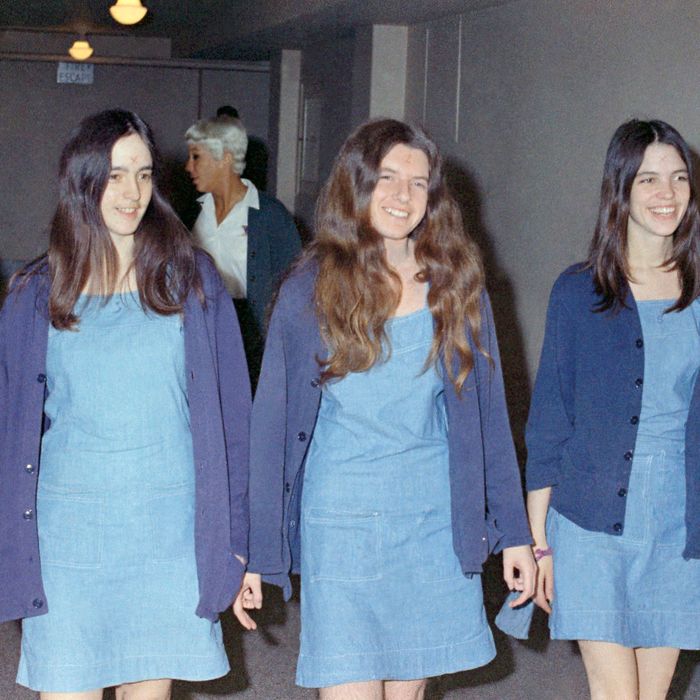 The Manson Family's Susan Atkins, Patricia Krenwinkel, and Leslie Van Houten
Photo: George Brich/AP Images
Random House took first prize this week in the annual competition for Hypiest Debut Acquisition, sealing a three-book deal — beginning with The Girls, a novel based loosely on the Manson murders — with Emma Cline, 25, for a rumored $2 million and change.
The author, her agent, and her new editor declined to comment, as did Scott Rudin, who bought film rights just before the sale. But on the evidence of a handful of personal essays and two published short stories — a meditation on Greenland in Tin House and a tween girl's scary coming of age in The Paris Review — Cline's talent is glaringly obvious. But her life is a little opaque, at least by millennial standards: no Twitter account, no confessional blog, not even a website. She may have simply been too busy living an improbably precocious quarter-life to bother with self-promotion. Below is an ad-hoc biographical timeline, as far as we know.
1. Cline grew up in Sonoma, California, one of six children of the owners of Cline Cellars, a winery her father founded in the early '80s with a $9,000 inheritance from the family business. Fred Cline's maternal grandfather was one of the Jacuzzi brothers — inventors of the eponymous whirlpool baths.
2. She was, briefly, a preteen actress, with two IMDb credits: Flashcards, a 2003 short film about an 11-year-old girl whose summer vacation becomes "a nightmare that changes her forever;" and When Billie Beat Bobby, a TV movie in which she plays the young Billie Jean King.
3. When she was 13, Cline was spotted on Sonoma Plaza by L.A. rock impresario Rodney Bingenheimer, a then-54-year-old music promoter. A member of his entourage procured her address after claiming he "invented the Ramones." Bingenheimer wrote her long letters covered in band stickers, and they occasionally talked on the phone about teen stuff. The correspondence ended when she got a boyfriend.
4. Cline graduated from high school at 16 but took a year off before college, working, according to her college newspaper, "on a farm as a freelance reporter" and pursuing her pilot's license.
5. In her first year at Middlebury, she won a college writing award with a story called "What Is Lost." At the time, she was considering dropping out. She'd already been to Burning Man. Two years later, she won a scholarship to the Middlebury-affiliated Bread Loaf Writers' Conference.
6. After college, Cline went to L.A. to pursue grown-up acting, but after going to "a lot of auditions for roles like rape victim," she gave up less than six months later.
7. Soon after, she dated a 34-year-old man with a 7-year-old daughter — an experience she recounted only months later, it seems, in a Salon story headlined, "Am I ready to be a stepmother at 21?" She wrote that her mother believed "that dating someone older is good for you."
8. Cline moved back East to get her MFA at Columbia, where one faculty member remembers her as "head and shoulders above everybody else." One of the stories she submitted there, about an 11-year-old girl growing up way too fast on a pot-growing commune, ran in The Paris Review under the title "Marion" in the summer of 2013. It contained a reference to Charles Manson but was set in the present.
9. Last March, she won the journal's Plimpton Prize honoring new fiction talent. She marked the occasion by writing an essay for the Paris Review website, focusing on her weird interactions with Bingenheimer as well as a visit to the historical site of the Manson Family cult. She felt a mysterious kinship with the girls Manson had lured away from their own families: "I wonder all the time how easily things could have turned out badly for me; my life gone curdled and sour, ending viciously."
10. After Columbia, Cline became a fiction reader at The New Yorker and signed with literary agent Bill Clegg. She was already at work on The Girls. According to people who've seen the manuscript, the Manson-like story is told from one acolyte's point of view — mostly set back in the late '60s, but often flashing forward to the woman's life decades later.
11. Among the 12 bidders in this month's weeklong auction was FSG, one of the nine that dropped out once the numbers hit the stratosphere. "The frenzy was beyond me," says FSG editor-in-chief Eric Chinski, "but Cline is very talented. Especially in light of how sensationalistic the premise of the novel is … it's remarkable that the real heart of the writing is the friendship between two women." A couple of underbidders also say that the manuscript needed "some work."
12. The three-book deal at Random House, signed by executive editorial director Kate Medina, includes a short-story collection and a yet-to-be-written second novel. Cary Goldstein, who taught one of her classes at Columbia, says her stories tended to focus on "that moment in a young woman's life when she is wrestling with an emerging sexuality that's scary and slightly dangerous, but also empowering."
13. As of last spring, Cline was living in an "almost assuredly illegal" shed in her friend's Brooklyn backyard, which she'd jerry-rigged into something like an artist's loft. Writing about it for Oprah's magazine, O, she referenced teen books in which "there is always a moment when it ends," when adventurous poverty is cast aside after "the rich grandfather swoops in." No word yet on how the book deal might change her living situation.