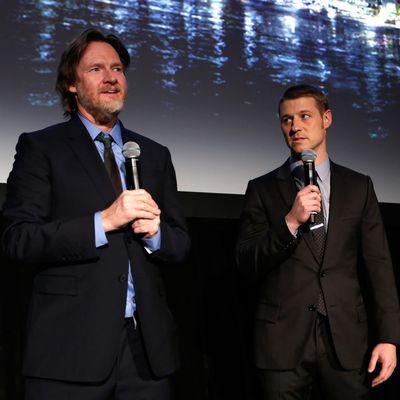 Photo: Cindy Ord/2014 Getty Images
No Joker just yet. Although attendees were hopeful Sunday's Gotham panel would be revealing in terms of villain appearances and story arcs, few specifics were teased during the event's video sneak peek and Q&A session. Members from Fox's comic prequel series — including Danny Cannon (exec producer and director), Ben McKenzie (Jim Gordon), Donal Logue (Harvey Bullock), Robin Lord Taylor (Oswald Cobblepot/Penguin), Sean Pertwee (Alfred Pennyworth), and Erin Richards (Barbara Kean) — took the main stage at New York Comic Con to answer questions from fans and IGN TV's Eric Goldman. If you have not watched the first three episodes of Gotham, stop reading. The panelists were tight-lipped about spoilers but gave us a lot to speculate about:
1. Arkham Asylum and the next episode
Cannon & Co. screened two clips that will appear in Monday night's new episode, titled "Arkham." Arkham was aggressively teased during last week's episode, and Cannon said lunatics will begin to emerge from the muck. In the first clip, continuing from last weekend's cliffhanger, Cobblepot appears at Gordon's doorstep. He tells Gordon — who does his best Christian Bale impression in a dark alleyway — that a war is coming, with promises of many bloody casualties. Cobblepot begs Gordon to let him be a secret agent of sorts — with obvious Machiavellian plans to overthrow Gotham's underground. In the next clip, things get graphic amid a City Council vote tied to the future of the Arkham district. A man roaming the sketchy streets of Gotham kills a councilman and one of his associates in cold blood, posing as a "constituent" with a fancy invention in the shape of a long, skinny, studded kaleidoscope.
2. Alfred's parenting skills take two extreme turns.
When discussing the portrayal of his character, Pertwee delved a little bit into Alfred's military background, which, to an extent, informs his parenting skills (or lack thereof). "They get worse" as the season goes on, Pertwee said, alluding to the valet's awkward position as both father figure and butler to young Bruce Wayne. He didn't specify what worse meant exactly, but Cannon said there's a moment in episode eight in which Bruce confronts Alfred about an anger the young protagonist feels burning inside him. He asks Alfred if it will ever go away, and Alfred says he doesn't know. What follows, Cannon said, is a beautiful moment in which Bruce asks the military vet turned valet to teach him how to fight.
3. Life gets messy for Gordon.
McKenzie said Gordon is going to have to figure out how to save his neck amid all the lies he's sown between Bullock and Barbara. The reappearance of the Penguin in last week's episode has triggered a labyrinthine trap that has Gordon's walls of support closing in on him to quash suspicion and find answers. In Monday's episode, Gordon tells Cobblepot that if underground leader Carmine Falcone sees the rogue has returned, he'll kill them both (Gordon was supposed to execute the Penguin in the pilot). Gordon has more than Falcone to worry about, though, and when asked if Bullock will find out about Gordon's lies, Logue said, "That might happen."
4. More of the cast members will start to interact with each other.
Thus far, character relationships within the show have been contained within their expected realms. Gordon deals with Barbara; Fish Mooney deals with Penguin; Alfred deals with Bruce; and so on. Cannon conceded, however, that in coming episodes characters will start to mix things up more and interact with cast members they normally don't. Logue blurted that "Alfred goes off!" On who? That, of course, was left unanswered. But Cannon followed up that viewers will "start to realize why [Alfred]'s a great keeper of the gate … he's a badass." Also, Cannon promised that Selina Kyle (Catwoman) and Bruce would begin to interact more directly.
5. Yes, you will start to see the Joker (et al).
The number of seasons Gotham will have to riff on the prequel mythology is uncertain, but Cannon said he hopes they'll have enough time to tease as many villains as possible. He gave dodgy answers when asked directly if viewers will see a young Harley Quinn or the Court of Owls anytime soon. He did, however, outright say that Harvey Dent will appear in episode nine, and Victor Zsasz two episodes prior. He also hinted that their version of the Joker's origin story might precede the one detailed in the Killing Joke. "We're going to go way, way, way back, so I don't think he'd be telling jokes already," Cannon said, after one fan asked if Fish Mooney's fledgling stand-up comic shown in the pilot was a nod to the notorious supervillain.
Miscellaneous Bat Bullets