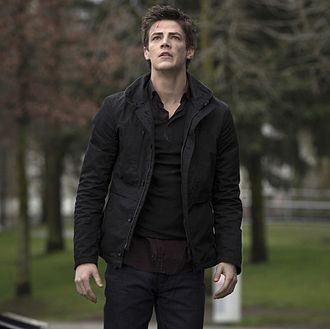 Photo: Jack Rowand/The CW
So much for the notion that there are too many comic-book adaptations out there: DC Comics' The Flash drew 4.5 million viewers to the CW Tuesday night, the biggest opening audience for the network since the 2009 bow of The Vampire Diaries, and the third-biggest debut ever for the channel. Among the younger viewers CW targets, the stats were even more impressive: The series notched a 1.8 rating with adults under 50, doubling what The Originals debuted to in the slot last year and trouncing ABC's new 8 p.m. comedy block. It won the 8 p.m. hour outright among men under 35 and ranked second in the hour among all adults under 35 (losing only to The Voice).
What's more, Flash drew more viewers and young adults than ABC's super-expensive, Marvel-produced Agents of S.H.I.E.L.D. last night (at least in preliminary numbers), and it beat everything that aired on broadcast TV Tuesday night among teen boys. And The Flash had a halo effect, too, boosting the tenth season premiere of Supernatural to its most-watched opener since 2010. Finally, in the overall nightly averages, the combination of the two series let CW finish ahead of both ABC and Fox among viewers under 50. (Not helping ABC: Selfie and Manhattan Love Story both took a tumble in their second outings.) To be sure, genre shows often open big and then quickly lose steam (see also: S.H.I.E.L.D.), so it's possible CW's apparent new hit could turn out to be a, er, Flash in the pan. More likely? The Greg Berlanti–produced series is going to settle in for a nice, long run.