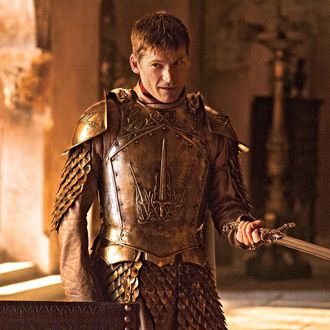 Game of Thrones is HBO's biggest hit, and now its stars are getting a raise to match. As The Hollywood Reporter reports, the show's cast has signed a new deal with the network that will make them some of the highest-paid actors on cable. Just like a Lannister, HBO always pays its debts. This deal is exciting news not just for the casts' friends and family (who can safely ask them to pick up a few more tickets to Glastonbury next year), but also for fans, who can peer deep into the flames of the announcement to glean hints about an uncertain future. Here are some predictions; like Melisandre, we will take zero responsibility if they turn out to be wrong.
Mild-ish book spoilers below!
The seven-season plan seems to be full steam ahead.
Producers David Benioff and D.B. Weiss have said that their current plan is to make three more seasons of Game of Thrones. (In the words of Benioff, "Seven gods, seven kingdoms, seven seasons.") The casts' new deals include an option for a seventh season, so it looks like HBO's onboard. Whether George R.R. Martin is too is another story.
We know who the series' "main" characters are.
The Song of Ice and Fire books are generally considered to have three primary characters who may all be related: Daenerys Targaryen, Jon Snow, and Tyrion Lannister. (Arya Stark is the only character to have a POV chapter in every book, but she's been sidelined from the main action for a while.) On the show, there are some new additions, as the new deal gives the biggest raises to five actors in the "A" tier: Peter Dinklage, Emilia Clarke, and Kit Harington, as well as Lena Headey and Nikolaj Coster-Waldau. It's a well-deserved promotion for Headey and Coster-Waldau, who have brought shades to their characters that weren't always there in the books.
Some characters may be safer than others.
We're trying to avoid spoilers, so we'll just say that some major characters' fates were left up in the air at the end of A Dance With Dragons. Assuming this news is not a smoke screen, we can safely assume that the five actors in the "A" tier will be sticking around until some time approaching the end of the story. The actors in the "B" tier — which reportedly includes Maisie Williams, Sophie Turner, and Natalie Dormer — are getting smaller raises but the same seventh-season option, which points that their characters, too, may have a measure of security. Everyone else? Well, they might want to keep sleeping with one eye open.