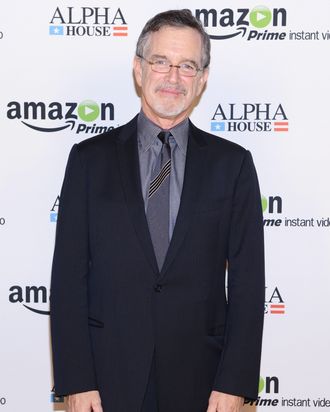 Photo: Michael N. Todaro/Getty Images
Did Garry Trudeau feel the need to change anything for season two of his Capitol Hill satire Alpha House, all ten episode of which roll out on Amazon Prime today? "We just tried to do it better," the Doonesbury cartoonist tells Vulture of the series, which stars John Goodman, Mark Consuelos, Clark Johnson, and Matt Malloy as a quartet of GOP congressmen sharing a D.C. townhouse. "We tried to make the stories faster, funnier, and edgier — all that good stuff."
What's the biggest difference in writing a comedy series and a comic strip?
I've never had a single full-time employee in the last 40 years, and now I have 120-some-odd teammates. But it's a wonderful group of collaborators. I wonder why it took me so long to realize the joy of working with other people. It's been thrilling.
You've got cameos in season two from journalists and politicians like Matt Lauer, Savannah Guthrie, Ed Rendell, and Grover Norquist. Did anyone turn you down?
That's [Newsweeker turned exec-producer] Jonathan Alter's department. He found great enthusiasm in Washington. It's just that we shoot in Queens. We didn't always have success in attracting people to Astoria, but he got a lot of great feedback. We seem to have bipartisan support. No one turned us down for ideological reasons.
Did any of the real-life guest-stars particularly impress you?
In episode nine, Elizabeth Warren has a scene that's quite lovely. She wowed our whole cast and crew. It was our rock-star moment of the season. I just had a feeling she could actually play a scene, unlike most politicians who are kind of stiff in comic situations. They tend to freeze up. Mostly, our cameos have been one-liners, but with Senator Warren, we thought it was worth the risk to actually have her do a scene with John Goodman. And after he shot it, he told me she put him at ease.
Where do you go for comic inspiration — Fox News, MSNBC, CNN, the internet?
All of the above. My whole life, I've been a paid generalist. I'm allowed to follow my curiosity wherever it leads. That was an early source of bonding with me and my wife [Jane Pauley], because she was on the Today Show at the time, and every day, we would wake up and there would be new things that we were able to explore. That's the great joy of the strip, and it's also a great joy for this show.
Why did you make all four of your main characters Republicans?
Years ago, I did a show for HBO called Tanner '88, and it was an exploration of an old-school liberal in the age of Reagan, when Tanner's politics were out of fashion. He tries to run for president and crashes and burns. It was an interesting time to tell Tanner's story then, because it was the Democrats who were in the wilderness, and from a dramatic standpoint, it was much more interesting. In this modern time, it's moderate or Establishment-conservative Republicans who came to Washington in the pre-tea-party era and suddenly found themselves obligated to pivot to the right to counter the tea-party candidates in the primaries. And that's just much more interesting dramatically than anything that was happening to the Democrats.
Are any resemblances to real-life Republicans like Marco Rubio or Larry Craig completely coincidental?
There are certain starting points, like Marco Rubio for Mark Consuelos's character, or Fred Thompson for John Goodman's character. But you leave that behind pretty quickly once you start writing the character, because it's limiting. You're just going to end up writing a parody instead of an original character.
Is it any easier or harder to be a political satirist in the Obama era than it was in, say, the George W. Bush era?
Oh, it's never hard. There are always plenty of targets. I've never felt one party was better for business than the other. Obviously, I have a point of view. I am a satirist, and I'm not as equal-opportunity as some folks would like me to be. But we've received few complaints about partisanship, even though this is a show that makes fun of Republicans. It's such an odd complaint to suggest there's some protocol that if you make fun of one thing, you must ergo make fun of another. That's not a responsibility I take seriously. Satire is by definition unfair and unbalanced.
If Hillary Clinton has a coronation for the Democratic nomination, is that good or bad for comedy?
It's always more interesting if there's a variety of candidates. The Republicans gave us a clown-car field last time, and it looks like they may do it again this time. That's always good for comedy. It would be a shame if it were a coronation, because you become a better candidate if you sharpen your skills against people in your own party before you take on the other party.
Is there a best-case scenario, comically speaking, for the GOP — would Chris Christie or Rand Paul provide the best fodder?
No, I'm sure whoever it is will make himself a perfectly suitable target. The editorial cartoonists and the folks over at The Daily Show aren't going to go out of business if it's one candidate over another.
What was it like collaborating with Robert Altman on Tanner '88 and the 2004 follow-up, Tanner on Tanner?
That was a thrill for me because he had been an early hero of mine. The afternoon when I skipped classes and went to see a preview of M*A*S*H was a very clear memory for me. I didn't think people were allowed to do that in movies. I didn't think people were allowed to talk all at the same time the way Altman's characters did. He had such a good ear. I loved the subversiveness of the film and its message. It was about a different war, but people took it to be about the Vietnam War. It was very powerful and a lot blacker than people remember, because memories have been burnished by the television version, which was somewhat more cheerful.
Did Altman live up to your expectations when you got to work with him?
He set the bar pretty low himself. The first thing he said to me was, "They say I eat writers for breakfast." I said, "Well, I've gotta work with this guy. He's a mad genius, and I'll learn a lot about the craft even if I turn the script over to him and he turns it into something completely different." Tanner was the perfect vehicle for that. It had a cinema-verité, documentary feel of a news crew following a presidential campaign. With Altman, it was often about the found art, the things he found when he showed up on-location. He would completely reword what we were going to do and lead the actors off in an entirely different direction, stranding the writer. But I learned to adapt to that, and the end product was so interesting.
How did HBO react to it?
We had an unprecedented lack of network interference. We delivered the pilot two hours before airtime, so it never even got lawyered. We never had any notes for the whole season. I don't expect ever to have an opportunity like that again.
Because Alpha House is on Amazon, a lot of people will be binge-watching it. How do you feel about that?
Smarter people than I at Amazon have determined that binge-watching is the way to go. I still buy into the logic of the slower-release, water-cooler phenomenon, but Amazon is the home of Big Data, and they probably have the data that supports the notion that binge-watching is a better way to involve audiences. Clearly, Netflix has had great success with it.
Because you have to deliver the whole season at once, is it harder to stay timely when you're wrapping some episodes months in advance?
Both in Alpha House and in Doonesbury, there's a sense that we're riding the news a little bit more closely than we actually are. We're making educated guesses where we'll be. Even though season one is of 2013, I don't think people feel that it's dated. So far, our guesswork has been pretty good.