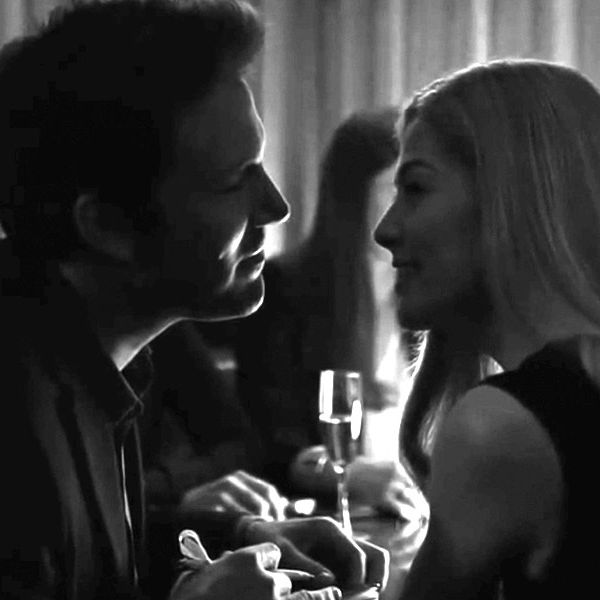 Photo: Twentieth Century Fox
Warning: Like most of our posts about Gone Girl, this one is full of spoilers! Proceed at your own risk.
Gone Girl, everyone agrees, is not a great date film. It's either a misandrist revenge fantasy or misogynist trash, and neither of those interpretations seems likely to induce swooning romance in people of either gender. Ben Affleck himself calls it the second-worst date movie of all time, and here at Vulture, we're not ones to let an Affleck claim go untested. So on Saturday night, I took a stranger on a first date to see Gone Girl.
To find a willing partner, I went to the internet's hottest spot for oddly specific romantic requests: Tinder. Using the app's Snapchat-style Moments feature, I sent out a call for Gone Girl plus-ones to all of my matches. Thirty-one people responded, which either means there are more Gillian Flynn fans out there than anyone thought, or these women were just excited someone was using Moments for something other than dick pics. After brief deliberation, I decided on Sarah, a graphic designer and swim coach who had made a funny joke about my profile. I explained to her the premise of this post, and she was game — the date was on.
We met up a few hours before the movie at a dive bar in the East Village. Over the course of 75 minutes of polite first-date conversation, I learned that Sarah was a pretty cool girl, if not quite a Cool Girl: She lived off the G train, had just competed in a triathlon, and was very close with her older sister (who had just gotten engaged — congrats, Sarah's sister!). Then it was time for the movie, which, to be honest, was the most nerve-racking part of all! My own personal version of the Rules expressly forbids movie dates before Date 5; the worst way to get to know someone is to sit next to them for two-plus hours, unable to communicate but keenly aware of each other's lurking presence.
But journalism is about taking risks, so we soldiered on. People in New York get to theaters absurdly early, so by the time we arrived, the only two seats together were in the very, very front. This became important because, as it turns out, Gone Girl (as my colleague Amanda has pointed out) is essentially a horror movie. And horror movies are actually pretty alright as far as date movies go! We got to jump at the scary parts, squirm at the dreadful parts, and laugh in relief every time Tyler Perry said something funny.
After the movie was over, we went to another bar, where we shared the open and friendly conversation of two nice people who have realized they're not that into each other. We talked about the way romantic relationships can force you to play the role of someone you're not: I told her about a girl who'd thought of me as a nice J.Crew boyfriend after a string of scumbags; she told me how, like Amy, she'd once tried to be the chill girlfriend who never got mad about anything, until she caught her boyfriend cheating on her. (Unlike Amy, she didn't try to frame him for murder. She just yelled at him.)
When it came to the film selection, Sarah said she actually approved of the choice: "I'd much rather see a movie like that than a normal romantic comedy with unrealistic bullshit about true love." With Gone Girl, there was a sense of relief — no matter how badly your love life got, it could never be worse than what you just watched onscreen.
After one beer, we hugged and went our separate ways. Neither of us saw the penis.