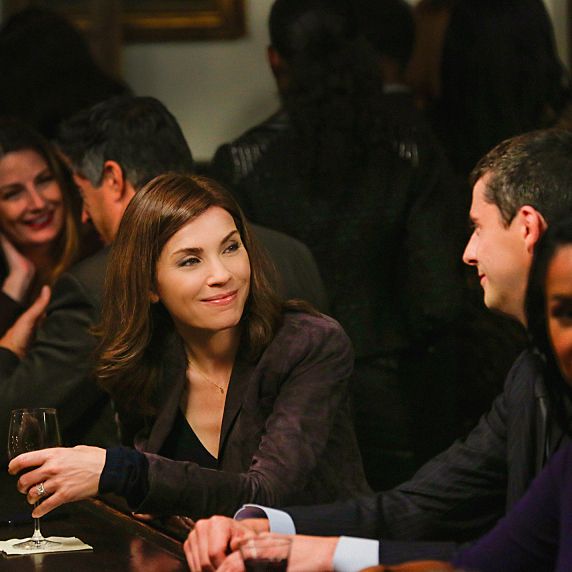 Photo: Patrick Harbron/CBS
Last night's episode of The Good Wife was dedicated almost entirely to Alicia's campaign — yeah, a week after I'd hypothesized that the show was back on a case-of-the-week track — even though Alicia spends plenty of time assuring everyone that she's still just considering a run. There's a really compelling scene at the start of the episode of Alicia preparing for her first meeting with Eli: uncorking and pouring wine, setting out crudité platters, even deep-cleaning the dining room table with Pledge. It reminded me of the way I'd organize my backpack the night before the first day of school: sharpening pencils, carefully covering books, in total denial of the fact that no matter how perfectly I tried to prepare, it'd all be a jumbled mess in a week. Tops.
Alicia's efforts, too, are quickly destroyed, in part by the arrival of her reluctant campaign manager, the whimsically named and devilishly handsome Johnny Elfman (played by Steven Pasquale, just off a short run in the Broadway version of The Bridges of Madison County). He's got a folder full of opposition research — all the incriminating (or just embarrassing) information the incumbent State's Attorney will use against her. And there's plenty of dirt — in fact, the only person in Alicia's world who isn't causing her trouble is Grace. ("Christianity, 3; Atheism, 0," Alicia muses.) Before we wade into the muck, a brief quibble: The position of State's Attorney is obviously important, especially within the ecosystem of The Good Wife, but I rolled my eyes a little bit at Grace's friend exclaiming, "Like Hillary, huh!" when she saw Alicia's PAC website. A run at State's Attorney is great. But it's no senatorial run. And it's definitely not two shots at the presidency. But no matter — on to the scandals!
Owen and his bareback porn-star boyfriend
Alicia's brother Owen is having an affair with a married Palestinian man who also shoots condomless gay pornography under the name Phil. Or possibly Fill. It's damning either way. "It's the affair with the married man that's most problematic!" Eli cheerfully points out. "Yeah, and the porn," Elfman replies. Alicia arranges a sit-down with both Owen and her mother (more on that in a second), but Owen's so offended that he pours his wine down the drain and storms out, so that matter's not exactly settled yet.

Zach's abortion
About a year ago, Zach told Alicia he was going to visit Boston College, and instead met his girlfriend Nisa and her parents at an abortion clinic to terminate her pregnancy. Eli's explanation to Alicia is intercut with Alicia's memories of Zach telling her about the trip, kissing Nisa in the apartment and putting his own sheets in the wash, alongside her imaginings of him with Nisa at the clinic. "It's the working-mother question," Elfman points out. "Were your children unsupervised while you were at work? It's sexist." YEP.
Alicia's been known to lose her temper, if not her mind, in the past, but her reaction to the news surprised me a bit. Being furious about the deceit? Absolutely. Telling Peter they were no longer going to pay for Zach's college? A bit much, maybe. Then again, if I were paying for my child's education and he hid an abortion and made a joke on his outgoing voice-mail message about "sleeping it off," I might be quick to anger, too. She finally gets Zach on the line for a fairly awkward phone conversation. To be frank, I can't tell if he's not all that sorry or if it's just not a particularly great bit of acting, since on-the-phone scenes are particularly hard for a lot of actors to nail. Alicia tells him he needs to say, when asked, that she's a good mother who told him not to abort the pregnancy. "Have fun in college, Zach," she says, and hangs up.
Veronica's spanking spree
Veronica, God love her, has taken it upon herself to spank an unruly kindergartener at a department store, and there's video of it. Alicia sets up a meeting between Veronica, the child, and his mother so Veronica can apologize, but the child's mom responds by asking for $50,000 in hush money. (If she's so upset, why didn't she call the police when the spanking actually occurred?) Elfman manages to wrangle some footage of the child knocking over store displays and kicking and wounding an old woman, and so the mother storms out, but not before her son has opened every single soda can in the conference room. Having a kid seems fun.
Will Gardner
Eli quickly points out that Alicia's affair with Will won't be much of a problem because he's dead. Ugh, Eli, we know.
Peter's pet intern
Peter gives Eli permission to fire his "pet" intern Lauren, the one who's totally comfortable showing off either her panties or her vagina in the middle of her workplace. Eli is thrilled (and his secretary's secondhand schadenfreude is pretty dead-on), but the next day, he finds Lauren's young, hot mother in Peter's office after hours. This will end well.
Red wine
Alicia meets Finn Polmar for a drink to ask him to say that the photos of him leaving her apartment early in the morning are innocent, if he's asked. He's happy to, because they are. Is this an appropriate time to talk about Finn Polmar's excessive sexual magnetism? Because man. He warns her that Castro will be gunning for her, and immediately after she leaves, Alicia's pulled over for a "DUI." It's a clear setup since the officer greets her by name, but I'm wondering whether Finn knew that it was coming or tipped Castro off himself. I've got my eyes on you, Polmar.
And it's the "DUI" that's Alicia's first official crisis as a declared candidate. "I'm running!" she tells Elfman. "Good," he says. "Because there's an article about you going into detox for alcohol addiction. AND there's a photo." Here we go.
Alicia's client roster
Alicia has more than a few problematic clients — Collin Sweeney and the Paisley Group are prime examples — but the name at the top of the list is, of course, Lemond Bishop. It's fortunate timing, since Florrick/Agos/Lockhart/Taye Diggs needs to unload him because of the conflicts posted by representing both him and Cary. Bishop refuses to be fired, though, until he finally "borrows" Kalinda and she suggests that he's being dropped because of Alicia's run.
This is, apparently, the best news Bishop's ever heard. He sets up a PAC for Alicia — $140,000 and counting! — and meets up with her to tell her he's let the press know how offended he is by being unceremoniously fired by her. He promises to be in touch very soon. Remember that early Lemond Bishop appearance, when someone warned Will, "Lie down with dogs and you wake up with fleas?" It would seem that Alicia is beginning to itch.
A few spare high points …
"I wouldn't say 'best friend.'" —Kalinda, subtly throwing shade at Alicia while admitting to Eli that she slept with her husband
Darkness at Noon, The Good Wife's prestige TV-parody show-within-a-show, is probably like the fourth-best drama on network television this season.
"Why not just take a trip? You'd love Bali!" —Veronica's response to Alicia's candidacy, and another reminder that every show needs more Stockard Channing