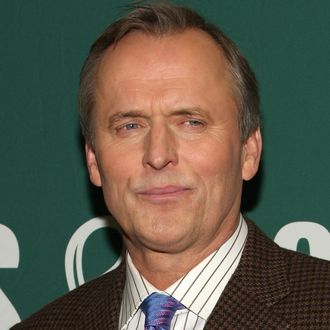 Photo: Bryan Bedder/2009 Getty Images
You can put away your fake third boob, because John Grisham just found an even better way to guarantee that your name will appear in headlines around the world for all the wrong reasons. The best-selling author, who has a new novel coming out next week, told The Telegraph that the U.S. justice system treats people who look at child pornography too harshly. "We have prisons now filled with guys my age. Sixty-year-old white men in prison who've never harmed anybody, would never touch a child," he said. "But they got online one night and started surfing around, probably had too much to drink or whatever, and pushed the wrong buttons, went too far and got into child porn."
He went on to describe the plight of a "good buddy from law school":
His drinking was out of control, and he went to a website. It was labelled "sixteen year old wannabee hookers" or something like that. And it said "16-year-old girls." So he went there. Downloaded some stuff - it was 16 year old girls who looked 30.

He shouldn't 'a done it. It was stupid, but it wasn't 10-year-old boys. He didn't touch anything. And God, a week later there was a knock on the door: "FBI!" and it was sting set up by the Royal Canadian Mounted Police to catch people — sex offenders — and he went to prison for three years.

There's so many of them now. There's so many "sex offenders" — that's what they're called - that they put them in the same prison. Like they're a bunch of perverts, or something; thousands of 'em. We've gone nuts with this incarceration …
Grisham added that he has "no sympathy for real pedophiles," saying, "God, please lock those people up. But so many of these guys do not deserve harsh prison sentences, and that's what they're getting."
Clearly, this is a very clever way to win over new readers. The internet is rife with images of 16-year-old girls dressed up to look like 30-year-old women, and anyone who's ever Googled while drunk knows it's nearly impossible to avoid all the child porn. Why should someone spend a few years in prison for downloading that stuff to their computer — you know, if they're a white guy?