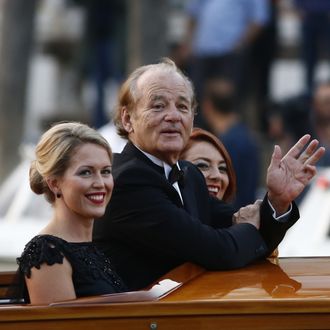 Bill Murray's 1-800 number, which he uses in lieu of an agent, is one of those pieces of Hollywood lore that's never been fully explained. How do you find it, and what happens when you dial it? Ted Melfi, who cast Murray in the upcoming St. Vincent through the 800 number, is here to tell all.
In an interview with The Wall Street Journal, Melfi reveals that he got the number through producer Fred Roos. (Roos told Murray he'd given it out, but it's unknown if this is a standard procedure for a Murray associate giving out the number.) Over the course of 2012, Melfi called the number numerous times, and was greeted each time by a generic computer voice telling him to leave a message. He heard nothing until Murray's lawyer got in touch, telling Melfi to send copies of the script to random P.O. boxes across the country. Melfi then received a call from Murray himself, asking him to fly to Cannes — immediately. Melfi couldn't, and the project seemed off. Until Murray texted back weeks later, telling the director to meet him at LAX.
At their rendezvous, Melfi finally got his own crazy Bill Murray story:
They boarded a chauffeured Town Car, then picked up four grilled-cheese sandwiches at In-N-Out Burger. "And we drove for three hours through the Pechanga Indian reservation — go to San Diego and take a left." Mr. Murray's house was down a private road at the back of a golf course. "I had to use the bathroom and he goes, 'Don't forget to jiggle the handle.' Then we walk outside, and he says 'We should do this. Let's make a movie.' "I said 'Bill, there 's just one thing I wanna ask you. Do you think you could tell someone other than me that this happened?'"
In case you're wondering whether he's making this up, Melfi told a basically identical anecdote to USA Today a month ago. The story checks out!