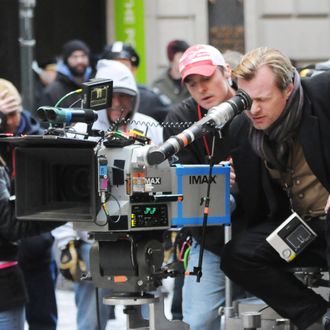 Photo: Arnaldo Magnani/Getty Images
Our all the 15 new details about Interstellar in Entertainment Weekly's recent cover story, it was the smallest revelation that inspired the most curiosity: Christopher Nolan apparently keeps a small flask of Earl Grey tea (no milk) in his pocket. This wonderfully weird little detail had the internet clamoring for additional information about the director's tea habit. Fortunately, this week's New York Times Magazine has delivered four more mildly interesting facts about Christopher Nolan and tea:
1. Nolan's assistant Andy is a well-tuned, tea-refilling machine. "Andy can get me tea on a glacier," he told the Times.
2. "His teeth are tanned a chestnut gradient, not by cigarettes but by tea."
3. Nolan drinks so much tea on set that Michael Caine was convinced he had mixed it with much harder stuff. As Caine recalled, "I asked him, 'You've not got vodka in there, have you?'"
4. Because he doesn't like being apart from his scripts, Nolan waits in actors' kitchens while they read it. While he's doing this, he drinks a cup of tea.
We will be on the lookout for even more Nolan Tea Facts. Let us know in the comments if you have any leads.